In a world where information is in an abundance, it is sometimes hard to see the forest for the trees. Especially, if you are a founder of a relatively young and successful start-up. You are constantly running day-to-day operations, building your product and plugging holes. Having even an hour for yourself to think about, say your 'growth strategy', may be a luxury you never had. Taking that in mind, I present to you a methodological step-by-step guide in formulating a clever marketing strategy for your business - in 30 min.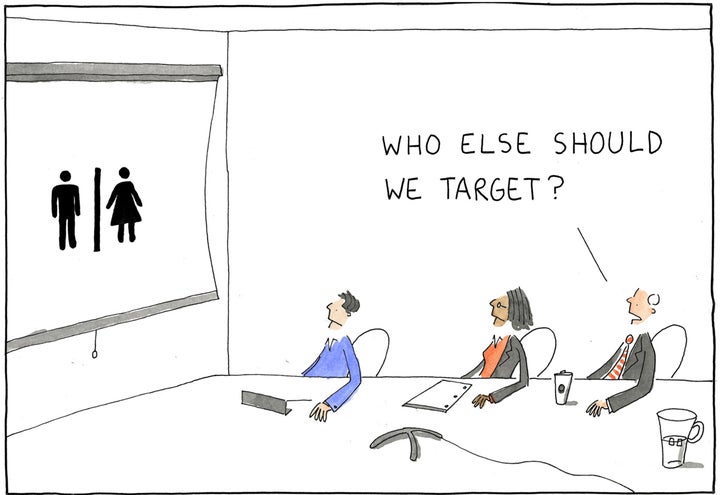 The guide cherry picks from three sources that are long-serving experts on digital marketing strategy and planning. It combines the key elements in each source into a single methodological step-by-step guideline. The goal is to give the reader an immediate understanding in how to formulate a non-fluffy marketing strategy, the stages one has to go through, whilst avoiding industry-known pitfalls. Furthermore, it also keeps the low-cost element in mind, since most young and successful businesses do not necessarily have large marketing budgets.
Academia: strategy frameworks from top FT-ranked European business schools
Internet Giants: best practices from leading Internet and technology companies
Start-ups: real-industry case studies from successful technology start-ups (UK)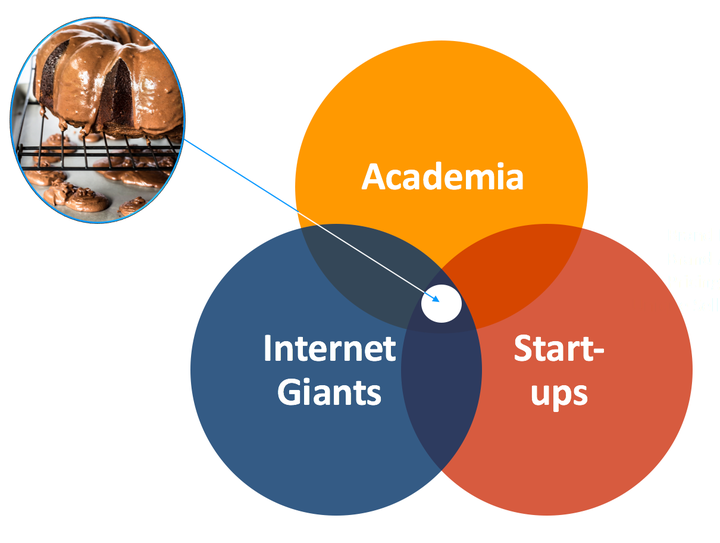 The guide takes Inbound Marketing as its core, since it requires relatively a low budget, and if done well, produces a significant return of investment. Inbound marketing is promoting a brand via web techniques and by producing interesting content, which earns people's interest and serves to attract customers through the different stages of the purchase funnel, without paying for it.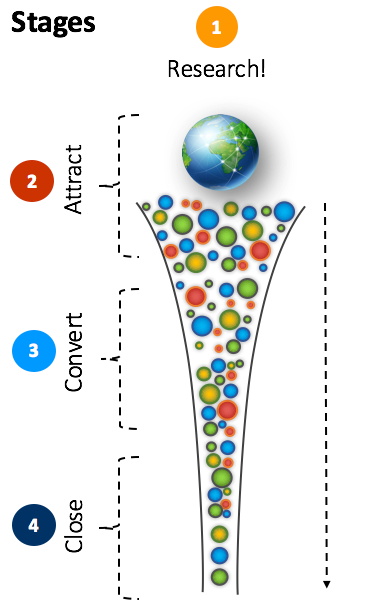 Stage 1 - Do Your Research!
First let us start with identifying your different customer segments, and within each segment, your different personas, which goes into much more detail in who they are.
In this stage you will really need to conduct a thorough research into who your client base and/or consumers are. This research should be ideally based on actual data, whether it is pulled from existing market data sources, or based on your own primary research, and cross-referenced with your own observations.
When you understand your customer segments and your personas, it is time for you to prioritise your targeting. With limited resources, you will need to target a single segment first that possesses the biggest value to your company. This can vastly differ per company, from brand awareness all the way down to average sales value. Next, you will have go more granular by positioning the personas that you researched within that segment within a customised BCG-matrix to prioritise your targeting accordingly (effort vs. cash generation, otherwise known as the low-hanging fruit).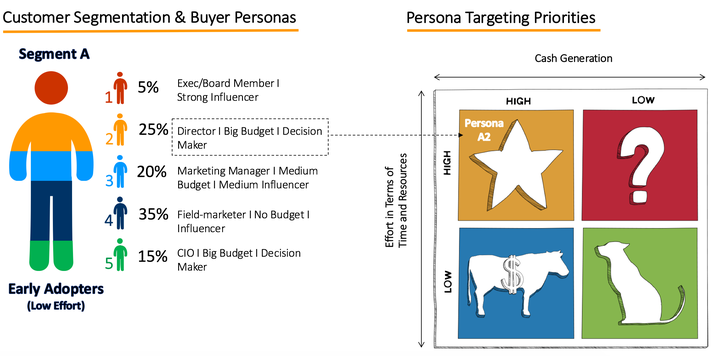 Stage 2 - Attract Your Personas
There are many ways to attract your personas across various marketing tactics, however within the realm of Inbound Marketing, there are only a few that really stand out of the rest. Especially, when we look at proven case-studies with leading UK start-ups.
I have listed 4 Inbound Marketing tactics to attract the right visitors, combined with the corresponding do's and don'ts (best practices) from known Internet giants.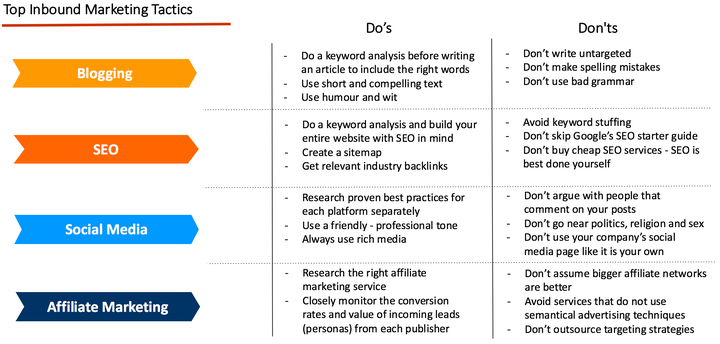 Stage 3 - Convert Your Personas
Now that you have attracted your personas and are generating some traffic on your website, it is time to convert. Conversion is a fine-tuning game, where one needs to be clever in it's techniques and precise in its semantics.
I have listed 4 conversion tactics that leading UK start-up extensively use to convert website visitors, combined with the corresponding do's and don'ts (best practices) from known Internet giants.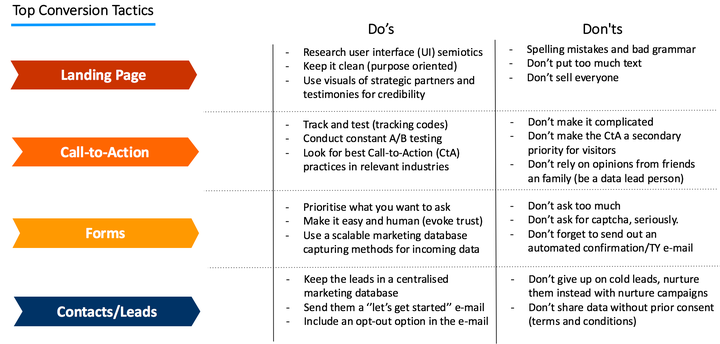 Stage 4 - Close Your Personas
Now that they are ready to buy, it is time for you to close the deal. Closing methods vary a lot, depending on the business you are in (B2B vs B2C). However, both cases still have interrelating best-practices in connecting to clients or customers.
I have listed 4 closing tactics that leading UK start-up (B2B and B2C) extensively use to close website visitors either in terms of a deal or purchase, combined with the corresponding do's and don'ts (best practices) from known Internet giants.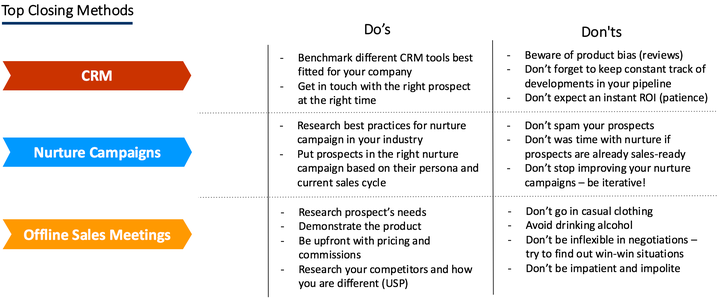 Conclusion: Impact and Reality
Now, even if you do everything right and follow every advise I have given you to a tee, it still doesn't necessary mean that you will see a surge in sales. The ugly truth is that this guide only addresses the creamy glaze - the foundation layered over your product and/or service. It won't necessarily win over business, but it could cause the business to be lost. There is still one missing element.
The missing element is the cherry on top. The cherry being your brand, pricing strategies and USP.
Under the assumption that your product and/or service is amazing and it fills an actual gap in the market, it is the cherry that will still ultimately determine whether or not the client and/or customer will buy from you instead of your competitors.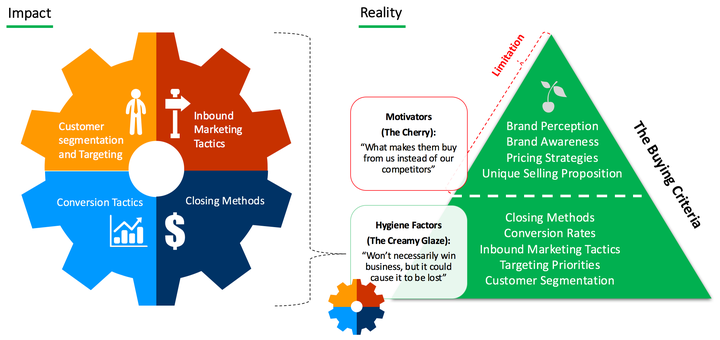 This complexity in running an end-to-end marketing strategy, which covers both sides of the pyramid, is one of the main reason to why even businesses that offer great products and services struggle to grow into a mature company.
Did you like the post? Sharing is caring.
Support HuffPost
The Stakes Have Never Been Higher
Related
Popular in the Community