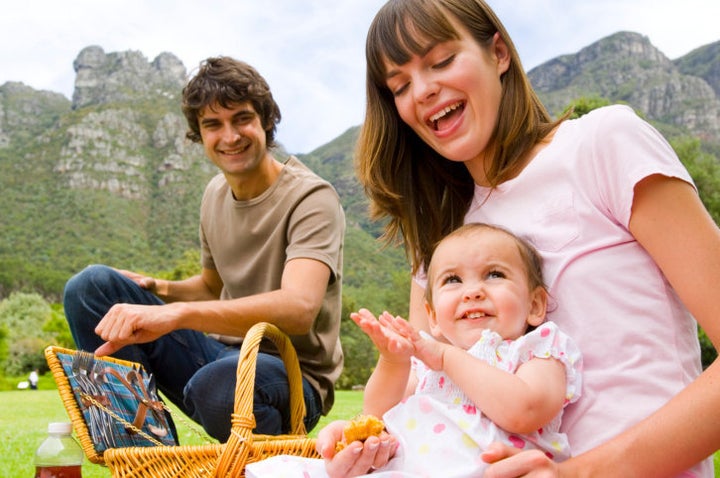 It's been weeks since the kids got out of school, yet the idealistic scenes of summer you imagined are nowhere to be seen. Between the various enticing digital screens, catching up on the lawn and house projects, and the usual outdoor activities, there's lots of individual "playing" -- sometimes even in the same space -- but where's the bonding? Where's the adventure? Where's the discovery? What family activities might be both fun and a little daring for everyone?
Try getting creative. What if summer became a time to leap into new territory -- creative territory -- together? You might discover things you didn't know about each other, rekindle individual passions, and unearth hidden talents. No matter what the range of ages or skill levels, there are creative activities you can do together that will bring your family closer, help you each grow and learn, and resonate with happy memories far after the warm glow of this summer has passed.
Try some of the following ideas for infusing your family rhythms with more creativity and adventure:
Put the kids in charge. A few years ago, Ashley and Linda grew weary of their teenage daughters' incessant Instant Messaging on the computer, so they gave them something more exciting to do: planning a family vacation. Instead of reacting to a stream of 8th and 10th grade banter, the girls were soon sorting out travel routes, choosing historical and tourist spots to visit, and discerning the best hotel values for their budget. Was it a risk? Were there occasional glitches? Sure! But it was an amazing trip that they'll all never forget, and the girls learned useful life skills while having a blast.
Takeaway: Mopey, tech-dependent teenagers come alive under the influence of power. Give your teens a primary role in planning a family outing or vacation, and you'll create a deeper sense of trust, loosen their death-grip on social media, and see them build new skills while having a great time.
Go out on a limb: build something together. A wise woman once said that a couple should never get married until they wallpaper a room together. She's got an excellent point. When inexperienced people work on a complex task together, we choose between two revealing paths: 1) allowing our individual frustrations and irritation to affect each other and the task, or 2) learning together from our mistakes and breakthroughs in order to complete our goal successfully. Big projects require patience, planning, and listening to each other; when family members feel heard, they become more flexible and willing to share the workload.
Takeaway: Big family projects -- like building a tree house or fire pit, for instance -- create opportunities for delegation, decision-making, and shared creativity. Working through elements of design, cost, tasks, and cleanup together as a family allows each member to contribute and share a sense of ownership and responsibility for the finished product.
Get messy with some art. Here's a favorite old parenting suggestion: if a child writes on the walls, you should put frames around the scribbles and call them "art." A fun idea, but if you've ever had a toddler, you might wonder if there's be any unframed wall space left. For the sake of health and sanity, of course it's important to keep up with the messes that come along with family life, but sometimes the desire (or compulsion) to have clean, clear spaces can inhibit opportunities for expression and whimsy. Create a space in your home or yard where family members can get dirty/messy/crafty without having to meticulously clean up at the end of each session.
Takeaway: For more fun this summer, release the need for all perfection, all the time. Define a craft zone or art yard space where creative arts and crafts projects can be embraced without concern about making a mess. It'll help the emerging artists feel more at ease as they try new media, and will allow those more sensitive to clutter or disarray to relax too. Teenagers especially respond to freedom in their bedrooms. If they want to paint poetry or anime figures on the walls, does it really matter in the long run? By letting them express themselves and customize their spaces, you'll get to see them have fun and you'll get a glimpse of what's going on in their ever-more-private minds. (Do provide appropriate paints for them if you feel Kilz won't do the trick down the road.)
Have fun with media together. Many kids today are incredibly savvy with media -- why not use their expertise to put more creative punch into family videos or photos? Convert old family films onto digital video (there are devices and in-store services that do this) and have your kids help with captions and soundtrack music. (Pssst! They might actually learn a little about family history in the process, too, but they don't need to be aware of that.) Perhaps you'd like to scan family photographs into a computer and arrange them into print-on-demand photo books, perhaps ordering a few extra copies as presents for faraway family members. The really adventurous creative family might even make their own movie; with some imagination, a digital video camera, some walkie talkies, and a home computer for editing, the next Steven Spielberg might begin to emerge!
Takeaway: See media as your new best friend. And let your kids make the introduction. Allow yourself to start seeing that backlog of family photos and video as memories you're excited to experience and remember (instead of a huge mound of media to be sorted). By making it a family project, members will fill the gaps in each others' memories and resuscitate old stories, while helping to preserve them for future generations.
Take a risk. Oh, sorry, let's clarify: EVERYBODY take a risk. Danskin holds a series of sprint triathlons for women each summer with the motto, "When was the last time you did something for the first time?" How would you like to respond to that question? Your kids are constantly on new terrain. It's natural for kids to try new things in the summer; camps and clinics abound with hosts of activities they've never experienced. (Archery, pottery, horseback riding -- alright ... ! Why not! ) Adults, however, tend to narrow their range of activities, choosing to stay within the safe zones of the familiar and comfortable. What is there to lose? A little pride? Who cares! By stoking your courage and taking some chances, you and your family will reap the rewards of your risk-taking.
Takeaway: Become a brave creative model for your children. If you've been curious about taking an acting class, trying plein-art painting, or taking up tap dancing, make the leap and begin. Your kids will be watching you (more closely than you think) as you find your way from uncertainty to confidence. Wouldn't you have loved to see your engineer Dad fingerpainting? Your tidy Mom sculpting, covered in clay? Your cool big brother awkwardly playing his first pop song on the guitar? Ignite some summer excitement and personal growth for yourself and it'll be infectious -- your creative courage will resonate throughout your family.
Chronicle by mashing up classical arts with real life. There was a great Vogue article a few years ago about a society woman who had her classic portrait painted while wearing her workout clothes. She made the unusual choice because she had recently found fitness and that was the way she dressed most days. Something bold and wonderful occurs when there's authenticity in art. When you truly tell (and show) it like it is, there's a cool shift from a plea for an idealized what might be someday to a statement full of the richness of what is. As a side bonus, authenticity is also tremendously entertaining.
Takeway: Real is the new ideal. Keep a log of something seemingly mundane in your family's life. Take a picture of your dinners each night (shots before and after are fun), record the best and worst moments of each family member's day before bed, or sketch the garden as it looks each Sunday. Get a roll of paper and some tempera paints and have the whole family do a portrait of the family pet, a young child's favorite blanket or stuffed animal, or one another. Put a shyer child's gifts of observation to work with a video log of your roadtrip vacation. Have a more outgoing teen blog about it. (And refrain from commenting/censoring.) Be honest and light-hearted as you chronicle your life in different, unique ways.
Summer's here. The time is now to bring your family's creative juices to the surface. When we play and create things together, we bond and grow together and see each other in new ways. Make this summer your most creative yet -- happy creating!
Mary Beth Maziarz is a professional songwriter, creative workshop facilitator, and the author of Kick-Ass Creativity: An Energy Makeover for Artists, Explorers, and Creative Professionals (Hampton Roads). Visit her online at www.kickasscreativity.com.