In the face of an all-out assault on abortion access, defenders of reproductive justice are converging on Atlanta this week to protest the deceptive tactics of the Human Coalition – a uniquely disturbing anti-abortion group that operates misleading digital outreach and a string of "crisis pregnancy centers" (CPCs) in what they call "key abortion dense cities." Crisis pregnancy centers are fake clinics marketed as reproductive health clinics whose sole aim is to deter women seeking abortions from having them. There are more than 2,500 such fake clinics nationwide.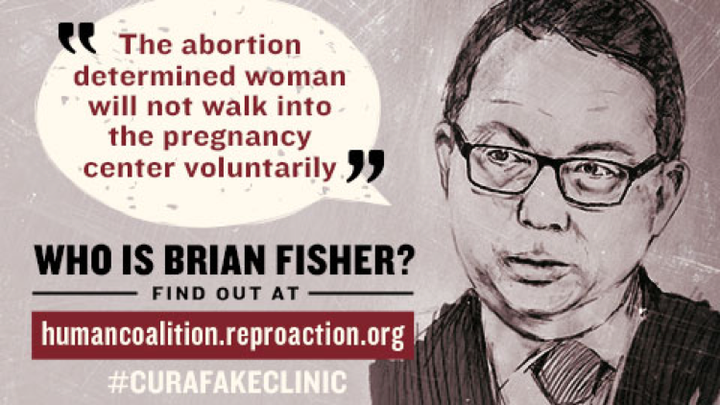 Forged under the stated goal of making abortion "unavailable in our lifetime," the Human Coalition operates Cura Women's Care Clinics in Atlanta, Raleigh, Pittsburgh, and the Dallas/Fort Worth area. Human Coalition also uses intentionally misleading digital outreach to lure women into fake clinics beyond the facilities they own and operate.
Following a carefully constructed model of misinformation and stigmatization, the Human Coalition uses big data and targeted internet marketing strategies to advertise its clinics as standard women's health clinics. Their websites show images of people wearing scrubs and stethoscopes. But these centers are actually strategic players in the anti-choice agenda. They intentionally do not offer the full range of reproductive health services; instead, they exist to prevent the people they call "the abortion-determined community" from having the abortions they want.
This direct interference in a woman's right to abortion is chilling, and the danger CPCs pose to communities in the form of shame, misinformation, and in some cases misuse of public funds with zero accountability and oversight is unacceptable.
We cannot let this threat go unnoticed.
To that end, Reproaction has launched a national campaign that aims to shed light on this web of misinformation while demanding the Human Coalition and all fake clinics are held accountable for their network of deceit.
The nationwide campaign kicks off this weekend with a direct-action protest in Atlanta – a city that Human Coalition and its co-founder Brian Fisher has specifically identified as a "key abortion-dense" city where they hope to execute their "abortion-ending strategy." Organized in coordination with the Georgia-based reproductive justice group SisterSong, the protest takes aim at Human Coalition's local CPC, Cura Atlanta Women's Care, which employs similar marketing schemes to lure and prey on vulnerable women in Atlanta seeking an abortion. For instance, searches for "abortion, Atlanta," for instance, yield ads for the nonexistent "Atlanta Women's Center," with Cura's phone number listed as the hotline.
Research shows that abortion restrictions disproportionately hurt low-income women and women of color, and in Georgia this is particularly true. Even if they manage to avoid the predatory practices of CPCs like Cura, women seeking abortions in the state of Georgia are subject to several other state-imposed restrictions, including provisions that a woman must receive state-directed counseling that includes information designed to discourage her from having an abortion, followed by a 24-hour waiting period.
Abortion restrictions must be examined in the light of other issues that impact women's ability to make reproductive decisions. In the state of Georgia, maternal mortality rates are going up. Georgia has failed to expand Medicaid and poverty is a key issue in access to health care. That is not what Human Coalition or any fake clinic in the state is focusing on – they are not supporting the whole lives of women in the state.
Even more bizarre, Human Coalition-Atlanta has a "Fatherhood Coordinator," who recently described his job as "serving men who come to our clinic with their abortion-determined girlfriend or wife ... It's amazing to watch a father's demeanor change when he is encouraged to "man up.""
As frightening as the early days of the Trump administration have been, CPCs like the Human Coalition have been administering dishonest and coercive tactics on vulnerable women across the country for decades. In fact, a Congressional investigation in 2006 found that 87 percent of these centers surveyed – many of which receive federal funding – provided false or misleading medical information on the health effects of abortion in their written materials, websites and counseling.
Women deserve to receive accurate information about which options are on the table and to make choices that reflect their priorities and unique situations. Communities like Atlanta need to be able to protect women and their right to make fully informed, autonomous decisions about family planning and pregnancy-related care.
Erin Matson and Pamela Merritt are the co-founders and co-directors of Reproaction, a direct action group forming to increase access to abortion and advance reproductive justice. Monica Simpson is executive director of SisterSong, the national woman of color reproductive justice collective.
Popular in the Community