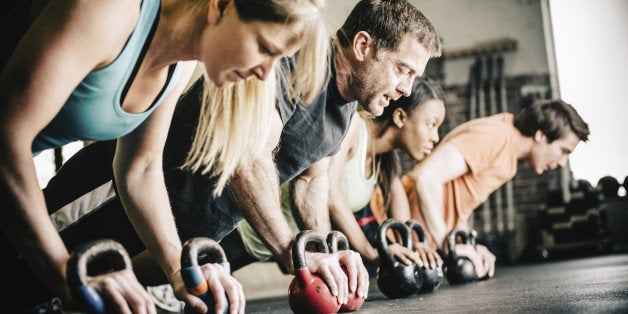 In recent years, the high-intensity workout known as CrossFit has drawn tens of thousands of new acolytes -- and I am one of them. I joined the CrossFit family because I was in search of a thrilling workout that could challenge me physically in the same way that my job as an advocate for women's economic well-being challenges me on the job.

Lying flat on my back the other day after another killer workout, it struck me that physical strength -- the quality most often cited as dividing the sexes -- is rarely a factor for this notoriously rigorous fitness program. Man or woman, when we walk into our box -- that's CrossFit lingo for gym -- we all are equal in the eyes of a WOD (aka workout of the day).

By contrast, more than 50 years after passage of the Equal Pay Act, women have yet to achieve anything close to this same equality in the world of work. Women still earn only 77 cents for every dollar earned by men, according to U.S. Census Bureau and the story is even bleaker when statistics are broken out by race: African-American women and Latinas earn a meager 64 cents and 55 cents respectively, for every dollar a white man earns.

This drastic disparity can be traced back to federal policies established almost 80 years ago. The unemployment insurance system set up in 1935 in the aftermath of the Great Depression was designed to support white male breadwinners. It made no effort to address the needs of domestic and agriculture workers who were majority women and African-American. Only now, with policies that provide employment protections for excluded workers (for example, domestic workers) are we beginning to address the racism and sexism implicit in our federal strategies for addressing historically marginalized sectors.

We have a long way to go. Today, despite the fact that women now lead in educational achievement when it comes to bachelor, master and doctoral degrees, they make up sixty percent of full-time minimum wage workers, dominating such low-wage sectors such as domestic work and low-level support roles in business and health-care. By age 25 the average young woman working full-time has already fallen behind, earning $5,000 less over the course of her working career than the average 25 year old male, according to the U.S. Department of Labor's Chief Economist.

To accept this state of affairs is to say we are okay with women paying a "gender tax," in essence having to work three times harder (actually more than three months than men) than their male counterparts to bridge the pay gap. It's to say that it's okay when a mother working full time is still unable to make ends meet for her family and must depend on the safety net even when she is doing her fair share -- especially troubling given that women are the primary breadwinners in 40 percent of households in U.S. compared to 11 percent in 1960. I am talking about women like Jessica, divorced with two children from Carlsbad, California. She gets up every day and works hard at her minimum wage job to provide for two children but despite doing the right thing, she is constantly weighing her survival decisions -- food or medical care for her family?
This must change -- and a necessary (though far from sufficient) first step is to raise the federal minimum wage. Hiking the nation's minimum wage from $7.25 to $10.10 an hour, would reduce the gender wage gap by almost 5 percent, according to the President's Council of Economic Advisors.
There is no doubt that over the past five decades, the Equal Pay Act and other state and federal laws have strengthened employment and advancement opportunities for women in the workplace. These good intentions have led to a woman's ability to contribute their fair share within the marketplace, workplace and at home. And in 50 years, we have reduced the gender wage gap by 18 cents. Still, we are nowhere close to where we need to be -- and hundreds of thousands of women and their families continue to suffer from this unfair wage gap.
In July, top CrossFit athletes faced off in the 2014 Cross Fit Games. During this grueling competition, each woman and man was judged on their skills and abilities. The top five woman left standing walked away with the same cash prize as their male counterparts -- not 23 percent less. It doesn't matter if the weight or time is different between sexes. The fittest women have accomplished the job at hand -- they prepared, followed the rules, and performed. If one of the fastest growing sports in America can apply the concept of equal pay for equal effort, we should be able to do the same in the world of work.

Nikole Collins-Puri is Director of Programs for the Women's Foundation of California and a Ford Foundation Public Voices Fellow with the OpEd Project.