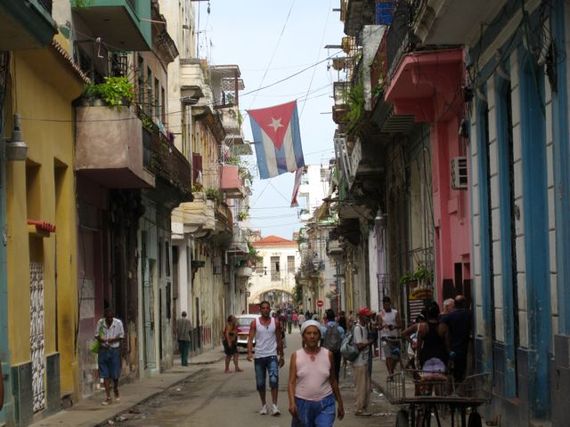 The taxi wasn't a bright shade of yellow. It wasn't sunny, orange, or even close to a primary color. The opaque maroon paint was worn off in many sections and patches of rust adorned the doors. Half of the lighted numbers on top were dim and the engine roared when it turned a corner. The old Lada reeked of stale cigar smoke, and the cabbie was quite friendly but spoke very little English. He quickly figured out that we were Americans and shouted "USA wonderful" with a cheerful giggle. The street was pitch black with no lampposts and the pavement was severely damaged. He continued with his USA mantra sporadically. Then we hit a pothole. The mantra changed but was still jolly. "Cuba F*ck it."
It took me close to fifteen years to pilgrimage to Cuba. The fact that I was traveling with eleven senior citizens didn't really matter. The mythical island was a place I had read about and studied since I was a senior at Bates College and took Aviva Chomsky's Introduction to Latin American Studies. During the 90s she led small groups of students to Cuba to experience the culture first hand. President Clinton had implemented exceptions to the embargo for educational trips led by professors. My status as a colonial American history major left me at the top of the wait list and out of luck.
I can't imagine taking a stand in the messy complicated political relationship that the United States has with Cuba or how it feels to be a Cuban in exile or a local citizen who has remained loyal to the Revolution. There are a myriad of viewpoints regarding the tiny Island which is best summed up in the introduction of "The Cuba Reader: History, Culture, and Politics" edited by Aviva Chomsky, Barry Carr, and Pamela Maria Smorkaloff. In 1998 Pope John Paul visited Cuba and lost his hat to the sea. Fidel miraculously rescues it. Three varied newspaper headlines ensued. "In Granma, the Cuban communist paper the headline read: Fidel is God; He Walks on Water. The Vatican newspaper reported: Pope Performs a Miracle: Makes Fidel Castro Walk on Water and The Miami Herald stated: Castro Doesn't Know How to Swim."
Regardless of where your opinion lands on the Cuban political spectrum it is undeniably one of the most fascinating places to travel to. A city of deteriorating grandeur, frozen in time, and a complicated paradox. We were there to absorb and study Cuba's artistic side. Cultural exchange is permitted through the Obama's administration's People to People Program.
Our tour guide's name was Mario and he had certainly learned how to work the system. He had an Italian black market iPhone and resided in a privately owned house that was passed down from his grandmother before the Revolution. He made more in tips in one week then his monthly salary of three hundred and fifty dollars. He referred to me, as the skinny girl from LA who only ate veggies. Mario frequently declared that there were no stupid questions to be asked until one of the seniors inquired if the government owned the countryside golf course. "Remember when I said there are no stupid questions. I lied."
Vibrantly colored vintage Buicks, Pontiacs, Fords, and Chevys line the streets of Havana. It is a rainbow colored multitude of metal. The majority of them run smoothly, spackled together with Russian parts and Cuban ingenuity. Drivers attempt to entice tourists to embark on scenic tours or take photos in them. A handful of muted rusty automobile cadavers rest as broken down heaps parked haphazardly in alleyways.
Havana is hot, sticky, and dusty. There are no shops to browse in and a minimal number of government owned restaurants are reserved solely for tourists. Fidel and Che impersonators roam the streets hoping to convince you into a photo. They shake your hand energetically and laugh whole-heartedly. Revolution propaganda and mythical street art depicting Che and Fidel are littered throughout the city on posters, billboards, and concrete walls.
Beautiful young girls dance in homemade-checkered skirts. They fling themselves across the stage with passion and fervor. The music comes from an old silver boom box. We are instructed to sit in the back of the theater as the ceiling up front cracks and falls off in large chunks. There is no air-conditioning and it smells of fire damage. A flamenco dance company down the street inhabits a building with many floors and classrooms. They have thousands of students of varied ages and wear long black skirts with leotards. They twist their hair up into perfect tight buns and travel the world. Their studio has large shiny mirrors, ballet bars, and AC.
We hear great jazz and scat. Musicians in their home basements or full-fledged well funded concert halls. Trios, Big Band, and Afro-Cuban. The museums are pristine and chock full of sculptures and paintings. We attend private residences and see personal art collections. Photos from before the revolution and collages expressing the time after. We dine in delicious Paladars, homes of Cubans that turn into restaurants nightly. The outside is rundown and dilapidated but upon entering it rivals the hippest hot spot in Soho.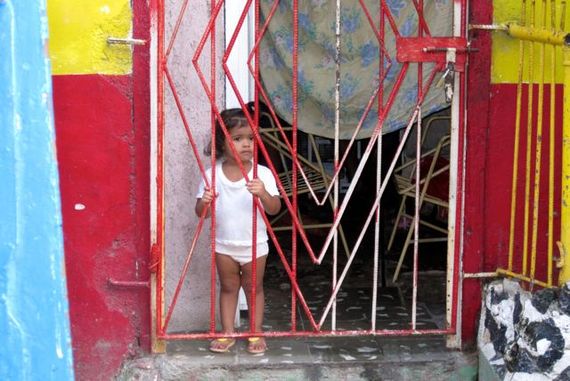 But this is just a tiny glimpse into Cuba. It is a vast country of many contradictions. Rich in culture but imprisoned by its own beauty. Elegant old edifices crumble at the rate of three per day. Ancient hotel casino high-rises lie vacant and decaying. They overlook the spectacular ocean and yet remain a ghost town. The pace is slow. Young couples congregate on the Malecon's wall or stand in gigantic lines at the government run ice cream shop. It is a place of have and have nots, of happiness, and underlying deep sorrow. A snapshot of an era gone by with a quiet constant hum. It's hard to make sense of the island but at the same time it steals your heart. When I think of Cuba I recall a photo I took of a beautiful toddler living in squalor. She's holding on to the door of her colorful cage, trapped by circumstance but still lovely and curious. Fidel's Cuba reminds me a bit of Neverland. A place hard to believe in and crumbling brick by brick till one day it disappears into a pile of fairy dust.