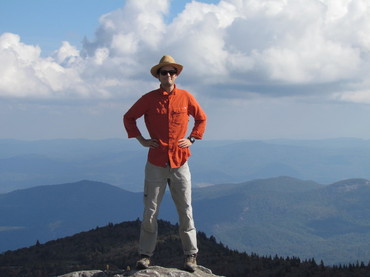 For years I have been citing a directive of my own making - that one should eat, when possible, from one's own zip code. More poetry than practical, I came up with this notion way before the farm-to-table movement, way before "local" became a destination, way before "sustainable" became a slogan. I wrote about the pleasures of eating from my window box in my first cookbook Little Meals, in 1993. Back then I pulled a few zucchini from my Park Slope backyard garden, culled a pint or two of little tomatoes, and had enough basil to keep me well supplied with freshly made pesto most of the summer. Some friends nearby grew figs and grapes in their yards, which we occasionally swapped.
Just last week, in a small organic farm in Asheville, North Carolina, I had the giddy pleasure of digging for my own lunch and then preparing the "materie prime" (prime ingredients, as the Italians would say) an hour later in the home kitchen of Evan Chender. Evan is a young soil farmer by way of Vassar College who developed his formidable skill and passion at chef Dan Barber's world-famous Stone Barns, a sustainable farm and Michelin-starred restaurant on the Rockefeller estate in Pocantico, New York. At the age of twenty-six, Evan and his new bride, Claire (also a Vassar grad, a surfer and foodist) moved to Asheville as the town itself emerged from a sleepy enclave to a vibrant community of artists, brewers, and buskers with a burgeoning restaurant scene, daily farmer's markets, and bespoke food.
Evan first worked as a cook in nearby Weaverville and then decided, with the help of Asheville's great climate and sustainability vibe, to begin his own organic farm. Only 8,000 square feet, it supplies Asheville's top restaurants (The Bull and the Beggar, most notably) with topnotch ingredients - many of which I never heard of, let alone eaten. May I extol the virtues of his saltwort, celtuce, Kailan (Chinese broccoli), menegi scallions, borage leaves, and wild vetch tendril? These, my friends, are the ingredients of the future (and some cultures' past). If you want to partake, call Evan. He tends to every square inch of the soil, scours the world's seed markets via the internet, and seduces the town's voracious chefs into taking everything he grows, no matter how unusual. He is a well-tuned, one-man band. He plants every seed by hand, knows when to water, when to rotate, when to turn, turn, turn. He has already had enough seasons under his belt to make a living and live his dream. Coming this season? Aleppo pepper, fenugreek shoots, purple shiso, vegetable mallow, flageolet shell beans, and yes, tetragonia, a kind of spinach indigenous to Australia and New Zealand. In the fall you can expect to see a crop of yokatta na, shunkyo radish, oca and mashua. This is the language of poets.
And so was our zip code lunch. Freshly-dug potatoes were gently broken apart when tender and tossed in a homemade mayonnaise with freshly picked radishes, fennel fronds, and nasturtium flowers. There was a beautiful, radically fresh salad of just-picked gem lettuce, variegated lusia radicchio, powerful arugula, and fragrant bits of coriander flower, gilded with an emulsion of spicy mustard, local maple syrup, Greek olive oil, and homemade vinegar that Evan secrets in his top cupboard. Shavings of an excellent parmesan tied it all together. The most exciting dish of all contained nuggets of celtuce (hard to describe but with a slight cucumber taste, firm flesh, crisp and briny, waterchestnutty), sauteed with strands of saltwort (I am a huge fan of this sea-like veg), slivers of young garlic and finished with purple shiso. We drank a bottle of Reuilly, a crisp, aromatic white wine with subtle minerality from the Loire. The experience was nothing short of a thrill.
And how do I know Evan? He was a culinary savant at the age of fifteen who cooked lunch for me and later helped me with a cookbook I wrote for teens called Eat Fresh Food (reviewed in the science section of the New York Times in 2009). Who knew he would take it so seriously.
Rozanne Gold is a four-time James Beard award-winning chef and author of Eat Fresh Food: Awesome Recipes for Teen Chefs, Healthy 1-2-3, and Radically Simple: Brilliant Flavors with Breathtaking Ease.