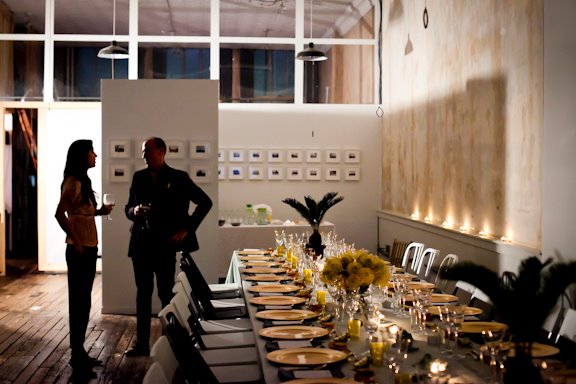 Mary Ellen Carroll, "Federal, State, County and City," Installation View at Third Streaming, "Exotic Baroque Paladar" Event, March 21, 2012, with Ana Sokoloff and Vasco Araújo (Photo: Whitney Browne)
I'd met Third Streaming Founder Yona Backer before at parties, but our first official one-on-one meeting was supposed to take place on a Saturday afternoon at Third Streaming almost two years ago. Yona arranged it with our mutual friend Jayson Keeling. I was surprised when Jayson and I arrived, because three to four people were already sitting around the high kitchen table in the back room, having individually dropped in on Yona earlier. These folks included ICI Deputy Director Renaud Proch and Marian Goodman Director Rose Lord. Bottles of wine were opened and poured; espresso made and offered. When Bronx Museum Director Holly Block dropped in shortly thereafter, followed by artist Maria Elena Gonzalez, the evening turned into a full-fledged, impromptu "salon." What a wonderful gathering of amazing people. We spent the rest of the afternoon and early evening in warm, down-to-earth conversation.
These impromptu "salons" occur fairly regularly at Third Streaming, because in addition to presenting important art and innovative programming, this arts space serves as a place where Yona's friends, who include some of the smartest people in the artworld, can stop in, relax and think out loud about current issues in the arts and out.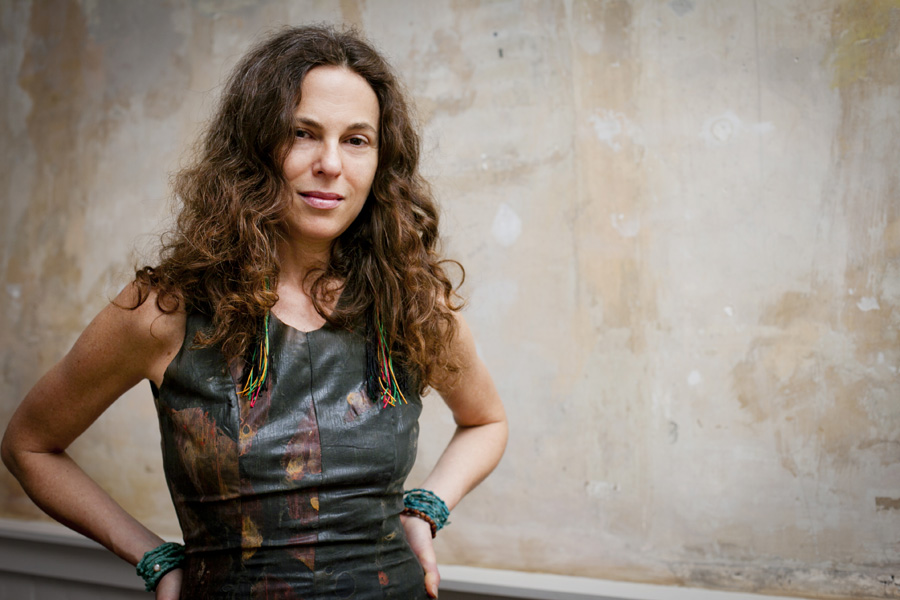 Yona Backer, Founder, Third Streaming (Photo: Whitney Browne)
All images courtesy of Third Streaming (NY).
Julie Chae: The caliber of programs and artists at Third Streaming parallel that of major international arts organizations, but there's an openness to new possibilties instead of institutional formality. Who or what has influenced you in terms of your approach and the art you want to present to the public?
Yona Backer: We take our cue from a musical term -- Third Stream Music, a musical genre that defines a synthesis of classical music and jazz.
As far as influences, it's an eclectic mix that ranges from Marcia Tucker, founding director of the New Museum, and Gloria Steinem, co-founder of Ms. magazine, as well as writers such as Robert Farris Thompson, Paul Gilroy, Stuart Hall, Edward Said, and Susan Sontag, just to name a few. Inspiration also comes from places like Black Mountain College and the East Village club Nublu.
JC: You'd been working as a senior program officer at the Warhol Foundation (a dream job for many) when you decided to launch your own arts space. Why?
YB: The idea to open Third Streaming developed while I was working as a grant maker. I was making site visits to all kinds of art institutions in the US and abroad during a time when the economic and political climate was becoming increasingly conservative and influencing funding trends.
Progressive foundations like the Warhol Foundation remained steadfast in their commitment to supporting those institutions who presented experimental and risk-taking work. I was inspired by those institutions which continued providing a platform for artists producing 'controversial' work, knowing it would be very challenging for them to raise funding for their programming.
That experience is what ultimately inspired me to open a space that at its core would be dedicated to experimental and interdisciplinary art forms and that would function as a LAB and be a safe haven for artists (working across different genres) to test new ideas.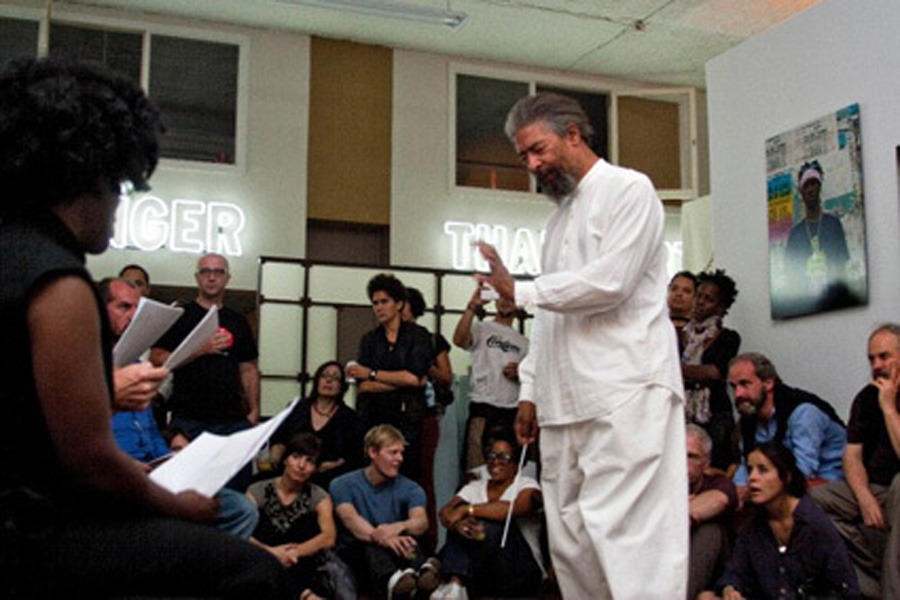 Butch Morris, 9/11 Break up to Make up, Choral Interpretations On The Writings Of Maurice Blanchot, Performance at Third Streaming, September 11, 2010
JC: Your commitment to experimental/interdisciplinary art shows as Third Streaming constantly presents top-notch performances, such as Trajal Harrell during Performa 12, Ben Patterson, Kenya Robinson with Nicky Enright, and Derrick Adams, as well as book launches, screenings, music, critique sessions, artist/scholar talks, Paladar evenings, etc.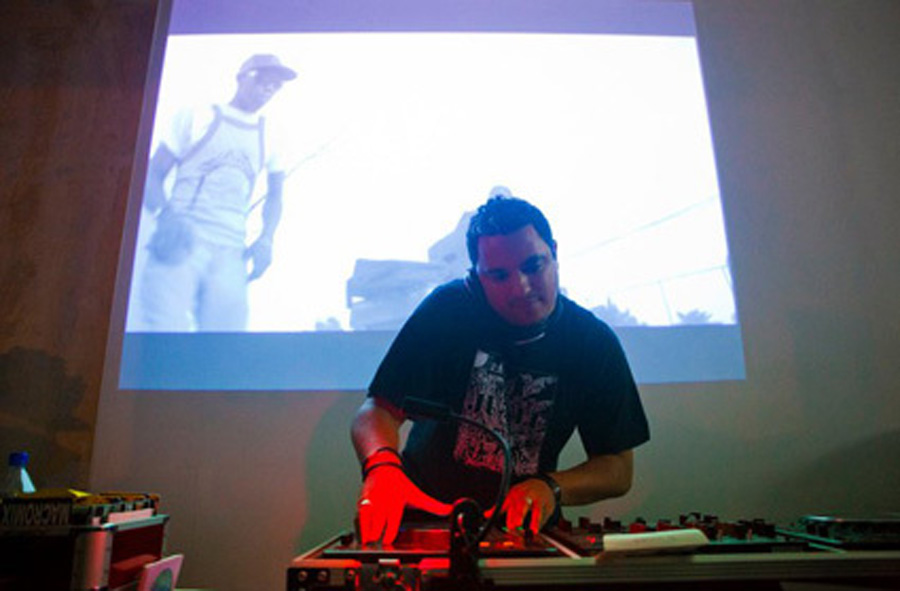 Kenya (Robinson) with DJ Lightbolt (Nicky Enright), The Ten Commandments, Performance at Third Streaming, October 16, 2010
YB: The Soho loft we are located in is reminiscent of the kind of raw downtown spaces where so many happenings and performances took place in the 1960s and 70s. I was interested in referencing that rich history within the context of New York today.
I wanted to activate the loft through performance and live art events, and act as a catalyst for community building by providing a platform for people to meet, hang out and exchange ideas. We believe that art has the potential to affect people in meaningful ways by providing an environment that stimulates discussion and critical thinking on socio-political topics that are relevant to the times we live in.
To date, every live art event we've presented was either a premiere or the first time a work-in-progress was performed before a live audience. Our visual art exhibitions follow a similar trend in that they consist of new or rarely seen work.
JC: Yes, until Third Streaming's Alvin Baltrop exhibition last year, many had not seen the work of this amazing photographer, despite an Artforum feature and cover image in 2008. Your show received a lot of critical acclaim, including reviews in Artforum and New York Times, and this critical recognition you garnered for Baltrop has resulted in museum exhibitions of his work at Contemporary Arts Museum Houston and the Watermill Art Center. How did you become involved with Baltrop's work?
YB: The show was the outcome of several years of research and conversations which began during my time at the Warhol Foundation with artist/curator Randal Wilcox who runs the Alvin Baltrop Trust. Randal knew Baltrop (1948-2004) and had already done much of the initial research.
Baltrop left behind a rich body of work which barely got exposure during his lifetime. His photographs present a very raw and honest portrayal of the downtown New York scene, in general, and the piers in particular. He captured the decaying architecture and the full range of activities that took place there.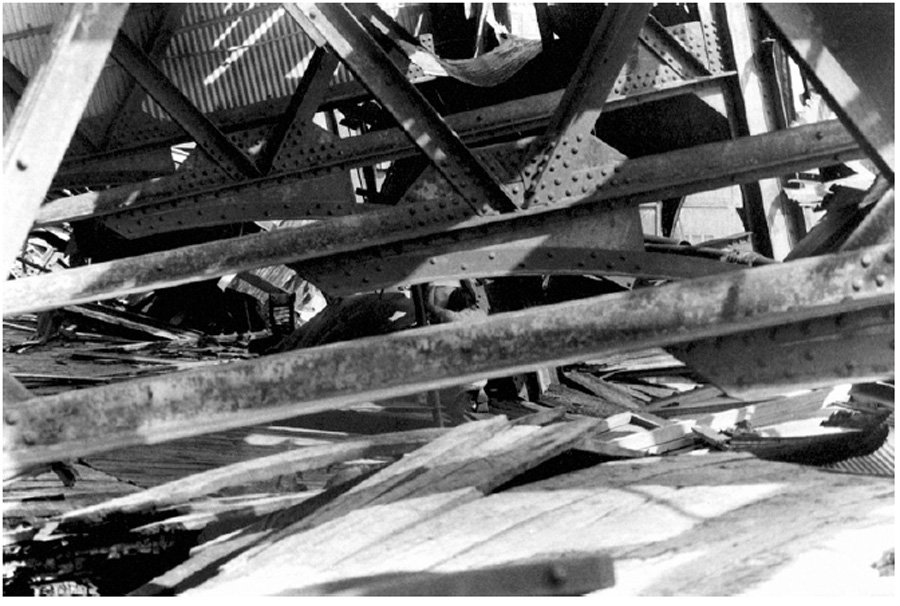 Alvin Baltrop, Untitled, 1975-1986, Gelatin-Silver Print, 5"x8.5"
YB: In its totality the work captured a by-gone era of downtown New York which was a revelation to many art world insiders and consequently, it generated a lot of interest from the press, critics, curators and collectors as well as from the broader public.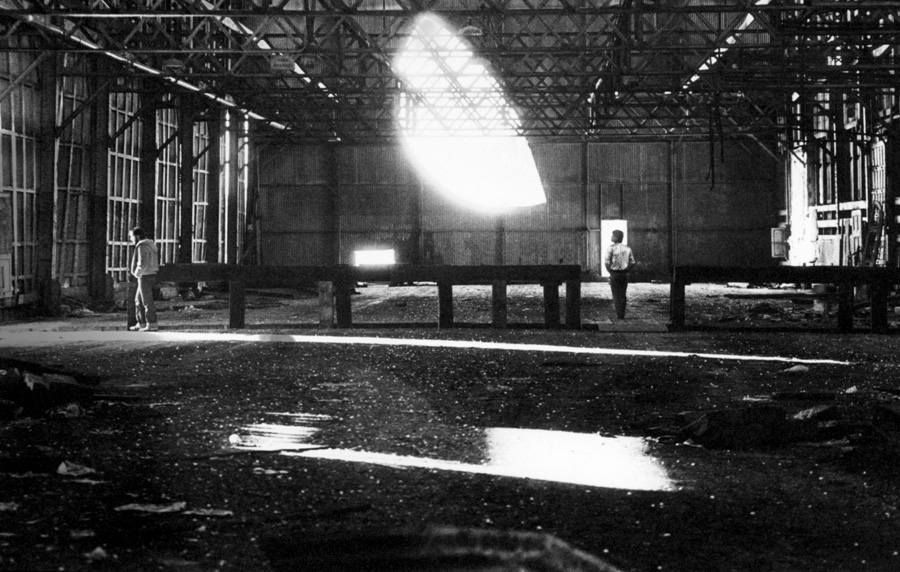 Alvin Baltrop, Untitled, 1975-1986, Gelatin-Silver Print, 6.25"x9.5"
JC: Two of my favorite artists that you exhibit are Jayson Keeling and Mary Ellen Carroll. What is it about their work that you believe is important to share with the public?

Jayson Keeling, Create in Me a Clean Heart Lord and Renew a Right Spirit Within, 2006, Digital C-Print, 29"×17"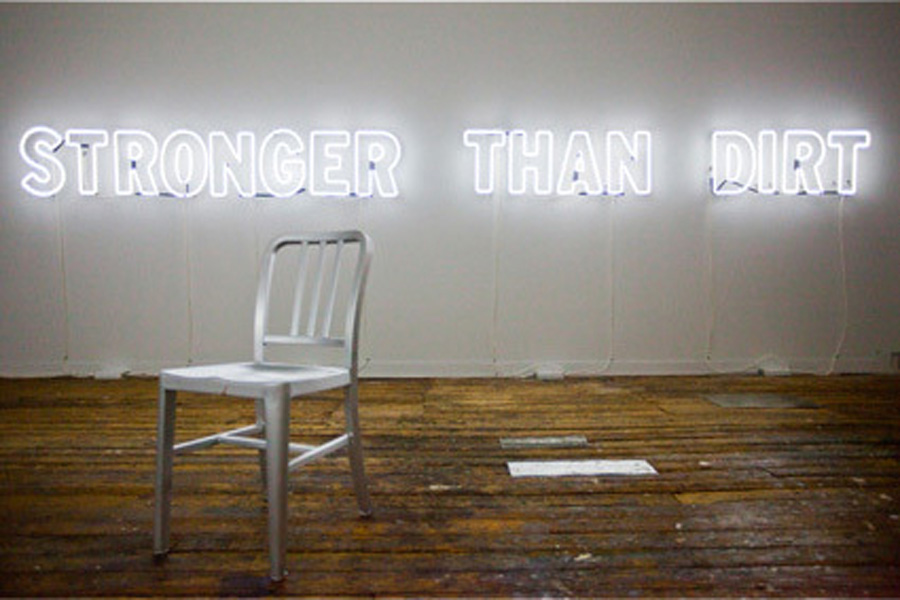 Mary Ellen Carroll, Because.(Stronger Than Dirt), 2010, Neon, 16"x21'x4"
YB: We are interested in a real engagement with art and the pressing social and political issues of our time. Jayson Keeling and Mary Ellen Carroll are two artists whom I have known for a long time. Though very different, they both engage in multi-disciplinary practices that include performance and that draws heavily from music, popular culture, architecture, literature and art history through a socially aware lens.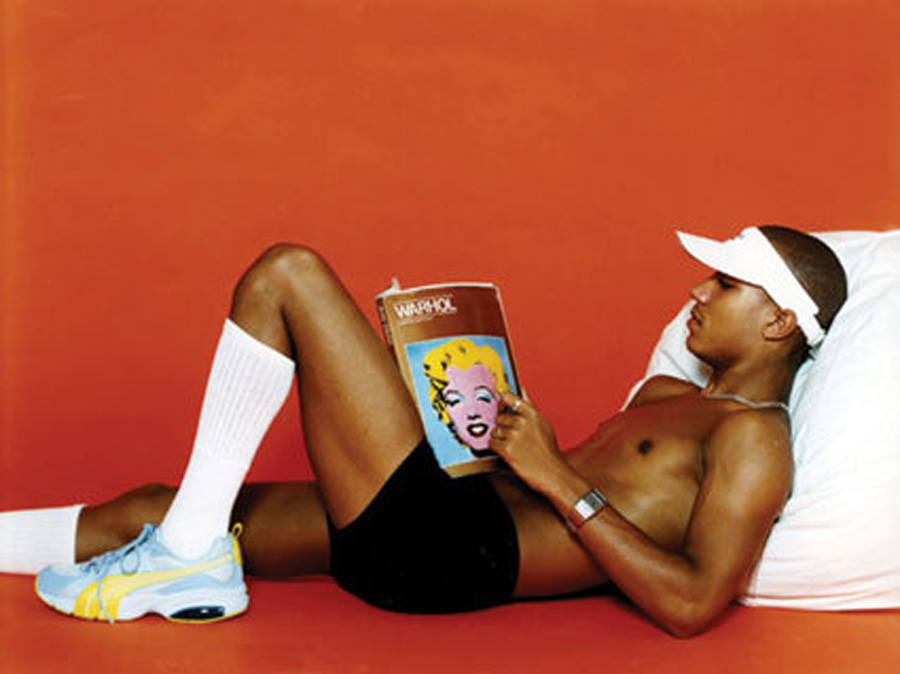 Jayson Keeling, Mathias, 2003/printed 2011, Pigment Print, 30"×40"
YB: Jayson's show at Third Streaming included photographs, paintings and video, one of which is a performance of the artist that took place in downtown Newark titled Marked Man.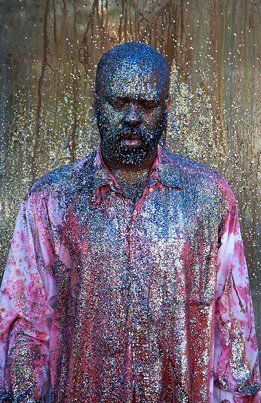 Jayson Keeling, Still from Marked Man, 2011, Video, 06:40min
YB: Our current exhibition, "Federal, State, County and City," features a series of works by conceptual artist Mary Ellen Carroll.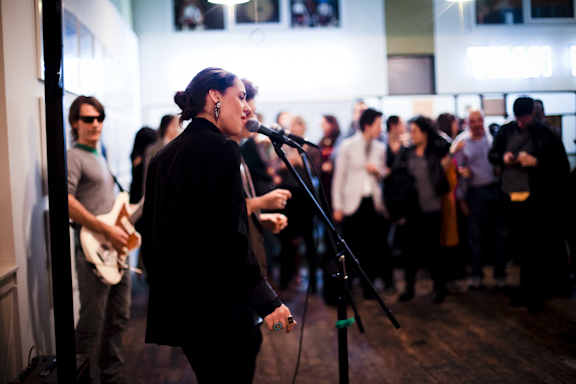 Mary Ellen Carroll, Jose y Jose (California Dreamin'), 2012, Performance at Third Streaming, March 8, 2012
YB: Introducing the exhibition was a performance by Carroll entitled José y José (California Dreamin'), based on singer/songwriter José Feliciano's cover of The Doors' "Light My Fire." Carroll's José y José plays with the idea of the musical cover, and in turn with issues of authenticity and reappropriation.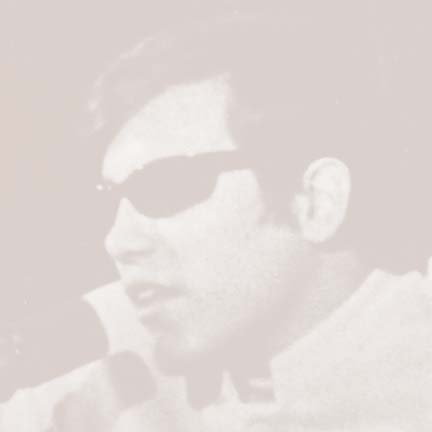 Mary Ellen Carroll, Warm José and Cool José, 2012, ink and watercolor on paper, each 30"x22"
YB: While José y José (California Dreamin') sets the stage for the exhibition's ties to California, Carroll's Federal, 2003, provides its backbone in both name and concept. The series features the Federal Building in Los Angeles, which houses the FBI. In addition to shooting the 24-hour film Federal, a series of photographs was taken every hour, on the hour, with a medium format camera, the entirety of which is on display in "Federal, State, County and City."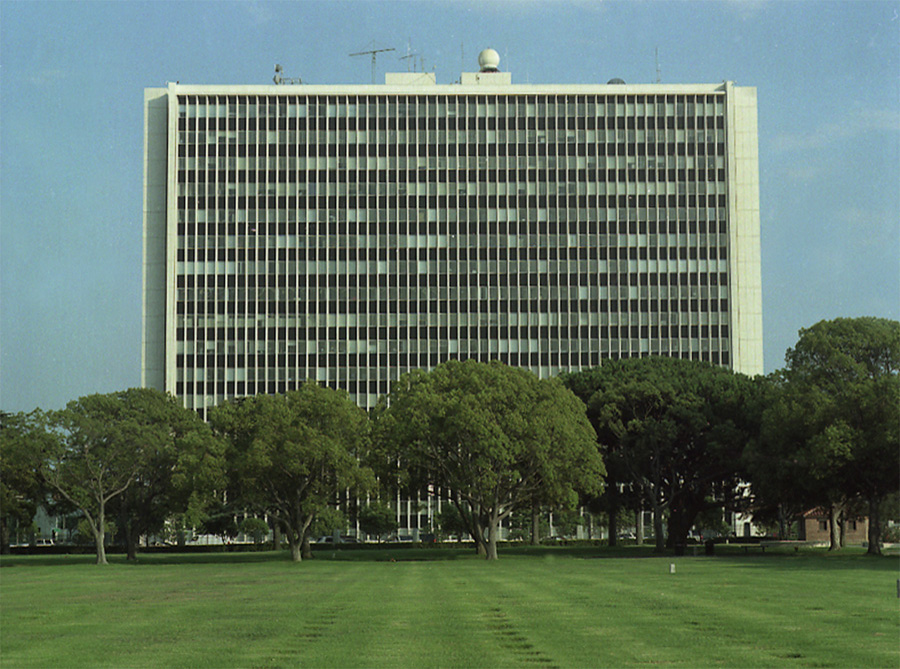 Mary Ellen Carroll, Federal, 2003. 24 Cibachrome Prints, each 20"x24"
Yona Backer is a producer, curator, consultant and the founder of Third Streaming, LLC. She has had a twenty-year career supporting artists and cultural institutions that fall outside of the mainstream, and is committed to a collaborative approach to arts programming and management. She also serves as an advisor for several national and international art and media groups. Before founding Third Streaming in 2010, Backer was Senior Program Officer at the Andy Warhol Foundation for the Visual Arts in New York for 9 years. Backer had previously directed the visual arts program at the Americas Society and was director at Throckmorton Fine Art, a gallery specializing in pre-Columbian and contemporary Latin American art and photography. Born in Kingston, Jamaica and raised in Amsterdam, Backer holds a master's degree in art history and archaeology from Columbia University and received a bachelor of arts from Hunter College. Backer has lived and traveled widely throughout Europe, the Caribbean and the global South, and her journeys have been a major inspiration for her work.
Currently on view at Third Streaming: "Mary Ellen Carroll: Federal, State, County and City...," 3/23/12 - 5/19/12, 10 Greene St. (2nd Floor), NYC. For more information, see: http://thirdstreaming.com/.
Popular in the Community