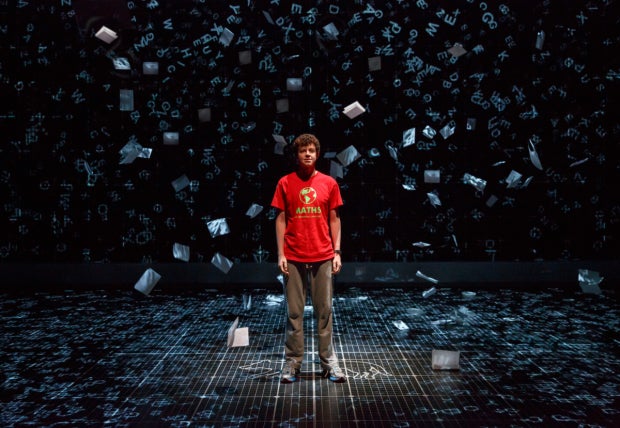 Simon Stephens' Tony-award winning adaptation of Mark Haddon's best-selling novel arrives in Los Angeles after productions in New York and London, still full of vibrancy and innovation. It tells the story of Christopher John Francis Boone (Adam Langdon), a 15-year old on the autism spectrum, who sets out to solve the mysterious killing of a neighbor's dog.
Christopher's investigative journey leads through a web of relationships, characters, secrets and lies, and finally to his first trip outside of his cloistered world in search of his mother in London. Both his father (Gene Gillette) and his mother (Felicity Jones) have struggled to raise the difficult and diffident Christopher, a struggle that finally cost them their marriage.
Adapting Haddon's novel was clearly a challenge, and Stephens' has succeeded to a great degree, substituting Christopher's voice in the novel with a narrator/teacher (Maria Elena Ramirez). Re-creating the chaotic world that Christopher inhabits was an altogether different challenge which the stage production is less successful in overcoming.
Under the direction of Marianne Elliot, the production relies on dazzling lighting and video design (by Paule Constable and Finn Ross respectively) to translate Christopher's world for the audience. While the video and lighting effects are spectacular, they create a larger-than-life, video game feel which actually erects an emotional distance between the audience and Christopher.
In the cavernous Ahmanson Theatre filled with flashing lights and cascading images, Christopher feels more like a tiny player in his own world, rather than a central character. One wonders if less might be more, and if a smaller, more intimate venue, and less reliance on special effects and more on the power of the text and performance might have a greater emotional resonance.
Having said that, Langdon's performance is solid, as he wages mightily against the sturm and drang of light, sound and video. The other characters drift in and out of Christopher's world with seemingly little effect, with the exception of the narrator/teacher who injects a sense of reality into the surreality of the production.
Popular in the Community