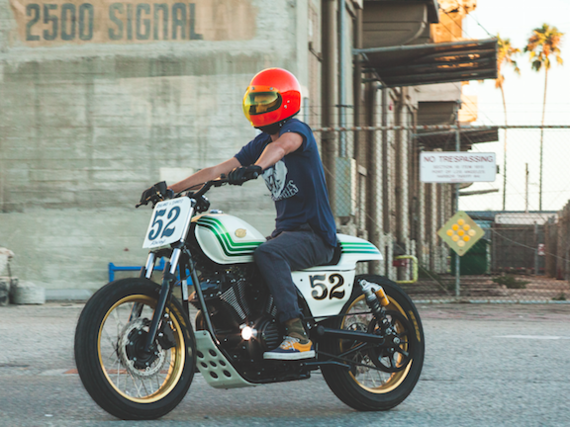 Arthur De Kersauson, The Greasy Hands Preachers director, airs out flat tracker
The growing impulse to customize motorcycles undoubtedly taps into a deep human desire to express personal tastes, individuality and self-expression. From the new breed of everyday guys wrenching it up in their garages to people like acclaimed motorcycle builder, Roland Sands of Roland Sands Design, their custom creations are fueling the next generation of motorcycles -- taking a factory bike and making it your own.
A former National Championship AMA road racer, Sands and his company draw from a high performance background that blends a love of two wheels with the desire to create modern classics. Sands, who's customized all brands of bikes, enthuses, "As a GP rider I had to think function first and I now naturally take a functional approach to my bike builds. I've been building and riding since I was sixteen, and one theme I like to push now with all our RSD custom builds is that afterwards, you just want to open the throttle and ride it."
No doubt Sands will be in attendance at this year's anticipated Long Beach International Motorcycle Show (November 14-16), which will be followed shortly after by the Seattle International Motorcycle Show (November 21-23). Earlier this year, the Handbuilt Motorcycle Show in Austin featured over 100 hand-built custom motorcycles, with the underlying goal being to celebrate the satisfaction of creating something with one's own hands.
So what did Sands' crew envision when they took a factory Star Bolt and turned it into a fun flat tracker? He explains:
"I've been racing and riding Yamahas all my life. With the Bolt we really focused on not going too crazy with it, keeping the bones of the bike stock and sticking to bolt-on parts to modify it. We didn't have to cut one thing off the frame. It's basically all stock. We did fabricate a few parts -- the exhaust, tail section mount, front number plate and skid plate. And then finally riding it, yeah, it's a blast! Really fun in the canyons."
For the 2014 Battle of the Bolts, for which national voting begins November 20, Temecula Motorsports, another shop, has taken a stock Bolt and, within six weeks, transformed it -- a higher ride handlebar, hi-style 50-spoke wheels and a bobber seat among other add-ons. Leading the build was Tony Agnello, who's worked in the motorsports industry since 1998, and proudly explains:
"When I first saw the stock Bolt, it made me think old school and growing up watching my father customize bikes in the 1970s. I wanted to take the factory platform to that place, a little further -- practical yet custom with an old school look with the advantages of modern technology. Everything we did, apart from 'The Incredible Bolt' paint scheme was readily available in bolt-on parts. And the end product doesn't cost you $30,000. It's more affordable."
Custom motorcycle enthusiast and clear advocate of the modern classic, Nick Dee of Rebel Social elaborates:
"Companies like Yamaha and Triumph are quickly getting on board with the growing customization movement. I think Yamaha even has a slogan: 'We build it, you make it your own' which is a new direction, clearly geared towards what the rider wants. I personally love what they did with the Bolt. It's a great looking platform and can be easily modified into anything from a scrambler to a mean looking chopper, bobber or cafe racer. The Bolt doesn't have a huge, ugly radiator like most modern bikes do. Also there are great companies like Low and Mean that provide a wide array of bolt-on parts for the layman bike builder. I recently started BOLT & WRENCH to share all these really cool Bolt builds out there. Bottom line, no one knows better what riders want than riders themselves. It's about individuality and creativity, celebrating who you are by how you style your bike. And this thing is growing, because each new custom bike build gets eyeballed by all these other riders, who are thinking, 'Hey, I want to do that with my bike!' It's that kind of passion and desire that is fueling the custom scene as a whole."
Calling all HuffPost superfans!
Sign up for membership to become a founding member and help shape HuffPost's next chapter