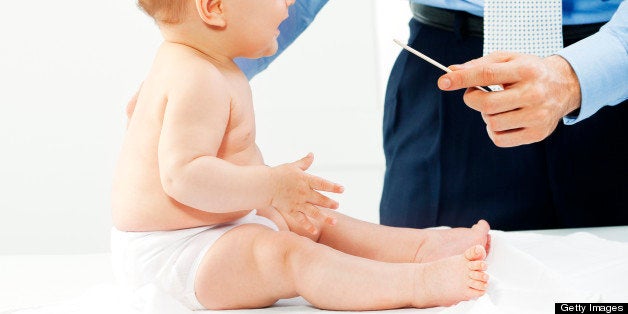 Of course, it's nice to go on vacation to islands with private beaches. But one drawback of getting away from it all -- which every parent hopes will not become an issue -- is that you're also far away from healthcare if there's an emergency.
One day during a recent vacation, I noticed Michelle walking a quick pace along the beach. I thought she was taking Lev for a stroll but my heart began to race as I got closer and saw her gesturing in a panic for me to come ashore.
Long story short, Lev had been sleeping on a couch, where I had left him surrounded by pillows, but he woke up and like a feral weasel managed to climb over the wall of pillows and dive headfirst into the floor. There was no blood but a large red mark and an ominous purple bruise forming on his forehead.
I sprinted from the beach to the car and simultaneously managed to get out of my wet bathing suit and dress myself while driving at a speed sufficient to momentarily distract Michelle from her primary worry about Lev.
It goes without saying that it's not a not a good idea to drive fast while undressing and dressing. But the panic a parent feels when your baby is hurt gives you superhuman powers and/or terrible judgment. Either way, we made it to the hospital and burst into the emergency room, at which point I began to cry. Not because Lev seemed to be badly hurt. In fact, he was back to his usual charming self. But I felt so scared and guilty at having betrayed my most fundamental duty, to protect my son from harm, and when I looked into his eyes all I saw was uncomprehending love. As I wept he gently stroked my chin, as if to reassure me, which only made me cry harder.
We sat down in the waiting room, and I began to get a grip. For one thing, an emergency room waiting area is a good place to practice compassion since nobody there is having a good day. For another, everyone kept walking over and remarking how cute Lev is. I asked the nurse for an ice pack, but Lev didn't seem too fond of that, so I tried to trick him by playing peekaboo with the ice.
Two hours later we got called in and a kindly male nurse who weighed approximately as much as a stalk of asparagus, took Lev's vitals. After that we waited in a small rundown room to see the doctor. His name was Stephen, and he looked like a young John Denver. He looked in Lev's ears and eyes and throat and listened to his heartbeat and reassured us that Lev would be OK but also that we did the right thing by taking him to the hospital as there had been the possibility of a concussion.
When we woke up this morning, Lev had magically healed the bruise, like Spider-Man. It was 5am and I wasn't even annoyed to wake up and make him his damn formula. I laid back down in bed with Lev on my chest and held his tiny, fragile body, feeling him breathe four times for every one of my inhalations, his heart pittering and pattering like a hummingbird, and mine breaking slowly into a million little pieces at the realization that I could not possibly exist in a world without him.
The he farted and slapped me across the face and said, "Don't be such a wanker all your life, dad." And we both fell asleep knowing our world was okay and would never be the same.