 On March 5, 2012, I wrote my first Huffington Post piece -- an open letter to the UConn community asking for their support in a referendum for a fee increase for the student newspaper, The Daily Campus, of which I was the editor in chief.
Now, a year later, I'm finally able to report some closure to that saga.
Our financial situation had come as a result of decreased advertising revenue, inflation and a student fee that had been steady since 1999. To continue providing the quality daily coverage of our campus beyond Fall of 2014, we needed student support for a $3 increase in their fees. Months earlier, we had launched a massive #SavetheDC campaign to make our case, and we caught the attention of local and national media. The outpouring of support, including endorsements from other student papers across the country, was incredible.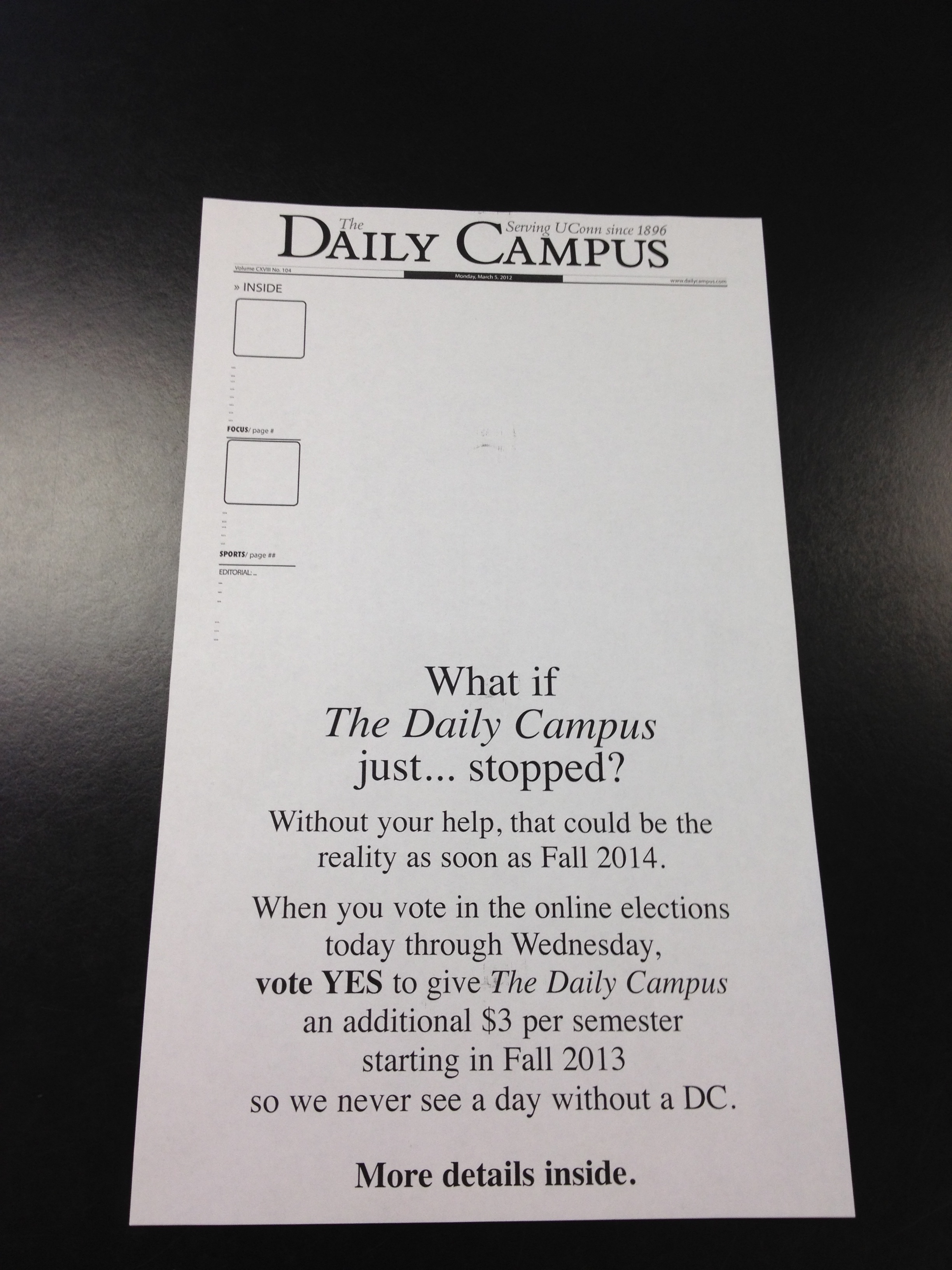 Two days after the referendum, in a closed meeting in UConn's Student Union, I received the results. Thousands of students had participated, but we had lost by less than 300 votes. I left the meeting and sat silently on a chair in the hallway, in shock. And as I thought about an organization that I love ceasing to be, I put my face into my hands and I cried.
For a few hours, we leaned on one another for support, but we refused to give up hope. We knew that the Board of Trustees would make the final decision on fee increases, and though they hadn't -- in recent memory --chosen to go against the recommendation of a student referendum, we were sure we could make a case for the importance of our publication.
So the campaign continued. And it continued even as a generation of staffers graduated in May.
The new editorial staff continued to cut expenditures, including decreasing the number of pages in the paper, to show The DC's continued efforts to be fiscally responsible. They increased outreach, launching a "Newsroom to U" program that functions like office hours for students to suggest stories, meet editors and express grievances. They boosted the paper's social media presence, launched a radio show through a partnership with the campus radio station, and launched a donation page on their website.
But on February 27, I received word from my incredible successor at the paper that the Board of Trustees had approved the increase, securing the future of The Daily Campus at UConn. I read the text message again, and then again, just to make sure I wasn't mistaken.
And then, as I realized that "my paper" would continue on, I put my face into my hands and cried.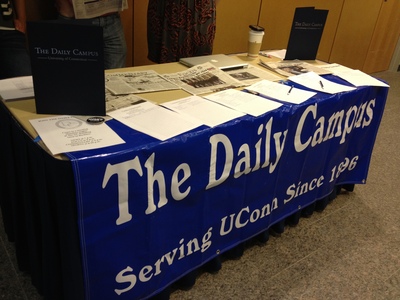 It seems silly to cry; I graduated UConn nearly a year ago, and my reign as editor ended then too. So why -- when the current staff is making waves without me and I have an entirely new set of opportunities in my life -- should I cry tears of happiness for something so seemingly removed?
But to those who understand the impact that a student newspaper can have on your career, or to those who know the bond that forms amongst the members of a student publication's staff, or to anyone who has worked tirelessly on a campaign for something they care about deeply, it makes complete sense.
"Most of the current staff will graduate before the paper goes under," I wrote in my piece last year. "We'll take our clips and our experience to graduate schools and publications across the country. But for most of us, our time at The Daily Campus wasn't just a means to that end. Our pride won't fade after we graduate. It will always be our paper, it will always be important and we refuse to let it die."
Not only do I stand by my statements, but now I believe them even more strongly.
I have never been more proud of my time at The Daily Campus, and I've never felt more honored to have worked with the incredibly talented and dedicated staff. Because, while The Daily Campus does produce a widely read, informative newspaper every single day, it also produces a yearly crop of incredibly talented journalists who go on to make a difference in the industry.
Whether they are covering their hometown for a local print newspaper, writing for a national audience at an online publication, or working production on the evening news, Daily Campers are out there making their alma mater proud, due in large part to the skills honed and the connections made during their time at The DC.
And now, thanks to the wise and courageous decision of the Board of Trustees, The Daily Campus can continue to nurture, teach and produce journalists of this caliber for years to come.
Popular in the Community