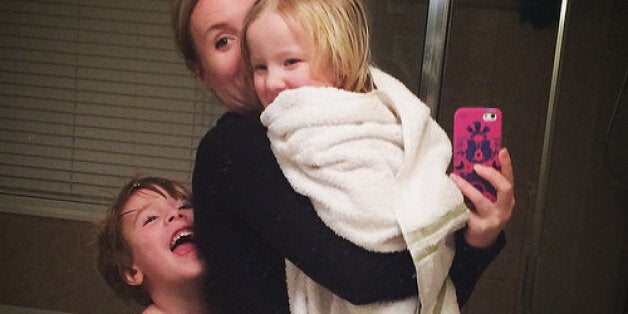 Monday night I did my usual routine with the kids. Read a couple books, talk a bit, say our "blessings" as we call it, and relax a minute as they drift off. I normally let them drift to sleep and then head back downstairs for a little time on my own -- practical things like cleaning the kitchen and packing lunches or necessary things like yoga or writing. But Monday, I laid there with them a minute, noticed the clock said 8:20, and then woke up to see 1:40 staring back at me.
I'm not sure how I can feel so exhausted and heavy when I just had a weekend snowed in alone and 48 hours to reset. How does that happen? The energy reserves seem to drain faster than they refill in my life.
There is always something to do. Always.
I got a reminder email about a kindergarten reading incentive chart that is due next week, and tonight I managed to look at our bookshelf and scribble in the titles of what we've read recently as Jude was bathing and Norah was brushing her teeth. It's the tiniest thing, just a list of books. But all the little things make your life so crowded. There is always something.
Sometimes I want to know who these moms are with pristine homes and matching clothes and cars that aren't littered with water bottles and food wrappers. Do they have less on their to-do list than I do? Probably not. But the older I get and the farther I get into parenthood, the less I even strive for that anymore.
My kids are clean! Their lunches are packed, and their bellies are full! We have a house where I can keep all the things we need! And we occasionally have fun! All of these things feel like accomplishments lately. I'm grateful for all of it.
Right, left, right, left. Just keep walking.
They look to me for these million things that have to get checked off the list as we engage in our daily lives. And sometimes that can feel like a thankless task, as any mom will tell you. But the daily grind is where it's at. I think one day they will see that more clearly.
And even now, it's in between these million busy moments that you can steal seconds of insight. It's easy to get tired of being the glue that holds together this delicate balance. The chauffeur, the chef, the maid, the tutor, the event planner. So many heavy roles we carry. But without all of these things, I'd have no front row seat to their lives and the million subtle ways they grow and change with every experience.
Now that my two are getting a little older, I think a lot about what they will remember about this time in our lives. I don't know what they will recall, what they will associate with me and with these years. But I think we are seeing each other in the truest way, even among the busy daily demands. They see me for what I really am and give me space to grow into something else. And I strive to do the same for them in return.
The hump is over, and we are completely in a new normal. Our rhythm feels worn and comfortable, even among the chaos.
Related