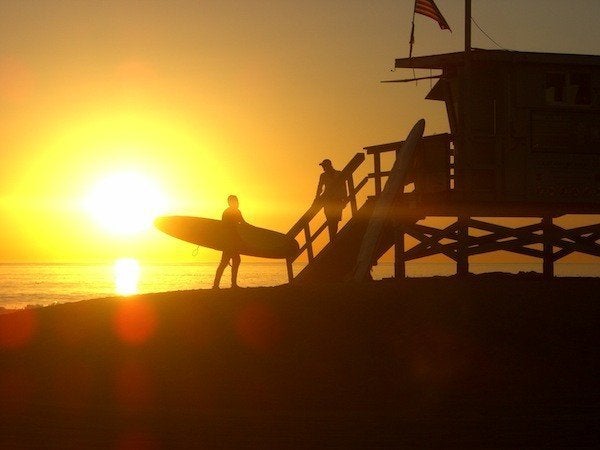 One afternoon in late March of 2009 I grabbed a bag as I left the house for a walk on the beach. Working most weekends made it difficult for me to join organized beach cleanups hosted by Surfrider and Heal the Bay. It occurred to me that day that I didn't need anyone to organize a beach cleanup for me. I could just grab a bag and go.
I picked the beach at the end of our street. The amount of trash I found disturbed me. Over the next few weeks I started The Daily Ocean beach cleanup project to photograph, weigh and share what I found online with people.
It's called The Daily Ocean because my goal was to go every day, but I quickly realized this was unsustainable for me. I am glad I did. People relate to doing what they can with the time that you have. Instead I averaged a beach cleanup every three days for three and a half years.
Each cleanup is only 20 minutes at a time. It works two ways; it is only 20 minutes, and look at what I find in 20 minutes. Four pounds of trash is the average and most items are made from very lightweight plastic materials.
The most surprising outcome of The Daily Ocean is all the people who have done Daily Ocean style beach cleanups around the world and shared them with me. There's a section of my project called the Community Count where people from as far away as Italy and Germany have weighed, photographed their trash collections, and sent me their results. I post all of this for them and together we've taken over 2,400 pounds of trash from beaches worldwide.
My favorite example of this is my friend Danielle Richardet from Wrightsville Beach, North Carolina who writes the blog "It Starts With Me." We met on a Daily Ocean beach cleanup in 2010. She went home and started her own Daily Ocean project. After taking more than 50,000 cigarette butts from her beach she was instrumental in getting a smoking ban passed for her community this past November that is the first of its kind in the area.
There's so much we can do in our daily lives to help. I used to use plastic bags to collect the trash that came from our own house. After finding thousands where they shouldn't be on the sand, I can't use them anymore. The same is true for plastic bottled water. I changed over time as I was inspired to and as I learned more. I hope that's the message The Daily Ocean carries: that your actions matter, that your choices matter and together we are a huge part of the solution.
Taking over 1,300 pounds of trash off the sand and reaching my 365 beach cleanup goal feels amazing, but it's just another beginning.
Tomorrow December 8th will be the 365th beach cleanup. I am hoping people will join me. All are welcome. Please come for the 365th cleanup on Dec. 8th, 2012 at 3:00 p.m. at lifeguard tower 26 at the end of Ocean Park Blvd. in Santa Monica. It's only 20 minutes and I've learned you can do a lot in 20 minutes.
PHOTO GALLERY
The Daily Ocean
Calling all HuffPost superfans!
Sign up for membership to become a founding member and help shape HuffPost's next chapter