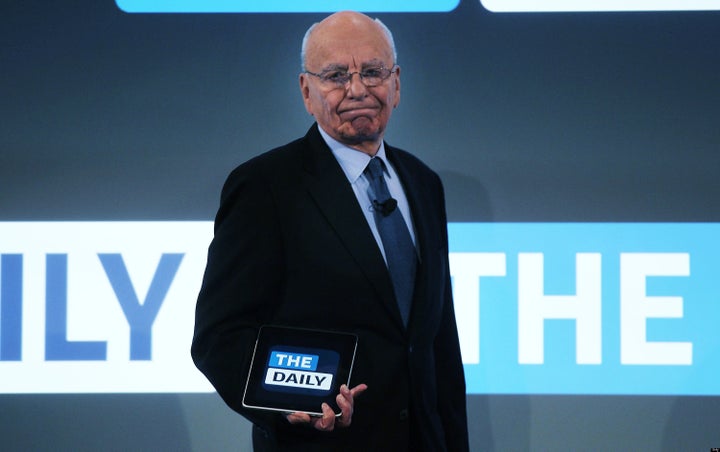 NEW YORK -- In the months leading up to Rupert Murdoch's unveiling of The Daily at the Guggenheim Museum, the buzz in media circles centered on all the journalists flocking to the forthcoming iPad-only "newspaper." Lately, there's been more talk of who's leaving.
On Thursday, art director for news Gabriel Dance became the seventh staffer to depart since February's launch. Dance, who was previously a multimedia producer at The New York Times, declined to comment on the move. However, he said goodbye to staffers and praised the venture in a memo obtained by The Huffington Post. Dance wrote:
i want to sincerely thank you for the opportunity to work with all of you over the past six months. it has really been my pleasure. the opportunity to start a new national news product with all of you has been the experience of a lifetime and i am deeply appreciative for that. it's a great group of people here. i'm going to miss the friendships.

i look forward to popping open the app daily and continuing to see the work produced by all of you (right after i buy an ipad:). i have no doubt that it will continue to evolve and excel. i anticipate it and am proud to have been a part of it.
The Daily pushed back Thursday against any notion of a newsroom exodus taking place.
"Seven employees turning over out of a staff of more than a hundred in a nine month period sounds perfectly normal to us," a Daily spokesperson said in an email. "On a personal note, we are fans of Gabe and wish him the best."
Most start-ups experience growing pains. And The Daily, as the first seven-day-a-week publication built specifically for Apple's iPad, had some technical hurdles all its own. Former staffers say there were frequent technical problems and suggest The Daily may have launched too soon. There was also confusion regarding The Daily's intended audience. Not to mention, for some Daily staffers -- especially digital natives used to publishing immediately online and engaging more with social media -- there could be frustration in now dealing with the longer lead times required to get an afternoon article prepared to run on the device by morning. So, in some ways, it's not surprising The Daily may not be the best fit for every journalist.
But given all The Daily's pre-launch hype and Murdoch's speech about how "new times demand new journalism" at the kickoff event -- carried live on Fox News -- the ongoing departures, coupled with some harsh early reviews, have created a perception that News Corp. may have blundered in dropping a reported $30 million to develop and launch the iPad experiment. (Murdoch has said publicly that The Daily's operational costs are an additional $500,000 a week, for a total of $26 million in its first year.)
Jim Gaines, a former managing editor of Time and People, who recently left that same position at The Daily, considers talk of The Daily's demise to be overblown. He says the iPad publication is still finding its voice and that the departures don't signal any bigger institutional problem. "I think it's just people moving around," he said.
Last month, Gaines joined Reuters as ethics editor and said he's excited to work at the news organization with his friend, editor-in-chief Steven Adler. "The 30-year-old me would have rather stayed at The Daily," Gaines said, referring to the pressures and long hours of a start-up. "But the 60-year-old me realized this was a better job, better suited, a better choice for the long-term."
But several staffers much closer to 30 than 60 have also left. That includes three writers from the culture section, helmed by New Yorker music writer Sasha Frere-Jones: Molly Young, Lauren Bans and Heather Havrilesky. Jon Ward, the publication's first Washington D.C.-based reporter, joined The Huffington Post. And business reporter Avi Zenilman was fired in late March. "We weren't a good match," Zenilman said in an email, declining to comment further.
Editor-in-Chief Jesse Angelo, through a spokesperson, declined interview requests (and hasn't given one since WWD published a profile of him the week of The Daily's launch). Since the editor isn't commenting, the rank-and-file are understandably hesitant to speak on the record. Daily staffers sign strict confidentiality agreements, and even freelancers must promise to "not criticize, ridicule or make any statement which disparages or is derogatory of" The Daily or its employees, according to a source familiar with the agreement.
But one internal memo, leaked in February to New York magazine, provided a glimpse into what Angelo expects from reporters. In the memo, Angelo said that with the Egyptian revolution over, staffers could focus on other stories -- such as finding him "the oldest dog in America, or the richest man in South Dakota." (Stephen Colbert had some fun with that one.) Angelo also urged staff to break the type of stories that will "force the new White House press secretary to download The Daily for the first time."
While The Daily's brass won't get into specifics about who it is trying to reach, the company's non-compete agreement –- obtained by The Huffington Post –- gives an indication of how the publication views itself within the overall media landscape. Upon joining The Daily, staffers agree to not work for the following "directly competitive" outlets for at least one year if they leave or are fired: USA Today, People, and The New York Times/New York Times Magazine.
So The Daily may be striving to become a hybrid of those three news outlets, albeit in the form of a tablet tabloid. By citing USA Today and People, it's clear The Daily's management isn't preoccupied with only trying to appease the chattering classes in New York and Washington D.C. Indeed, The Daily has broader, national ambitions.
Gaines, in an email, explained how he views The Daily's potential audience:
The attempted reach is mass -- regular people with limited time and common interests, from politics to entertainment to sports. Thanks to the device, the appeal and story-telling value is as much audiovisual as textual, so while the stories may feel 'short' -- and the text certainly tries to be -- the stories have layers that print stories can't. Trying to advance the practice of multimedia journalism is why I went there in the first place. We're a long way from figuring out how to do it 'right', but it is definitely a big part of journalism's future.
Speaking of journalism's future, The Daily publisher Greg Clayman appeared this week at TechCrunch's Disrupt conference for a panel called "Disrupting publishing, from links to tablets."
And there, Clayman made big news: The Daily was nearing 1 million downloads of its app. However, Clayman did not reveal how many iPad users downloading the app, which is free, have continued as subscribers, paying either 99 cents a week or $39.99 for the year. That's the number which might actually indicate whether The Daily is a success or failure.
News Corp. president Chase Carey, on a conference call earlier this month where he revealed The Daily had lost $10 million in the previous quarter, said the company isn't prepared to start giving out subscription numbers, according to paidContent. "We're not going to build this in a fishbowl," he said.
Carey, suggesting that it's too soon to pass judgement, added that The Daily is "a work-in-progress, we're proving the technology, refining the content -- the tablet market is still in its infancy."
Popular in the Community