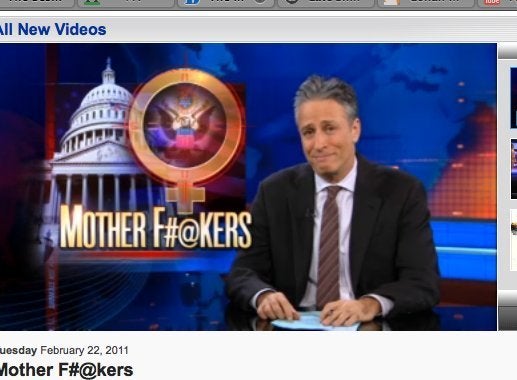 A visibly ill Jon Stewart came through to do "The Daily Show" Tuesday night, and still managed to do a solid show with a great segment from Senior Women's Correspondent Kristen Schaal.
The topic of discussion was the GOP's recent mission to cut spending by reducing government-sponsored family, prenatal and health care, particularly Planned Parenthood. Some even want hospitals to refuse abortions to women even if they'll die. Stewart was shocked:
"Wow that's so pro-life, even if it kills you."
Stewart pointed out the irony of conservatives wanting to stop abortions from happening and at the same time cut programs like W.I.C. and HeadStart that ensure an unplanned child is cared for. But why are they going after Planned Parenthood, which provides free or low-cost health care in addition to its abortion services?
One argument made in Congress is that the organization is profiting off of abortions, which Michele Bachmann reinforced with a story about Planned Parenthood "express centers." She claimed that clinics were opening up in affluent shopping centers to lure women who are "picking up Starbucks, living their daily lives and stopping off for an abortion."
"Some of them aren't even pregnant," Stewart said. "It's just so damn convenient!"
For more, Stewart turned to Schaal, who recently did an amazing segment on the GOP's fight against abortions for rape victims. This time, Schaal argues that de-funding Planned Parenthood isn't even enough to stop abortions. In order to make sure no money ever goes towards abortions again, we'd have to cut firefighters, the coast guard, and even change our currency! Hear Schaal explain her theory in the second clip below.