By Clarissa Burt with Ellen Kuni
It's clear that Khen Rinpoche has influenced many people throughout the world. Having
lived most of his life as a Buddhist monk, he has dedicated most of his time to prayer, meditation and the good of all mankind. As a 13-year-old boy, he joined the Stok Monastery in India in order to study Buddhist teaching. At 15, he trekked 800 miles with his father to join the renowned Tashi Lhunpo Monastery where he would study with prominent Tibetan scholars.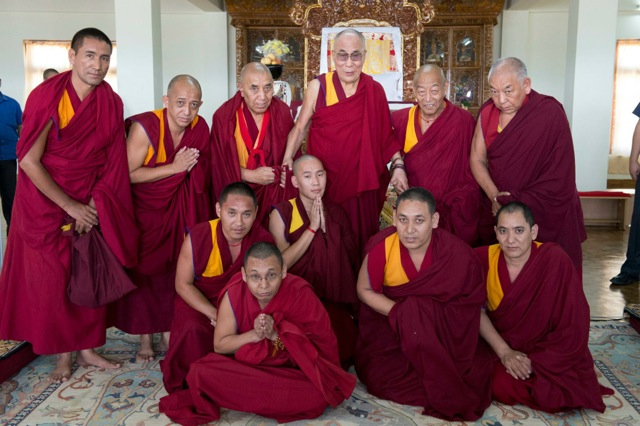 The Dalai Lama, center, and Khen Rinpoche, left.
The 11th Panchen Lama, the Dalai Lama's successor, was abducted by the Chinese in 1995 at the age of six. Appointed Head Abbot of the Monastery by the Dalai Lama, Khen Rinpoche and his fellow monks are safeguarding the traditions of the Tashi Lhunpo Monastery in the hopes that the 11th Panchen Lama will one day be returned. Money is needed for renovations on the assembly hall, increasing the number of monks and preserving the historic traditions of the Tashi Lhunpo Monastery. For more information visit: http://www.honorpanchenlama.org/.
Khen Rinpoche holds another aspect of his life very dear to his heart. He founded the Siddhartha School in his home city of Ladakh, India, in 1995. The school provides a modern, high-quality education to children of the region and houses 300 students in grades K through 10. The school is vital to the people of Ladakh because it teaches underprivileged children languages, math, science, computer studies and more. It provides them the schooling needed to pass the government exam that is required to move past the 10th grade, giving them the chance for a brighter future. However, the school has no running water. While the Siddhartha School has been receiving many generous donations from anonymous donors, Khen Rinpoche's school is still in need of money. To learn more about the Siddhartha School, visit www.siddharthaschool.org.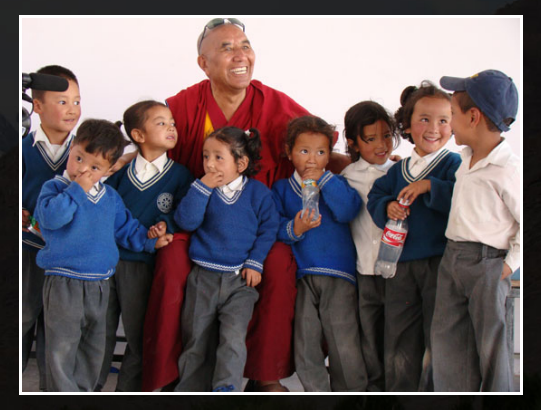 Khen Rinpoche with children from the Siddhartha school.

But perhaps the best way to understand the great depth of this man and his work is to see him through the eyes of a friend, Khalil Rafati. Rafati lives in Malibu, California, and met Khen Rinpoche at a fundraiser six years ago. Immediately inspired, Rafati organized a fundraiser of his own to benefit the Siddhartha School. His friendship with Khen Rinpoche has since been life-changing. Rafati was a former drug addict, living on the streets struggling with severe depression. However, he cleaned up his life and when he met Khen Rinpoche, he says the monk's living example of selflessness helped to alleviate his depression. Now, Rafati is clean, sober and the successful owner of Sunlife Organics juice and smoothie bar in Malibu where Khen Rinpoche, when is town, is a regular. "He loves smoothies," says Rafati. "He's a freak for smoothies!"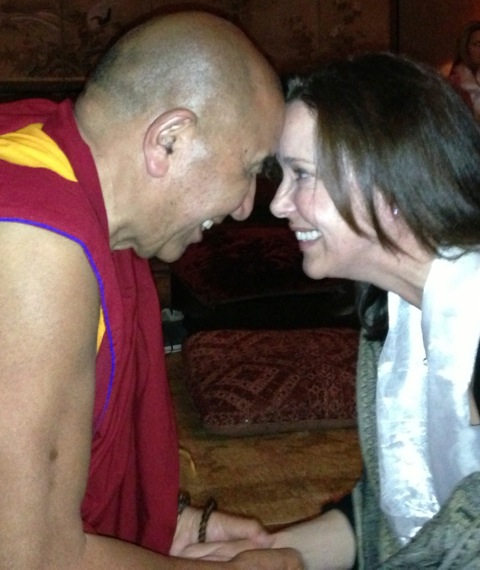 Clarissa Burt with Khen Rinpoche
It's interesting to note that Rafati is actually not a Buddhist. He says Khen Rinpoche's teachings are an everyday part of his life despite religious differences. "He has taught me to appreciate life's essential things like friendship, love, laughter and compassion."
REAL LIFE. REAL NEWS. REAL VOICES.
Help us tell more of the stories that matter from voices that too often remain unheard.