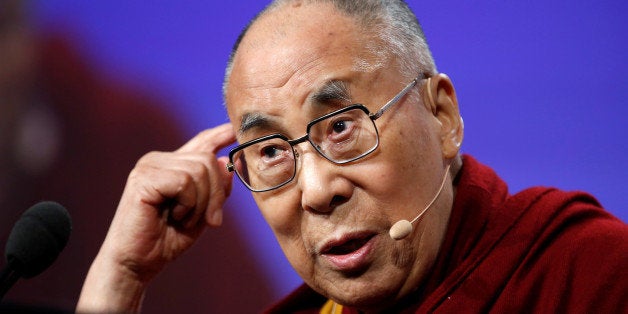 His Holiness The Dalai Lama wants us to give the whole world "mother's milk."
I recently spent the day sardined into the University of Colorado's Coors Event Center, alongside thousands of other bodies, from newborns to octogenarians, listening to the wisdom of The Fourteenth Dalai Lama, the exiled spiritual leader of Tibet. He spoke on a wide range of topics, from esoteric Buddhist teachings on "emptiness" and the concept of "no-self", to the less-complex, and several times repeated, message that we should use our formal education systems--Kindergarten through P.H.Ds--to teach warm-heartedness and compassion in addition to the mental exercises that we currently stress.
"If we can do this" he predicted, "The 22nd century will be more peaceful than the 21st." Finally, I thought, a bit of good news for our future generations.
As the day progressed, the staging switched from a Thangka-backed, highly brocaded religious scene, set by The Tibetan Association Of Colorado; to a less-formal, secular setting for addressing CU's faculty and student body, complete with oversized armchairs and fake ferns. His Holiness didn't skip a beat, shifting into a relaxed question-and-answer format with the audience that saw some of the day's most touching moments, including The Dalai Lama fielding his very first question in American Sign Language and learning, on the spot, how to sign "I love you" back.
I planned to ask about motherhood, despite the fact that multiple people warned me that it could come across as silly. "What does he know about motherhood?" They wondered. "You should ask about something more profound. Something spiritual." So I wrote an entire list of questions I didn't really want to ask, but my mind kept returning to my initial inquiry. Because it's not a stretch to say that, for me, nothing in life has been more profound, nor more spiritual, than the path of motherhood. But when the moment came to jump up and pose my burning internal question to arguably the world's most devout holy man... I totally chickened out.
Another mom, braver than I, stood up and asked, "How can we raise children with compassion, while also striving for non-attachment?" Which was a better question than I had prepared and awakened that ancient parenting conundrum: How can we both love them and let them go?
To my surprise, he echoed all my initial hesitations, responding, "Maybe, I'm the wrong person to ask?" setting off a stadium-full of laughter. He continued, jokingly, "First, I would need to marry and then have children to really know how to answer...and I think I am too old for that now!" His humor, wit and big belly laughs are quite contagious and even the most serious followers in the crowd were now smiling out loud.
But then he got quiet and contemplative and began to talk first and foremost, to my utter shock, about breast milk.
He referenced scientific studies that demonstrate how a mother's milk changes in nutritional and immunoglobulin content, catering to exactly what a developing baby needs to thrive from day-to-day. Adding, "we need to do this same thing with society and with the whole world."
He went on to say, as he has many times before, that his first teacher of compassion was his mother. But then he delved deeper, into a reverie of his early childhood, his face taking on a youthful glow as he mimicked riding on his mother's shoulders while she worked in the fields, steering her by the ears, kicking to move faster. How her patience and care taught him love. He spoke of the "maximum mother's milk" he received from his teachers and trusted advisors in the monasteries where he was raised and was clear, as he shifted focus back to the present moment, that we need to extend that level of "maximum nutrition" to the entire world.
Then he said something that was quite wise indeed. Pointing to several moms in the audience sitting with their children, he offered, "But if you want to know about a mother's compassion, just ask her...or her...or her." And with those humble words, he pinpointed what's always been true along my motherhood journey: Moms, we have each other. We learn from and guide one another and, collectively, we know the exact nutrition and immunoglobulins needed to sow peace in our next generation.
It may not be unique to tell mothers to lean on each other, but it is unique to hear a male world leader admit what he doesn't know, and almost unheard of to hear one talk about the power of "mother's milk." In that light, he was the perfect person to ask about motherhood and I am eternally grateful to the fellow mom who was bold enough to stand in front of thousands, risk sounding silly, and ask it.
From now on, when I'm faltering as a mother, when it's my turn to hit that heart-ripping milestone of letting my children go, I'll remember who to turn to for guidance and support...and it turns out they've been there all along.