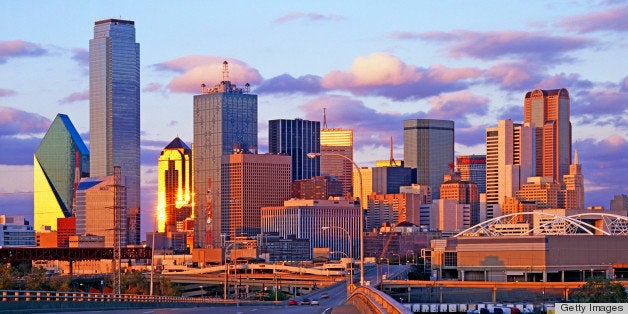 Four years ago 24 activists met in Dallas to promulgate The Dallas Principles, a manifesto to guide and encourage the LGBT community in what had the potential to be a new era in American progressive politics. From May 15 to 17, in a nondescript airport hotel basement near the center of the country, we challenged one another to distill the passions that had taken us to Dallas, passions reified by the election of a Democratic president to join a Democratic Congress with a filibuster-proof Senate majority.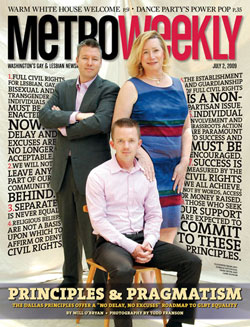 Those were heady days, days when the clouds had parted, anything was possible and we were thrilled to sit and debate with one another into the early-morning hours the values we hoped would channel our national organizations, create more inclusion within them and set a standard for our call to the American people that the time had come for full equality. It was in no way a criticism of the nascent administration but a clarion call to people who had waited far too long for crumbs of progress.
We accomplished our goal that weekend in Dallas. Today the eight principles stand on their own, supported by many advocates and leaders. Though there have been some criticisms, most persons active in the movement found little to disdain or dismiss.
Here are those principles:
In order to achieve full civil rights now, we avow

1. Full civil rights for lesbian, gay, bisexual and transgender individuals must be enacted now. Delay and excuses are no longer acceptable.

2. We will not leave any part of our community behind.

3. Separate is never equal.

4. Religious beliefs are not a basis upon which to affirm or deny civil rights.

5. The establishment and guardianship of full civil rights is a non-partisan issue.

6. Individual involvement and grassroots action are paramount to success and must be encouraged.

7. Success is measured by the civil rights we all achieve, not by words, access or money raised.

8. Those who seek our support are expected to commit to these principles.
At the time, I said, "There's a tipping point out there somewhere and we're a lot closer to it today than we were eight months ago. We want to inspire people to mobilize themselves. This isn't the inspiration to get them to do it, but maybe it's just the extra push." So, four years later, how have the Dallas Principles held up? More importantly, how have we held up? While we were very hopeful, our hope was also tempered by the reality through which most of us had lived. We had been trained to live with The Struggle, to expect failure, repeated failures, to see victory as the Promised Land, personally unattainable though fervently desired.
Although the original website is defunct and the Facebook page hasn't been maintained, the full declaration, with Preamble, Goals and Call to Action, plus a federal Whip Count widget, are maintained on the Act on Principles website. But that's just housekeeping; while the full declaration holds up well four years later, the proof of its value lies in the progress that has been made since Dallas. All of the 24 activists have remained active, each in our own way, in our work for equality, but the Dallas Principles have clearly been taken to heart by many. From HRC's "No Excuses" campaign within months of publication, to the passage of the Matthew Shepard and James Byrd, Jr. Hate Crimes Prevention Act the following month, and then to the repeal of "don't ask, don't tell" (DADT) the following year, progress was swift. The tea party assault in 2010 slowed the movement down but couldn't stop it.
The movement for marriage equality, severely set back by Prop 8 in November 2008, roared to life as a new generation caught the spirit in the weeks following Election Day 2008, and multiples states -- we're at 12 and counting, not to mention D.C. -- have made passage seemingly a normal occurrence. The administration considered Section 3 of the Defense of Marriage Act (DOMA) unconstitutional; a Supreme Court ruling is due in a few weeks. Such possibilities were nearly unimaginable in 2009. Of the four major community demands of the Obama administration and Congress -- hate crimes prevention, the Employment Non-Discrimination Act (ENDA), repeal of DADT and repeal of Section 3 of DOMA -- only ENDA has languished (in all probability because of the four, it is the most visibly trans inclusive).
But the trans community, remarkably, has made even greater progress over the past four years. Among the positive changes:
The inclusion of trans persons under Title VII (thanks to the president's nomination of Professor Chai Feldblum to the EEOC), offering employment protections to all Americans and covering federal contractors as well.
The revision of the DSM that reconceptualizes being transgender from a mental illness to a normal human variant. Such a reconceptualization provides the tool for advancing trans service in the military (DADT applied only to gay service members, so its repeal only affected said persons).
Inclusion in health care access under the Affordable Care Act and applying to anyone or any institution accepting federal health care dollars, and VA coverage of all services short of surgery.
Inclusion in a remarkable global effort by the State Department to promote equality.
Clearly we have not finished, and it isn't enough. Though progress on marriage equality in the states has been remarkable, antidiscrimination bills continue to lag. Even so, we've seen new laws in Hawaii, Nevada, Connecticut, Massachusetts and Puerto Rico. Both New York and Maryland cover almost half their overall populations, and the vast majority of their trans populations, through local ordinances. Even Pennsylvania, with only 30-percent coverage overall, covers most of its gay and trans population that are urban-based. Trans delegates to the Democratic National Convention in Charlotte doubled. Philadelphia just passed a remarkably broad equality bill, generated by local activists, including Kathy Padilla, who had labored quietly but with determination for a decade. So trans people are not being left behind as some say.
The Dallas Principles didn't cause all this progress; they're only correlated with it. They eloquently expressed the heart of a movement that has barreled forward and accomplished great things over the past four years. Pushing for a workplace nondiscrimination executive order, and then ENDA, for the entire LGBT community, and federal employment protections for gender-conforming gay persons under Title VII, is the immediate future agenda. One day we will see an omnibus civil rights act too. And with time the culture will come to mirror these achievements as fairness and decency take hold for our children's generation.
Calling all HuffPost superfans!
Sign up for membership to become a founding member and help shape HuffPost's next chapter