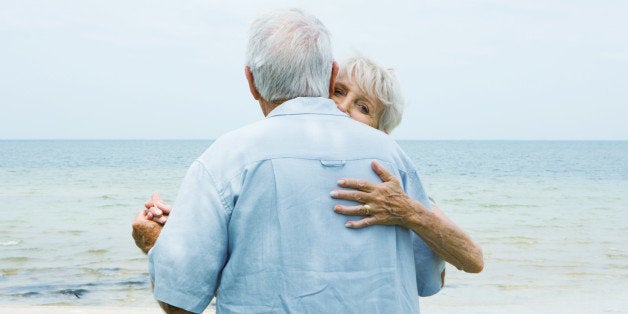 And so he twirls... My father, John, is turning 85 next month, and he's been a diehard Democrat his entire life. He even escorted Eleanor Roosevelt around in the mid-1950s, when she came to speak at his -- and my -- alma mater, the University of Vermont. He can't stand Trump, and said to me recently, "Thank God, I won't be around to see his presidency, If the unfathomable occurs and he wins." He knows as well as anyone how finite time is and that he probably only has a few years left. Those are the genes on that side of our family, my mother was dealt a crueler blow, dying at 64.
We grew up always thinking we were a mixture of Irish, Scottish, French, and Welsh. But after my mother, Elaine, passed, my father married Helen O'Hanlon, and it seems our family turned all Irish. I now had five Irish Catholic step-siblings, in addition to my own four Irish Catholic-mutt siblings. My father is very involved in the Irish American Community Center in Albany, where he lives. He arranges fundraisers and two bi-annual rather large get togethers, which are required attendances for all of us. It was at the last one that I took a picture of my father and my beloved step-mother dancing. And it got to me. It just did. They were all alone on the floor, even though hundreds of folks were dancing amongst them. They were caught in a moonlit dance all their own.
When I was young, I used to imagine how long my own mother would live. I cried at the thought that she might die at 80. I cried at the notion that she might die at 90. I couldn't fathom either of my parents living without each other. I always wished I had found my John, or more specifically for me, my Elaine in life. But I just never have had that good fortune. Still, love abounds, and I know my father is just as happy with Helen as he was with my mom.
Over the summer, my father had new cable service installed in his house, and specifically chose the package without Fox News. When I went home to write for a week, I was bummed I couldn't see my girl crush Megyn Kelly. "They talk," he exclaimed. "I can't stand to hear what they're saying. Shhshhh!" As I wrote, my father was busy on his computer, tracing the Irish roots of my grandmother, the Gilligans and Moores. That is so important to him. I think it's healthy that any hint of our Irishness gave him a second calling when he retired at 65. But admittedly, it sometimes gets in the way. When I went home from Manhattan to Albany for a baby shower a month ago, (I only go home twice a year) I asked him to pick me up something specific to drink. He forgot, and got all irritated at me. "Don't you know how busy I am with this Irish picnic tomorrow?" Sometimes, I think he's more interested in this passion of his, then he is in talking to me in his final years.
The fact that I'm gay has never been easy for him, he has never asked me anything about my personal life. He did send a text out to all 50 of my family members stating how proud he was as an American, the day the Court allowed people like us had the right to marry. He's on the correct side of the law alright, but just as Republicans and Democrats don't seem to be able to talk past each other right now, that's how I've always found it be with my very being as a person for the past twenty-five years with my father. So, it's frustrating for me, as I know it is for others. We have talked more about our ancestry, and his bird feeder, than having a truthful conversation about, well, the real me. The LGBT community-minded me. Given the limited number of years he has left, I would like to think my father would open the conversation up about LGBT issues, and become as involved in our community as he is with the Irish one. He could certainly help move the pendulum of our rights along, and we'd be better off with him at our fundraisers. So keep twirling John, but leave your next dance for me.
Note: Before publishing this piece, I thought it only fair to send it to my father. A few hours after I mailed it, he sent me an e-mail that read: "You are correct...I do not open up conversations about your LGBT identity. I would probably do the same if you were unmarried as a heterosexual. But the door is open if you want to open the discussion. At times Helen and I say it is unfortunate that you have not met someone to live with...With love, Dad."
Postscript: After my brother, Bill read my story, he sent me this e-mail.
"Sue -- I am guilty as well -- and I want you to know that you will always have my support. Many years ago I was one of "those" who believed that a marriage can only happen between a man and a woman. But slowly my mind started to change -- if two people are in love and willing to commit to each then they deserve all the blessings and recognition as any other couple.
I was very proud when the court finally passed the right for all to marry.
All of our children have learned thru "osmosis" that you're gay. When they finally asked we proudly confirmed. We just felt that Aunt Sue was first and foremost just that -- Aunt Sue. That was the most important thing for us and they are all proud to have an immediate family member who is gay. We now all realize how important certain issues are now to us because it 'hits home.'"
Calling all HuffPost superfans!
Sign up for membership to become a founding member and help shape HuffPost's next chapter