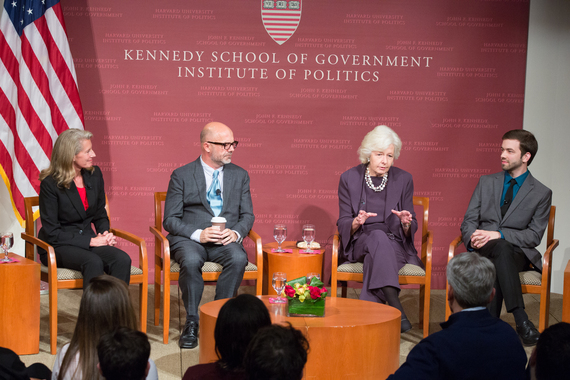 By Katy Dolan, Harvard College 2018
November 18, 2003 was arguably the first day that same-sex couples in the United States saw a sliver of hope in the quest for marriage equality. On that day, the Massachusetts Supreme Judicial Court ruled 4-3 in Goodridge v. Department of Public Health that same-sex couples had the right to marry. This decision set a precedent which snowballed for almost 12 years into the truly transformative Obergefell vs. Hodges Supreme Court case, which extended the rights afforded by Goodridge to the entire United States - yes, as of June 26, 2015, same-sex couples throughout America have the right to get married.
Despite the fact that marriage equality has been affirmed by our nation's most powerful judicial body, there is still a vocal minority that opposes the decision - a concept explored in the John F. Kennedy Jr. Forum on Monday night. "The Conservative Case for Marriage Equality: The Future of Religion and the LGBTQ Movement" brought together three diverse and important players in the LGBTQ advocacy space. Chief Justice Margaret Marshall, who wrote the majority opinion for Goodridge, provided the legal reasoning behind the first judicial mandate for marriage equality. Andrew Sullivan, a widely-read writer and blogger, gave his perspective as a gay, Catholic, conservative man who wants to end the criticism of same-sex marriage by the latter two groups to which he belongs. And rounding out the panel was Matthew Vines, a former Harvard student who left Cambridge to study the Bible and provide rationale for evangelical Christians to believe that God does not condemn homosexuality.
Indeed, there are a certain few (unsurprising) demographic groups whose majorities continue to oppose same-sex marriage. The same-sex marriage approval rating steadily declines with each older generation; only 39% of those born between 1928 and 1945 believe that same-sex marriage should be legal, but encouragingly 70% of millennials are leading the charge toward equality. White evangelical Protestants are the most unsupportive religious group (only 24% favor marriage equality), explaining why Vines has chosen to focus his advocacy in that population. Finally, only 32% of Republicans favor same-sex marriage, a statistic that Sullivan has been trying to change since the late 80s.
Margaret Mitchell believes that the country will soon move past such bitter arguments over same-sex marriage because "many people of younger generations have grown up with [same-sex marriage] being an non-issue", and as one of those people I very much agree. However, while this optimism and forward orientation is admirable and crucial to the future of the LGBTQ movement, we simply cannot forget about these startling statistics and the fact that there are still millions and millions of Americans, whether conservative or Christian or both or neither, who still don't believe that same-sex couples have the right to a marriage certificate. And that is unacceptable.
It is our responsibility to continue reasoning with opponents to shrink that all-too-vocal minority. The day that we give up and move on, the day that we shrug and figure that eventually the opposition will lose elections or die out, is another day that an LGBTQ person will be fired for no cause other than their sexual orientation or gender identity. It's another day that LGBTQ youth in America will kill him or herself due to unimaginable bullying.
The fact of the matter is, we simply are not done fighting the stigma of LGBTQ-ness. Leaders like Matthew Vines, who are not giving up but are instead targeting the very populations that are the hardest to convince, should serve as an inspiration for those of us looking to be an ally in our every day lives. We are not a complacent generation, so let's not let the recent Supreme Court decision make us complacent about civil rights and safe spaces for anyone else who is still struggling to thrive in a society where they are not always treated as equal.
Data from the Pew Research Center: http://www.pewforum.org/2015/07/29/graphics-slideshow-changing-attitudes-on-gay-marriage/.
---
Katy Dolan ('18) hails from Spokane, Washington and is studying Government and Psychology at Harvard University. She balances her political interests with work in the fields of social entrepreneurship and youth empowerment, and spends her precious free time playing piano and being annoyingly sarcastic.
REAL LIFE. REAL NEWS. REAL VOICES.
Help us tell more of the stories that matter from voices that too often remain unheard.