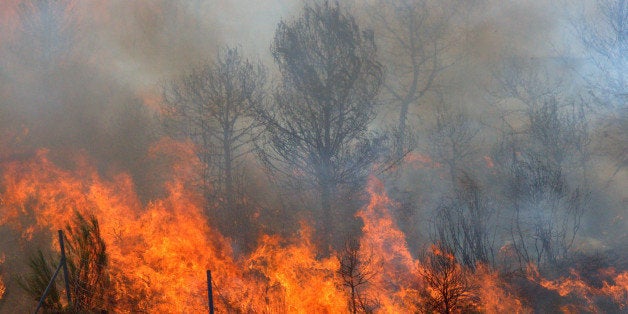 This past week, as I drove through Central Washington, I came face to face with the horrifying destruction caused by the wildfires currently raging through much of Washington State. The air itself was orange, and just walking through the streets of Wenatchee my white shirt was turned grey with ash. The haze was so thick that it was difficult to see across the road, let alone breathe normally. The blaze has created a suffocating cloud that has settled over Entiat and the surrounding area.
While there I saw firsthand the toll that these wildfires take on the people who live in these communities. My heart goes out to everyone affected by this disaster and to the brave men and women working to extinguish the fires. As you're reading this, firefighters in Washington are working to confine the fire and protect residents in the area.
In the past week alone, residents of over 1,700 homes were forced to evacuate. Property damage is extensive and many homes have already burned. Local firefighters are working hard but are overwhelmed by the extent of the fires. With wildfires getting worse every year, local fire departments lack enough resources and manpower to fight the fires. To make matters worse, temperatures have stayed in the nineties throughout the week, further fueling the disaster that Gov. Jay Inslee aptly called "a firestorm."
These massive forest fires in the Pacific Northwest and down the entire West Coast degrade our environment and threaten our property. According to the U.S. Forest Service, the intensity and magnitude of forest fires has been increasing dramatically in the past 50 years. This trend has a clear correlation to climate change.
Unfortunately, this problem will not get solved in one week. There are many factors affecting both these wildfires and the threat of climate change as a whole, and there's not one simple solution to these complicated issues. Some local governments have been taking steps to protect their communities by encouraging people to move and develop at-risk areas to prevent further wildfires. Local officials have been and continue to be instrumental in the effort to protect their constituents, but action needs to be taken at the national level as well.
Our representatives are failing to combat the underlying causes of these terrifying fires. My own Representative Dave Reichert (R- WA), who represents much of central Washington where these wildfires are currently raging, has been timid at best in his support of climate change legislation. He has publicly stated that he only votes for the occasional environmental bill to placate "enviros" -- in his own words, he's "taken them out of the game" in his district by throwing a vote their way when his party leadership gives him the nod. That's not good enough: we need leadership and action to combat climate change now.
The 2011 vote to bar the EPA from regulating greenhouse gases -- a ban Reichert supported -- is just one example of how he fails to support strong climate change legislation. Our members of Congress are putting their constituents and future generations at risk as they fail to stop the acceleration of climate change. They are threatening properties, ecosystems, and quality of life across the United States.
When I got home that night my son, Charlie, asked me why there was ash covering my car. I explained to him about the fires -- and the efforts of our first responders to combat the deadly blazes. What they're doing is important, and heroic however while we can give them more resources, Congress is still failing to address the underlying problem. We need leadership and immediate action on climate change from our Representatives, or my son's future and the future of others in his generation might be the next thing to go up in smoke.