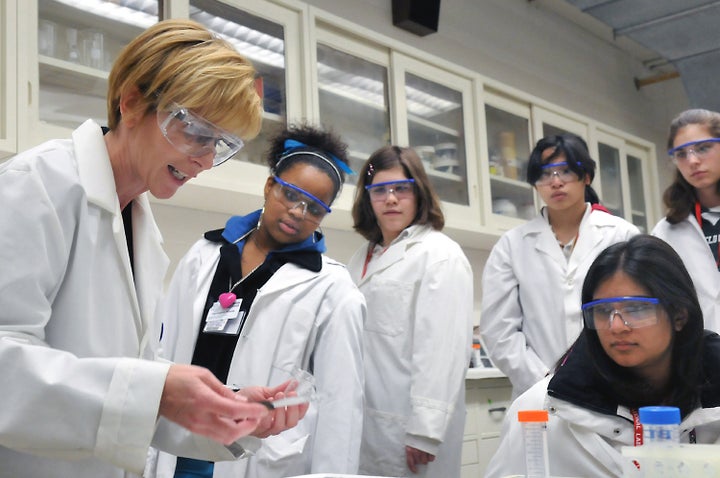 The news pouring in from U.S. airports this weekend has been dismaying. Arriving travelers were held by immigration authorities acting on a presidential order barring green card and visa holders from seven countries (Iran, Iraq, Libya, Somalia, Sudan, Syria and Yemen) from re-entering the United States. Among those being turned away were scientists arriving to take up advanced training positions in the United States.
I fully understand the importance, even more so in this age of terrorism, of securing borders. However, as the Chief Executive Officer for the American Society for Microbiology (ASM), I am acutely aware that we need to guard against unintended consequences of these measures that, in practice, badly damage U.S. national interests, society at large and, especially, the powerhouse of American scientific research.
Ten years ago, I, an immigrant from Italy, had the privilege of working for Dr. Elias Zerhouni, an immigrant from Algeria, then Director of the National Institutes of Health (NIH). As I climbed the steps of the austere Building One on the NIH Bethesda campus, I would reflect on how extraordinary it was to be in a country where those with talent and persistence had a chance in science. On those very steps in 1940, President Franklin Delano Roosevelt, in his dedication speech of the NIH campus, said:
The National Institute of Health speaks the universal language of humanitarianism. It has been devoted throughout its long and distinguished history to furthering the health of all mankind, in which service it has recognized no limitations imposed by international boundaries; and has recognized no distinctions of race, creed or color.
For generations, ambitious scientists have come to the U.S. for opportunity, and in some cases for personal safety. These immigrant scientists have showered biology, physics, medicine, chemistry and more with major discoveries and glittering scientific prizes. Scientist immigrants have enriched our culture of innovation and discovery, and today are contributing the advances that can bring us better health, a cleaner environment, and technology that addresses a wealth of other challenges ― all of which fuel our economic engine. The contribution of immigrant scientists not only helped advance science, it helped shape our society and our values.
Microbiology offers some perfect examples. Selman Waksman, recipient of the 1952 Nobel Prize in Physiology and Medicine for his discovery of the revolutionary antibiotic streptomycin, was born in Russia in 1888, immigrated to the U.S. in 1910, and became a U.S. citizen in 1916.His work at Rutgers University and its legacy are among the most crucial contributions to the fight against infectious disease. Two of the 1969 Nobel laureates in Physiology and Medicine, Max Delbrück and Salvador Luria, were U.S. citizens who had fled fascism in the 1930s. Delbruck left Nazi Germany in 1937, becoming a US citizen in 1945. Luria, trained as a doctor in the early 1930s in Italy, obtained a fellowship to study in the U.S. that was rescinded by the fascist regime because he was Jewish.
Unable to work in Italy, he left for Paris, which he was later forced to flee when the Nazis invaded. He was able to reach safety and obtain an immigration visa to the U.S. — where a few years later, he collaborated with Delbruck to provide the key experiments that led to their Nobel Prize, showing that mutations in bacteria arise in the absence of selection. Luria trained the Nobel Laureate Renato Dulbecco, one of my mentors, who also came to the U.S. from Italy as a young trainee.
Global collaborations enhance biomedical research. Large-scale collaborative efforts like The Human Genome Project (HGP), the most successful large-scale international bio-scientific collaboration to date, rely on the free flow of information and people between nations. International collaborations also promote stability and prosperity in the developing world. Programs like the Gambia Pneumococcal Vaccine Trial, that resulted in a significant reduction in childhood mortality, can make a difference for millions in the developing world while strengthening our worldwide research abilities.
The organization I direct, the ASM, is a professional society of more than 50,000 members, half of whom work outside of the U.S. Our extremely active international program focuses primarily on training the global workforce in microbial sciences to provide accurate diagnostics and care for those afflicted by infectious diseases. We have programs in Yemen and Iraq, both of which are on the immigration restriction list.
To all those good and hard-working ASM scientists, and to all scientists around the world: ASM is with you. We are a global home for microbial science, a home which has no national borders, because the truth and the purpose of science know no borders. We succeed in science if we follow our core principles, regardless of a scientist's race, creed, gender or color. These should be non-negotiable principles. Without them, scientists will not be the only sufferers. Imposing limits based blindly on national origins is not about the future of American science, it is about the future of American society.
To read more blog posts from Stefano Bertuzzi, you can visit bLog Phase.
REAL LIFE. REAL NEWS. REAL VOICES.
Help us tell more of the stories that matter from voices that too often remain unheard.