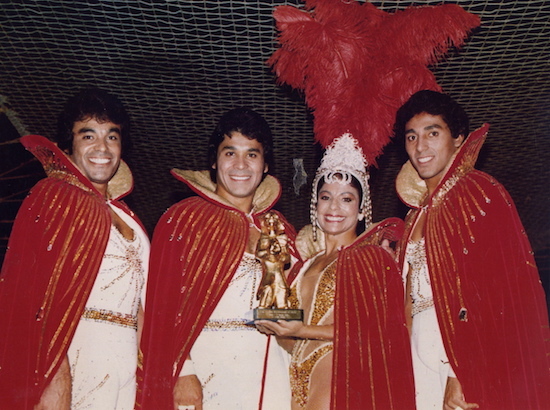 I was struck by something shoe designer Christian Louboutin once said in an interview.
The French style sensation and trapeze aficionado has been practicing the flying art for the past 25 years and even had a trapeze rig installed in the garden of his beach house in Portugal. He told the Financial Times in a 2010 interview that at his first lesson with teacher Zoé Maistre, "it's the one time I regretted being a man, because you have to do all the holding, and the women get to do the most exciting tricks." That stayed with me, perhaps because there are so few moments when it's better to be a woman in this modern, chaotic world of ours, and this point, by a master shoemaker who'd rather spend his life up in the air (ah, the irony) inspired a strange, magical tingle in me.
Now, years have gone by, and aside from the occasional awe I've felt when attending a Cirque de Soleil performance at Radio City Music Hall, or my excitement at revisiting Wim Wenders' film Wings of Desire -- which incidentally was the spark that ignited Louboutin's passion for the art of trapeze -- I had yet to find the physical representation of that quote. The "aha" moment when Louboutin's magical words would take flight in my heart.
Until I watched legendary filmmaker Tom Moore's The Flight Fantastic, the real life story of the Gaonas, the royal family of the art of the trapeze. And then, I knew I had it, I'd found the magic.
Under the watchful eye of the 'Godfather' of the Gaona family, Victor, his offsprings Armando, Chela, Richie and Tito form the quartet that has seamlessly flown up to take its place in trapeze history, alongside The Codonas, The Flying Wallendas and of course, Mr. Jules Leotard himself. Moore's documentary took my breath away, on more than one occasion. Because The Flight Fantastic is a film that dares to fly and allows its audience to soar to their own dream. Not many films, and even fewer documentaries, can boast such imagination and love. The Flight Fantastic can.
I caught up with Moore, who is also responsible for directing such touching, deeply moving films as 'night Mother as well as many acclaimed and multi-award winning theater productions, like the original Grease on Broadway. I thought that interviewing Moore by email would make our "chat" impersonal, and was instead surprised by the ease of our conversation, which although written across lands and oceans and at different times, felt like a leisurely chat with a friend, sitting on his couch, while drinking a cup of coffee.
The Flight Fantastic will be playing in Los Angeles at the Laemme, as well as a few other venues, starting June 17th.
It really came as no surprise to me that you happen to be the same filmmaker who broke my heart so perfectly years ago with 'night Mother, because The Flight Fantastic possesses an emotional depth beyond any documentary I've watched lately.
Tom Moore: 'night Mother and my collaboration with Marsha Norman was a major piece of my professional life. Starting with our first production of the play at American Repertory Theatre at Harvard to our production on Broadway with Kathy Bates and Anne Pitoniak to the film with Sissy Spacek and Anne Bancroft, it is one of those things I look back on most proudly. It is always wonderful to hear that someone responded to it with such emotion and passion. And I never get over the miracle that by being on film, it continues to "exist."
I'm deeply appreciative of your recognition of "emotional depth" in the documentary, as when I talk about the film, I often say that although I'm not in a single frame of the film, it is my story. Maybe what I mean will become clear in my answers below.
What brought you to this film, to wanting to tell this trapeze story, but particularly the Gaonas' family tale?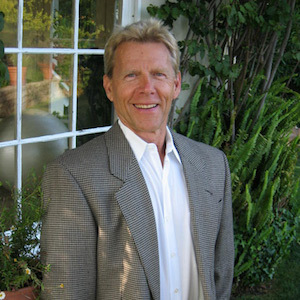 Moore: Having made my life in the creative arts--the visual arts -- first on stage, then on film, there were the usual highs (a whole lot of them I'm happy to say) as well as some severe lows, but with each of my passions -- first theatre, then film, then television, there always came a time where I felt the need for reinvention -- for something new -- for something to ignite my passion once more.
My discovery of the trapeze happened because of one of those times. I had been doing years of television and felt I was on the edge of "burning out." Truth be told, it was also a moment when a long term relationship had ended. I was very much in need of a new adventure.
I decided to do something completely out of my comfort zone and booked a trip to Club Med in Mexico. Although I was warned by many that I would hate it, it turned out quite differently, as I loved it. And the primary reason was my discovery of The Flying Trapeze, which a man named Bob Christians had introduced to Club Meds all over the world. At Club Meds, most people (if they try it at all) fly once or twice and move on. I was entranced when I had the chance to "fly" and to perform in their end of week show. It awakened a childhood fantasy when I had once dreamed of being a great trapeze artist like the character of "The Great Sebastian" (played by Cornell Wilde) in The Greatest Show on Earth, or Burt Lancaster in Trapeze. I was hooked.
On returning to Los Angeles, I immediately began to search for someone to teach me "to fly." I went up to the San Francisco Circus Center, only to find that one of the greatest coaches in the US was in Los Angeles. That was Richie Gaona, formerly of The Flying Gaonas. He agreed to work with me, and on a cold winter day, by LA standards, I joined him on on the pedestal board of his backyard rig, and the rest is history. Well, my history anyway.
But from flying trapeze to making a wondrous filmed document of art and a family like The Flight Fantastic, it must be a long road?
Moore: Over the next few years, I became a close friend of Richie's and then his entire family. Armando, Tito, Chela, Victor, and especially the extraordinary matriarch, Teresa Gaona. The film is dedicated to her memory.
This was a legendary family of artists who starting as a trampoline act had transformed themselves into one of the greatest flying acts in circus history. The is not hyperbole. Tito Gaona, the charismatic star of the act is considered one of the four greatest flyers who ever lived.
As in all arts, great accomplishments can sometimes fade into memory with succeeding generations -- especially in the circus world -- and it always bothered me that these extraordinary feats were being forgotten. These were some of the greatest athletes and performers ever, and most no longer knew who they were.
I decided that I was in a special position to do something about that, and I decided to combine my passion for film with my new passion for the trapeze and make a documentary. A new creative form for me and reinvention being the name of the game, I began.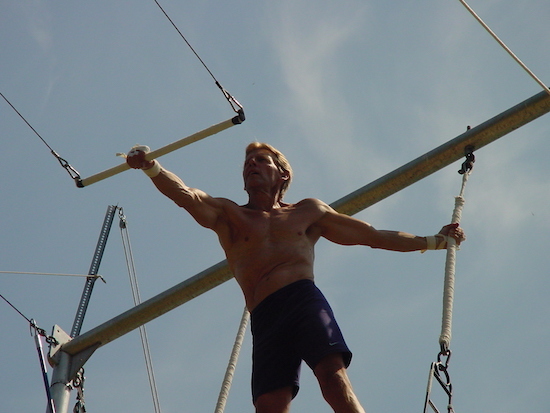 When I began, I had no idea just how large a project and how much of my time and life it would take to bring this to completion.
There are hints throughout your film that trapeze can be a metaphor for life. What do you think is the biggest lesson we can learn from the trapeze as human beings?
Moore: Sam Keen, author of Learning to Fly expresses the heart of the film so well when he says: "Sometimes a childhood fantasy can hold the key to renewal." I have seen this happen, not only for myself, but pretty much everyone who comes into this world. It's a chance to conquer fear and doubt. It's a highly disciplined sport requiring the utmost concentration and focus. And the actual "taking flight" can reach the spiritual, as one is "free from the bonds of earth and gravity."
In one of the last sections of the film, I have many flyers talk about what it means to them. The answers are all different, but they all seem to have in common a "reach for the transcendent."
In this electronically connected yet as-never-before totally disconnected world of ours, is there something we can learn directly from the Gaonas, and what is that?
Moore: I'm not sure this answers your question directly, but what interests me most in the history and legacy of the Gaona family is what I call their "Second Act." Meaning not their extraordinary feats on the trapeze and their immense stardom in the circus world, but what they did after they left the "Center Ring." It is their dedication to their coaching and teaching and "passing it on" or "playing it forward" that makes the documentary important.
In the early cuts of the film, some wanted a straight forward rendition of their circus magic with little of what came after. I would not have been interested in making that film, or probably even seeing that film. It is the "second act" that gives meaning to the first. The Gaonas speak in terms of "I am" not "I was." The film ends with a coda as they look back on their lives, one of my favorite scenes of the film. It is clear that these are lives well lived, and who could ask for more than that.
How would you describe yourself to someone who doesn't know you?
Moore: Describing myself would absolutely depend on who I was describing myself to. I could give you an idealized version (which is probably how I carry myself) or I could give you a vulnerable version of the me that has been in process and will be in process for life. This isn't a direct answer to your question, but I think if we are lucky, we get to discover different talents and passions throughout our life. For instance, in my case, when I was young I was terrible in team sports and thought I had no athletic ability. It was only later when I discovered individual sports like gymnastics and water skiing, and much later trapeze that I found out I'm actually quite a good athlete and that's become a big part of my life. If we are lucky, and our health holds, almost anything is possible....
How are you like Tito? And like Armando? And maybe even like Chela?
Moore: I would like to have the calm and kindness of Armando, the charisma and pied piper charm of Tito, the dependability and style of Richie, and the generosity and grace of Teresa Gaona. Athletically, I would love to have all of their proprioception (knowing where your body is in time and space), and for life in general, the warmth of their Latino genes.
And finally, do you think cinema can help change the world for the better?
Moore: Documentaries like The Flight Fantastic have a difficult time finding their place among the "important stories of our time" like war in the Mideast, or famine in Africa, or climate change throughout the world. Not to mention the ubiquitous world of reality television and the negative political climate that now surrounds us all. It is also difficult to find a place for something that mostly celebrates. But I have watched something almost magical happen when this film is shown to a large audience on a big screen. It somehow unites the audience in a feeling of hope and possibility and the audience leaves feeling good about themselves and a little better about our world and its future.
This came as a surprise to me when I first saw the film on a big screen, but that reaction has continued consistently at each and every screening. I find that immensely satisfying and it makes this entire journey worthy of the effort made.
All images courtesy of the filmmakers, used with permission.
REAL LIFE. REAL NEWS. REAL VOICES.
Help us tell more of the stories that matter from voices that too often remain unheard.