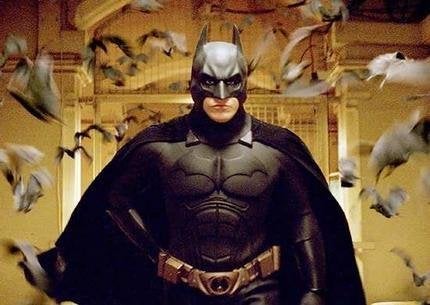 Well, this clip certainly wasn't directed by Christopher Nolan -- it doesn't quite have his auteur's vision -- but for fans hungry for anything from "The Dark Knight Rises," this fan-captured video offers a whole treasure chest of information.
Shot in Wollaton Hall in Nottingham, England -- the stand-in for Wayne Manor -- the blurry camera footage captures Christian Bale as Bruce Wayne confronting Anne Hathaway as Selina Kyle. Rain (or, hose water) pours down as the two talk, and soon Kyle leads Wayne away.
What it means, well, no one's quite sure. But at least we now know what Wayne Manor looks like from the front, and that Batman and Catwoman have a plain clothes confrontation.
As for Hathaway's Catwoman costume, sources recently told Hollywoodlife.com: "Anne's outfit is more tactical, like the comic book, than the previous Batman movies," a source very close to the costume design told the website. "She will definitely be wearing the goggles and it's going to be less sexy than Halle Berry and Michelle Pfeiffer's Catwoman costumes. She's going to look more like a robber... But fan boys shouldn't be worried. This costume is going to be form-fitting enough to make Anne look smoking hot."
Also joining in the film will be Joseph Gordon-Levitt as a Gotham detective, Marion Cotillard as Miranda Tate, Tom Hardy as Bane and, of course, Gary Oldman back as Commissioner Gordon.
Calling all HuffPost superfans!
Sign up for membership to become a founding member and help shape HuffPost's next chapter