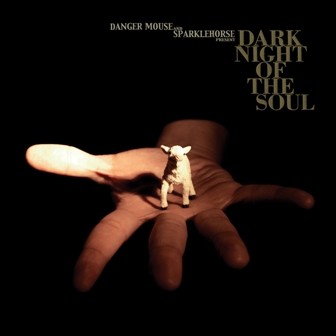 While his new album features: The Strokes' Julian Casablancas, Iggy Pop, The Flaming Lips and filmmaker David Lynch, Danger Mouse wants people to know "Dark Night of the Soul" wasn't simply thrown together to "compile names of all stars." On the contrary, the project is a deeply personal project -- "a very intimate thing" -- that's taken years to make, a year to get released and ultimately serves as a lasting legacy for Mark "Sparklehorse" Linkous, whom Danger made the album with.
The evolution of "Dark Night of the Soul" has been as complex and interesting as the actual songs themselves. The album was first released last year as a picture book featuring photos by Lynch and a blank CD-R for fans to download the tunes from. After a yearlong dispute, EMI released the album to the masses Tuesday (July 13). Simultaneously, an art exhibit has been launched featuring photographs based on Lynch's snapshots. The exhibit first opened July 13 at the Morrison Hotel Gallery at Bowery and Bleecker in New York City. It consists of 50 original images displayed as "Soul" plays. An IFC.com virtual gallery already went live at http://www.ifc.com/blogs/indie-ear/2010/07/dark-night-of-the-soul.php.
Mouse, whose real name is Brian Burton, couldn't be happier with the end result. I asked the producer and musical innovator (he's one-half of both Gnarls Barkley and Broken Bells) about making the album, the process to get it released and collaborations in general.
With the tragic deaths of Vic Chesnutt, who lent a song on Dark Night, and Linkous, the release must be a little bittersweet, no?
I think I've had a good amount of time to deal with my friend Mark's death. I didn't know Vic very well, but it's sad the way it all went down. It's good that it's out. We (Mark and I) took on a lot with the project, and I still have the same reference points I've always had with this album - what it means when I listen to it. That hasn't changed. Everybody involved is glad it's come out even if we finished it a year ago. Mark knew it was coming out [before his death].
How do you go about deciding which person to work with next? I recently spoke to Pharrell Williams, who noted he collaborates constantly to learn from others. Is that part of it?
It was that way for awhile. I wouldn't say I chose everybody I've worked with -- that would seem a little presumptuous, but I'm definitely careful who I'm working with. I don't just work with anybody and everything, it's quite the opposite. I get shit for not working with people all the time.
I've formed such good friendships. I work with a handful of core people. With a record like this, 10 singers on it, I haven't really done anything like that. Everything else has been a long process - long-term things. It's a very unique situation, but I compare it to a film and an ensemble cast. Early on, I did want to work with people to learn from, and I did. Now it's finally putting to use what you've already learned. You still learn anyway, but when [Mark and I] did this record, there was a lot more camaraderie...the same thing with Broken Bells. You still learn anyway.
Tell me more about collaborating with Mark in general and on this album...
I helped a little with his last album five years ago, and that's where it started. He wasn't sure if he still wanted to do music as Sparklehorse, and I encouraged him to do more. It was good timing for the both of us. I had a song on that album that didn't sound like part of a Sparklehorse album, and I said that's alright - we don't have to worry about where it fits. Basically that's how it started, we went from there really. Over the next couple years, he came up a little to L.A., and we did little segments at a time. It was difficult for us just because the way we work together. It was hard. We work differently. It was something worth it with the end result, but he's a producer and writer and I am too and we have different ways of doing things.
How did you guys put together such an amazing list of performers to lend songs?
We put together a list of important people we had known pretty intimately. These are people, I know for me, I've had great conversations with just about life. We weren't just compiling stuff to get out there. These were people who we've known and talked with about all kinds of stuff, heavy stuff, and all of a sudden decided to do a song with them. I never told Iggy to write a song about 'pain.' This album is very intimate with their personal feelings in the songs.
How did David Lynch enter the picture?
I knew we probably were not going to tour for this album, but there's been something visual about it and I wanted something to represent the whole thing - something all encompassing. I'm a fan of David Lynch's films and the music in them, and I felt maybe he'd have an interesting take on what to do once he heard the album.
You've accomplished so much in this business, where does "Dark Night" stack up professionally?
It's still the most unique. It encompasses a lot of stuff I'd done in the past and I've done since then. The process of it, and working with all of the people, reminded me of why I got into this in the first place. With the graphics and music, it's been like a big art project.
I haven't had time to reflect on it. It's been a big undertaking. With the all the books, the galleries, it's good. It's not the most profitable thing. I don't know if I'd do it again, you lose some money when you do a thing like this. [Laughs]
Do you see another Broken Bells or Gnarls album in your future or do take things day by day?
I always assume those things come when they come. I like when things are spontaneous. I've got other stuff I've been working on for years that are finally coming out, but I can't say.
Can I twist your arm?
Sorry, I can't.
Do you ever have a second to breathe?
I've got another week of festivals, a little music when I get back, and then a tour through September with Broken Bells. I never have any direct plans. I sleep fine. I never have to worry about getting sleep. This is my life and what I chose. I like working, if you can call it work, and creating while I still have a desire to do it.

Popular in the Community