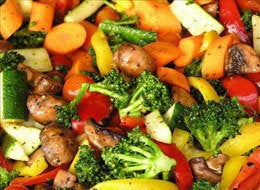 A large study offers the strongest evidence yet that a diet the government recommends for lowering blood pressure can save people from heart attack and stroke.

Researchers followed more than 88,000 healthy women for almost 25 years. They examined their food choices and looked at how many had heart attacks and strokes. Those who fared best had eating habits similar to those recommended by the government to stop high blood pressure.

The plan, called the DASH diet, favors fruits, vegetables, whole grains, low-fat milk and plant-based protein over meat.

Women with those eating habits were 24 percent less likely to have a heart attack and 18 percent less likely to have a stroke than women with more typical American diets.
Read more from the Associated Press here.
The Dietary Approaches to Stop Hypertension, better known as the DASH diet, promotes eating foods low in cholesterol and sodium by emphasizing fruits and vegetables and minimizing red meat and fat. Following the diet pushes blood pressure down both for people who have hypertension and for people with normal blood pressure, research has shown. It also cuts cholesterol, according to other research.

But no studies had gone one step beyond those risk factors to see whether the diet made a difference in the incidence of heart disease and stroke in healthy people, according to Teresa T. Fung of Simmons College and the Harvard School of Public Health.
Read more from the Boston Globe here.
For more on the DASH diet from the Women's Heart Foundation, click here.