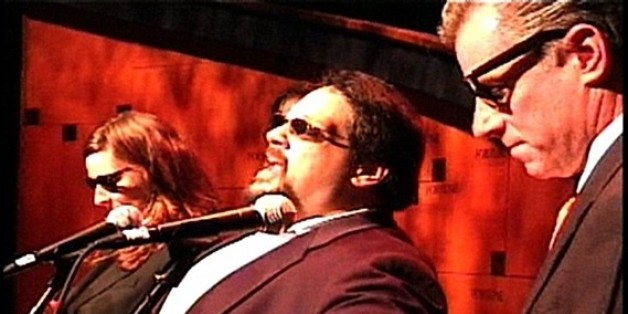 The roots of the blues, as most music historians will agree, go all the way back to Africa, winding their way through centuries worth of hurt and betrayal, then surfacing again in the early 20th century, in North America, where sharecroppers, men on chain gangs and other disenfranchised souls did their best to ease their pain by giving voice to what ailed them.
Much has been written about the origins of the blues, most notably by W.C. Handy. But what hasn't been written about all that much is one of the modern day correlatives -- the roots of the blues for new parents.
Based on the still-unpublished results of my anecdotal research on the topic, the blues of new parents go all the back to the first six months after the birth of their first child. As the intoxication (and gift certificates) of new parenthood wears off and the harsh realities of diaper change, sleep deprivation and less frequent sex wears on, most couples find their relationship standing at the crossroads of funky and frayed.
The traditional way most new parents deal with this phenomenon is known in the literature as "date night" -- that sacred, once-a-week, get-out-of-the-house escapade to focus on something other than strained carrots, poop, or highly obsessive thoughts about the rising costs of college tuition.
My wife and I were no exception. Date Night for us, however, soon became synonymous with Movie Night and Movie Night soon became synonymous with Same Old, Same Old night which, unfortunately, left both of us feeling even crankier than ever.
Aware of the rut we were in, I decided to step up my game and "do something different" which, in this case, meant checking out the entertainment section of the Woodstock Times.
And there, on page three, as plain as the milk mustache on my young son's face, I SAW IT -- a small ad for Ernie and the Wildcats, a local blues band I had never heard of playing at a local blues club I had never heard. Bingo! The blues it was! Who cared that these guys had never opened for B.B. King? At least they weren't a movie at the 12-Plex.
My wife was game, the babysitter arrived and we were out the door.
One appetizer, two margaritas and three blues songs later, Date Night 2.0 had not only revived our spirits, it had morphed into something completely unexpected -- Ideate Night -- that curious parting of the cerebral Red Sea, when a powerful new possibility makes itself known. Yes, halfway through "Stormy Monday," I had one of those moments.
My realization? All my clients had the blues! But what they didn't have was a healthy way of going beyond the blues. And because they didn't, complaint ruled the day -- complaint and all his funky, low-down, younger cousins: bitching, moaning, griping and kvetching.
The idea behind the realization? To provide my clients with an engaging way to identify their blues, form ad hoc blues bands, write work-related blues songs, then perform their songs for their fellow corporate sharecroppers -- and all in the spirit of team building, continuous improvement and fun.

I logged on this morning
And found out I'd been spammed,
Got 500 emails, Lord, my inbox was way too jammed,
Most of it was useless, the rest of it was jokes
Sent by friends with downtime to the rest of us working folks.
The first thing I did the next morning was tell my two best friends. They were not impressed. Neither were they interested, intrigued, astounded, amazed, congratulatory or wanting to get in on the ground floor. Bottom line: They thought I'd lost my mind.
Unperturbed and still riding high on the fumes of last night's epiphany, I decided to share my idea with another friend -- a wild-eyed, creative, bass-playing OD consultant with a penchant for the unusual. His eyes opened wide as he excitedly told me how he and his brothers used to do something similar at parties. Paul was in!
The next day, we pitched partner #3, a very talented, keyboard playing carpenter from Dublin. He was in, too. Houston, we have lift off!
A month of late night, brainstorming sessions later and the three of us had the beta version of Face the Music nailed, plus our first client -- GE.
Two months later, Fast Company ran a story on us. Three months after that, CNN filmed one of our gigs and had it playing in steady rotation worldwide.
The rest, as they say, is history.
My point? Breakthrough ideas can show up anywhere, anytime, anyhow -- and they DO -- especially after extended periods of frustration, confusion, struggle, and doubt -- when the 9-5 conscious mind (assuming it's committed to finding a better way) gives way to the 24/7 subconscious mind -- the unheralded, underground, little-known genius problem solver we all have who loves nothing more than conjuring up extraordinary possibilities in the 11th hour.
The conditions, for me, that night, at the Blues Club, were ideal for originating a BIG IDEA and then, following through. I had a huge need, the urge to do something different, the recognition I couldn't do it all myself, and enough resilience to keep shopping the idea around until my ideal collaborators showed up.
And now? That late night, date-night, at-the-crossroads idea has spawned more than a thousand business blues songs and a major renaissance of truth telling and teamwork in organizations world wide.
Which leads me back to you, oh HuffPost reader who may just have your own brand of the blues. What are YOU frustrated about these days? What's not working quite way you want it to? What's off, missing, under-performing, or deeply in need of a change for the better?
And what can you do, in the next few weeks, to unplug from the routine and put yourself in the place where brilliance, insights, and breakthrough ideas are just waiting to be discovered?
Mitch Ditkoff is the Co-Founder and President of Idea Champions, an innovation consulting and training company based in Woodstock, NY. His blues name is Blind Willy Nilly. Click here if you want to listen to any of his own business blues songs.
Calling all HuffPost superfans!
Sign up for membership to become a founding member and help shape HuffPost's next chapter