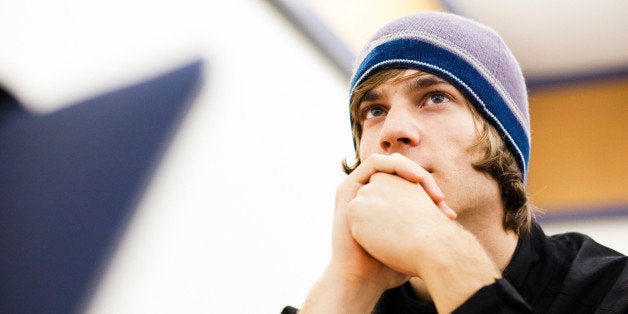 I was the Boss (or at least people let me think I was). I ran a large foundation that sponsored service programs at dozens of colleges and universities involving thousands of students across the country. For over twenty years, program directors and coordinators came together to train them on curriculum, developmental models, and best practices around service learning and civic engagement.
As much as I loved the view from above, I decided I wanted to be more on the ground and run a local program. You probably already know the next line: be careful what you ask for, you just might get it. Last year I found myself doing just that - helping to launch the Community Engagement Fellows Program at McCormick Theological Seminary.
In preparing for the first gathering of the seven incoming students in this fellowship program, I had developed a notebook full of lists, ideas, questionnaires, and evaluations. What I didn't have were the wonderful materials we would need: the charts, the power points, the models, the field guides and handbooks. I knew as I looked around the room that I needed to hear from the people around the table and ask them to create, not simply to consume. So I did what one should do when they don't know the answer, I asked questions...four of them:

1) What does it mean to live faithfully as a Christian in the world?
2) How do you define Christian community?
3) What will you do to help build that Christian community?
4) How will you support and hold one another other accountable as brothers and sisters in Christ?
Why these questions?
How will you live faithfully?
The question allowed each person a chance to consider, articulate and demonstrate who they are and what they wanted to become. These were individuals who encouraged people to dream but also desired to see how they were responsible for building what they had envisioned in combination with how others saw the future. By questioning how to live faithfully, those responding begin connecting their compatible interest(s) and bridging their differences in the hope of something greater than themselves.

How do you define community?
Oftentimes, community is defined not by what we want it to be, but rather by what is prohibited. We define exploration through questions, not information by giving answers. However, when the community is central, rather than moving into a space that was planned, it empowers the creative unifying efforts of the whole. A good community reminds me of the computer games where the player gets to build his/ her own city. In this case, we all are invited to participate. So when asked, "How do you define community?" what is really being asked is, "what does life together look like?"

What will you do to build that community?
Oh, you mean it's not all done for me? In a day and age where so many schools are racing to offer the most comforts, doing the work yourself is a strange and powerful request. What if people brought a sense of caring, patience into their community? What if, when someone's mom is sick, everyone rallies together in support, or, if someone needs a ride to the airport, a person immediately volunteers their time and their car so they could get there? When building a community, people are not just asked to imagine what community is like. They are required to bring what they possess to the table.

How will you hold yourself accountable?
About five seconds into our first gathering, sparks flew. Someone said a word, someone else pushed back, and I thought, OMG this is it, our community didn't even last a minute. But instead of imploding, another student jumped in, firm without being a bully, directing while still being kind
So what happened?
Everyone started talking. Everyone showed up (meaning everyone participated, engaged, and contributed). We spent the year gathering, meeting, experiencing, exploring, growing, working, serving, challenging, and throughout it all, loving. The group, designated as a cohort that would engage in service, did what it needed to do first - it built community. Not the kind of community where everyone is the same and likes the same music, movies, food and politics. Rather, a community of very independent people with strong views and experience and passion to back it up.
The Fellows stood with and for one another, in times of great painful struggles and personal joy. It meant among other things rides to the airport, prayers via texts, dinner invitations, picking up kids, road trips, attending marches, editing papers, dreaming up projects and carrying them out. Through these efforts, their individual accountability in the creation of community became a communal endeavor.

They were asked to define who they were in the world and what they wanted to be. By saying it out loud in front of the others, it gave life, meaning, context, and a sense of possibility. From the very beginning and running through the year, individuals paired up and worked to support each other, bringing with them their own unique gifts, which might have otherwise gone unnoticed

Questions change things. They change everything: self, community, school, and the world.
• They changed me, as I learned how to be shaped by a group rather than trying to shape it
• They changed the people in the group, as individuals from very different backgrounds and viewpoints came together to support one another and the causes they cared about
• They changed the school as people invested in the life of the community by showing up, initiating conversations, participating in events and showing both conviction and kindness
• They are beginning to change the world, as talented and committed individuals bring their best self and their peers with them to champion education, children's health, and survivors of all kinds, and to bring confident leadership that is capable of bring hope out of fear, joy out of pain and light out of darkness

When questions are more powerful than answers
The questions were so much more powerful that the answers I had prepared to give. We removed the time sheets, job descriptions, agendas, and reports. Sure, we need to do all of those things, but the questions were the cornerstones for us as a group, and the building blocks for the work that we did collectively, in pairs and on our own.

All across the country students have begun to gather begin something new, the start a school year. There will be all kinds of new events planned, orientations held, surveys administered. In the midst of all that planning, just remember, sometimes the question you ask are more powerful and important than the answers you give.

* McCormick Seminary is a Christian community committed to educating and training Christian leaders in a complex interfaith world. The students claimed their faith tradition as they saw it and experience it, not how others defined it for them. For those who are not coming from a Christ context, I encourage you to modify the questions to fit your community.
Calling all HuffPost superfans!
Sign up for membership to become a founding member and help shape HuffPost's next chapter