In between sports practices and games, music lessons, volunteer work, and of course heaps of school projects and homework, families are pressured preparing children for college.
As a result, an emerging family travel trend is blending vacation time into a child's school curricula for history, literature, geography and science. The emerging trend is called eco-adventure vacations. This type of family travel focuses on fun, outdoor experiences and the impact these meaningful travels can have on a child's imagination.
Some examples of eco-adventures right here in North America include:
Staying at the only lodge located within the entire Kenai Fjords National Park in Alaska. With a focus on providing quality natural history and respectful cultural instruction, your family can hike through hemlock forests, raft through emerald-colored waters, canoe on a glassy lagoon, spy on sea otters enjoying the lagoon in their own "rafts," kayak among glacial ice and revel at the tremendous wildlife viewing opportunities along the way including whales, eagles, moose, spawning salmon, caribou and puffins.
Participating in a day eco-adventure through Everglades National Park in Florida. With fun and safe activities such as kayaking, biking, walking and birding through the Big Cypress National Preserve and the 10,000 Islands National Wildlife Refuge, your family can learn from a certified Master Naturalist the biological reasons and ecological conditions that make this the most unique National Park in the United States. Imagine paddling next to a manatee or a dolphin while an osprey, heron or egret passes by!
Living like a local in Newfoundland, Canada. With cabin-style accommodation that are within walking distance of a UNESCO World Heritage Site, your family will have the chance to explore Gros Morne National Park as the Vikings did more than 1,000 years ago. Take a guided hike up Gros Morne Mountain, go sea kayaking to tour the Bonne Bay Marine Station, take a boat trip for fjords viewing and have a delicious lobster boil dinner to celebrate the end of your eco-adventure.
These eco-adventure vacations offering up-close-and-personal views of nature are led by naturalists and historians who are trained to understand -- and have a passion for -- culture, plants, birds and animals and their relationships to ecosystems.
Eco-adventure vacations bring education alive, and if a child can better understand the world, s/he will be more likely and better prepared as an adult to improve it!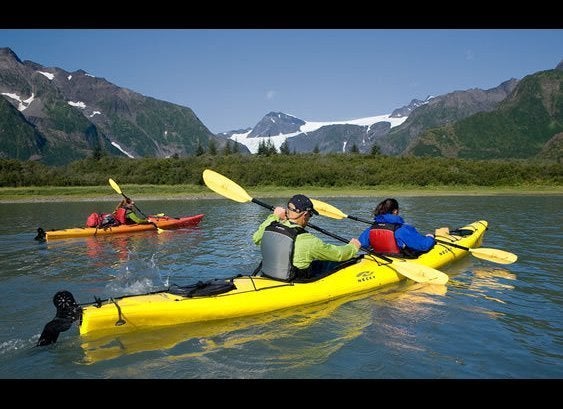 Eco-adventure Vacations in North America