By Ted Lewis, Janice Gallagher, and Whitney Taylor
The day after Trump was elected, we came to Colombia. Why?
Many Colombians are reeling from their own recent vote. Just last month, Colombians voted by a razor thin margin against peace accords that the government had negotiated with the FARC aimed at putting an end to a half century of conflict.
Like their American counterparts, Colombian pollsters failed to detect deep currents of the anger and alienation that voters expressed at the ballot box. The vote in Colombia also reflected some of the race, class, and urban vs rural issues that emerged in our elections. Poor people in Colombia directly affected by the violence of the war, especially Afro-Colombian and indigenous communities, voted overwhelmingly in favor of the accords, while urban voters, especially in former President Álvaro Uribe's electoral stronghold, Medellín, voted NO.
In the weeks following the devastating October 2nd vote - which was seen in apocalyptic terms by many Colombians who have seen their country torn apart and have devoted years to ending the violence and building a more just and peaceful country - people have taken to the streets and publicly recommitted themselves to the struggle for peace. Citizens and social movements throughout the country are charting a new path forward and the government just presented a new, less ambitious version of the peace accords.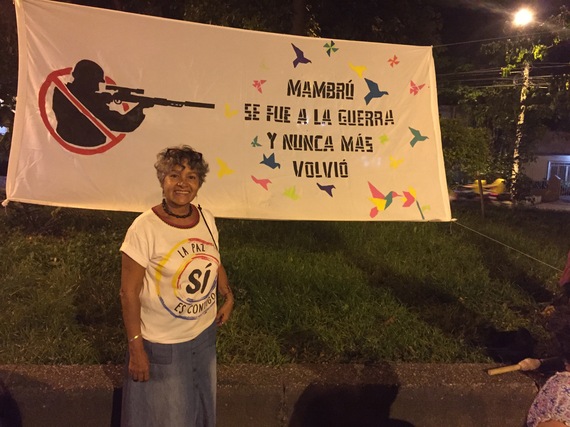 Woman in Cartajo, Colombia with YES tee shirt, promoting the losing side in the referendum.
As people in both Colombia and the US look for new ways to organize in the face of new and unexpected challenges we have a lot to learn from each other. For more than 50 years Colombians have been organizing and building diverse coalitions to defend their communities in the face of extreme violent repression and war. Their struggles help put the challenges of confronting the racist, retrograde, and divisive implications of our own elections in perspective.
We - a group of students, community leaders, journalists, academics, and victims of violence from seven different countries throughout the Americas - are in Colombia with a diverse group of Colombian civil society leaders who have invited us to join a two-week "Caravan for Peace, Life and Justice." We are traveling to regions in Colombia that have been badly damaged by their long war.
We will listen to each other's stories, think together about what comes next and learn from each other's experiences in events large and small in big cities, small towns, and rural hamlets.
What will a Trump presidency mean for peace in Colombia?
The election of Donald Trump is something we are all grappling with, and has been the subject of many conversations during the first days of the Caravan. We all have more questions than answer - but are concerned most centrally with how his election affect human rights, democracy and militarization in the region.
Historically, United States domination in Latin America has been disastrous for human rights. Our foreign policy has empowered conservative leaders to repress and kill citizens who advocate change, funded a militarized response to defending business interests, and most recently, spread the deadly and disastrous "drug war" throughout the region. Will the Trump presidency bring more of the same? Or will it signal a shift in regional dynamics?
Adam Isacson, an insightful, prolific observer of Colombian politics and US-Colombia relations, suggests two likely scenarios - a turn to isolationism or a handoff to old guard Republicans. During the campaign, Trump promised isolationism - to embrace the "America First" rhetoric, slash foreign aid, and gut regional trade agreements. In some ways, this could be a best case scenario for Latin America. Latin America without US-driven militarization, "aid" money, and drug war mandates may allow for national autonomy and social movement organizing like never before. In a sign of increasing independence from US policy, countries in the region have already come together to accelerate the end of US drug war policies.
Uruguay legalized marijuana in 2013, Colombia legalized medical marijuana and commercial cultivation for export in 2015, and regional leaders were pivotal to the convening of an historic UN meeting to address changing drug policy in April of this year. And in a bright note among the gloom of the US elections, marijuana legalization passed in California, Maine, Massachusetts, and Nevada, making ever-more evident the futility of the hypocritical drug war policies that have brutally disrupted life and created millions of victims in Colombia, Mexico, Honduras, El Salvador, Guatemala and the US. Isolationist Trump policy would probably mean the region would be able to end parts of the drug war and curb drug war violence - a positive step in a region with the highest homicide rates in the world.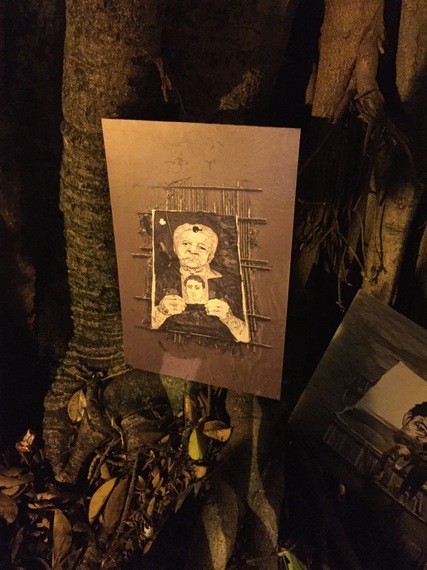 A move toward isolationism, however, could prompt economic chaos. While the implementation of free trade agreements in the region have hurt people, led to deepening inequality, and skewed domestic markets, there would be a huge and immediate cost to a sudden shift to US protectionism. The US is Colombia's most important trading partner - more than a quarter of its trade is with the US. As Colombia figures out how to employ the legions of armed actors who, would need new jobs if the war ends, the additional economic loss that would come with "America first" protectionism would be devastating.
While isolationist economic policy seems likely, there are indications that he may not be so inward-looking in his foreign policy. Trump is quick to turn to militarized responses to problems - famously promising to "bomb ISIS to hell" during the campaign. With this penchant for violent solutions coupled with his disinterest in the region (beyond walling off Mexico), he may delegate regional relations to Bush administration neo-conservatives. Isacson argues that this option could lead to a return to Cold War era hostility to progressive forces and a doubling down on drug war militarization.
A handoff to the "old guard" would likely result in policies more in line with the country's right-wing opposition, led by former President Uribe. That would mean a more critical stance towards peace accords, decreasing incentives for compliance by the government with these accords and a possible increase in military assistance.
Caravan meets with residents in a remote town of San Pablo on the Magdalena River.
As the region prepares for a Trump presidency, it is an important time to rethink how people working for a more just and peaceful world can collaborate and learn from each other's struggles across borders. The Caravan is in its 4th day - so far, we have seen how communities devastated by violence have pulled together to return to their homes and rebuild their lives. As many in the US are paralyzed by the desolate, depressing campaign and terrifying Trump victory, it has been instructive to see Colombians confronting their militarized repressive state not only with marches and mobilization, but also with a renaissance in artistic expression. We have seen eight different youth-led dances and dramatic performances in the past few days. These difficult times call for innovative solutions - and Colombia has also showed us that they can be joyous despite tremendously difficult circumstances.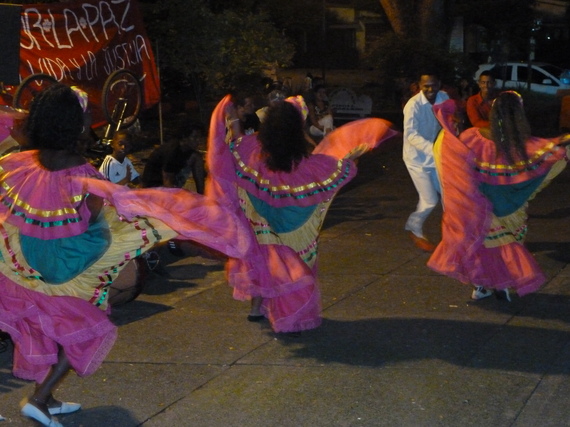 Janice Gallagher, who co-wrote this article with Ted Lewis, is an assistant professor of political science at Rutgers-Newark, specializes in social movements, human rights, and judicial systems in Latin America. From 2006 to 2008 she worked as a human rights accompanier in Colombia.
Whitney Taylor, the other co-author, is a PhD candidate in political science at Cornell University, studies legal mobilization and constitutional rights in Colombia and South Africa.
Related
Popular in the Community