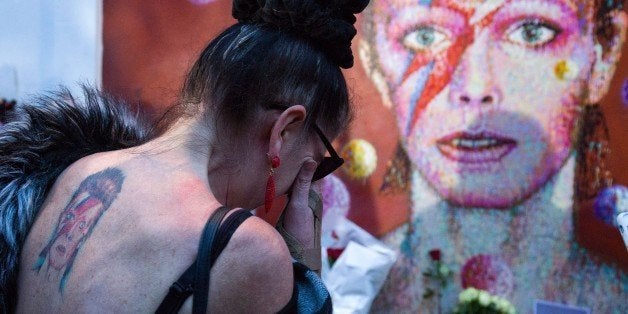 It all started in 1996 between Bowie and Placebo, before our group's first album was released. He was on tour in Italy and had just listened to one of our demos. He had never listened to our music before nor had he seen us perform. Despite that, he asked us to open for him. At the time, we played for audiences of 300 people. The day that we joined David Bowie in Italy, we found ourselves in front of 7,000 spectators. Shocked, we had to learn very quickly how to perform in front of an audience of this size.
It was terrifying. I was 20 years old at the time. We had one more beer before going on stage. David came to reassure us.
"We were standing on the same stage as a magician, an exceptional artist, an extraordinary human being."
When we started our career as performers, we were convinced that our work wasn't worth much, but David gave us confidence in ourselves. It was because of him that we felt capable of composing beautiful things. That day, he told us something that I'll never forget: "Never be lazy, go the extra mile as an artist, don't be afraid to challenge yourself."
We would regularly have dinner together, and we also spent a ridiculous amount of time backstage when he asked us to open for him. And then, twice, we went up on stage with him. At this precise moment we were in the clouds, deluded by adrenaline, as powerful as a drug. We felt that something crazy was happening, something magical. We were standing on the same stage as a magician, an exceptional artist, an extraordinary human being.
I have many memories of David Bowie. Like the one when our album Without You I'm Nothing was being released, he called us up and said: "I want to sing a song on this album. I have to do it."
We said "Okay, of course" and suggested turning it into a duet between Brian Molko and David Bowie.
I've very sad. I was closer to him than I was with some members of my own family. It's a terrible day. I feel like I've lost a loved one. He was a great artist and gave our young group a chance. He gave his time and he gave it to each of us individually. David Bowie was one of those people who is profoundly attentive to others, who takes the time to listen. For all these reasons, I am terribly sad.
"He loved telling stories, he had tons of them. His story isn't finished."
David Bowie was a seducer. When he spoke to you, he had a piercing gaze, he flirted with you. The day that we got together to listen to him record a song from our album Without You I'm Nothing, no one knew which song he had chosen and what's more, no one had practiced with him. I was freaking out a bit. I told myself "holy shit, let's hope he's good, because if the song is rubbish, we could never tell him."
We were in the studio and there, Bowie told us that he was going to sing the album's eponymous song. He started to whisper the harmony into my ear. My feet became suspended from the ground. I realized that he was going to cause an explosion.
Something broke inside me this morning. Six months ago I was talking to Brian about the avant-garde jazz flavor that David was giving to his latest album Blackstar. We agreed that after almost 70 years, this man was still doing new and surprising things. Up until the end of his life, he was adamant about not allowing himself to be led along the road already taken. Instead, he focused all his energy on the question of what he was capable of creating next.
He loved telling stories, he had tons of them. His story isn't finished.
Placebo shared with HuffPost and published on its YouTube channel an unedited video dating from 1999, where you can watch the British rock group jamming with David Bowie on the song "Without You I'm Nothing."
This post first appeared on HuffPost France. It has been translated into English and edited for clarity.
REAL LIFE. REAL NEWS. REAL VOICES.
Help us tell more of the stories that matter from voices that too often remain unheard.