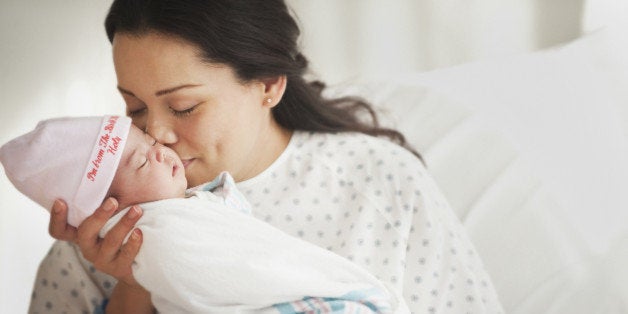 She came into my life on 2nd Nov, 9:30 am, over two and a half decades ago. It was a beautiful Monday morning and I was not expecting her for another week or so according to calculations by the obstetrician.
The past few weeks had been hectic. I had recently completed the compulsory two weeks of practice teaching at a school in partial fulfillment of the requirements for a degree in Education. I was due to take the written exams a month and a half later, but studies could take a back seat for the moment. I just wanted to relax and concentrate on approaching motherhood.
Both my sister and I were at my parent's home in Delhi for our confinements. All day we exchanged notes and went through suitcases containing cute and adorable baby stuff she had bought from the US -- clothes, blankets, toiletries, toys, etc. My mom and a cousin who lived nearby had also prepared handmade baby quilts and had embroidered sheets and little baby dresses and knitted a few sweaters, caps and booties.
My sister's baby was born first and was soon a month old. I loved being an aunt while my parents basked in their new status of grand parenthood, especially as their first grandchild was a girl. Everyone now eagerly awaited the birth of my child. Excitement was mounting and names were being discussed -- for both a boy and a girl. But I already knew. And I had already chosen a name.
That Sunday night I slipped into my sister's bed shortly after midnight to cuddle and play with her baby girl while she and mom chatted away in another room. I knew that once my child was born, I would not get time to spend with my niece.
It was cold, and Diwali being much earlier that year, winter had already set in. Suddenly I started feeling uncomfortable and queasy and rushed to the bathroom. Mom heard me and asked a few quick questions and declared that it was time for me to be taken to the hospital right away. But I was reluctant.
"Let's wait till the morning," said I, feeling foolish at causing a scene in the middle of the night. Also, I didn't want to disturb my father who was sound asleep. But he was awoken and quickly drove us to the hospital. "So sorry for disturbing your sleep, Dad," I said apologetically again and again on the short drive to the hospital. I guess those were not the words he expected to be hearing at that time. He simply smiled and shook his head and on reaching the hospital said, "Wait, I'll get you a stretcher."
"Oh, no need Daddy," said I, already highly embarrassed at all the fuss being made of me. "I'm okay, I'll walk in." I was trying to be brave while my body struggled with unknown sensations. But I guess parents know best, a fact I was to later drill into my children's head the rest of my life.
No sooner had I stepped out of the car, that I felt the earth parting beneath my feet and, in panic, I placed my arms across my tummy in a bid to protect my soon-to-be-born child. Instantly my father caught hold of me and a stretcher appeared miraculously. It was 1:30 am, Monday, 02 November.
Eight long hours of labour ensued with my mother hovering over me, coaxing me into drinking warm milk and eating tiny pieces of dates and other fruit, and at the same time blowing duas over me and guiding me on the prayers I should be uttering at that time to ease labour. But labour was agonizingly tough and I was thoroughly shaken. It was only knowing what reward awaited me that gave me courage to endure all the pain. I could only imagine what my dear mother must have gone through to bring my siblings and I into the world. My love and respect for her and every woman grew manifold and I understood that it is not without reason that the status of a mother is so elevated.
At 9:30 am, Alhamdulillah, I was now a mother myself.
The first words I said to my daughter when the obstetrician, on my request, placed her on a rubber sheet on my body immediately after cutting the umbilical cord were - "Assalamalaikum beta. Welcome to the world!"
Still covered with birth fluids, she opened her eyes to see where that voice had come from and looked straight at me with bright turquoise blue eyes. I was taken aback at that dazzling sight; the look, so pure, so trusting. As I lovingly caressed her head my fingers encountered soft, golden curls. I looked at her fair chubby cheeks and rosy lips and thought- Ya Allah, how come I produced such a doll. The words of a popular nursery rhyme came instantly to my mind.
The nurse then took her away to wipe her clean and hang her upside down and give the customary whack on the back. As she let out a mighty roar, my family waiting outside the delivery room thought it was a male child. But through the pain of childbirth I was smiling widely with smug satisfaction. I had brought forth into the world, another of my tribe, a blessing on the earth, the joy of my life and the centre of my universe - A Precious Baby Girl! The one who had raised my status.The one by virtue of whose birth I had been born a MOTHER. The one who completed me.
Like they say, when a child is born, a mother is also born. She never existed before.
Salute to all MOTHERS on this SPECIAL DAY!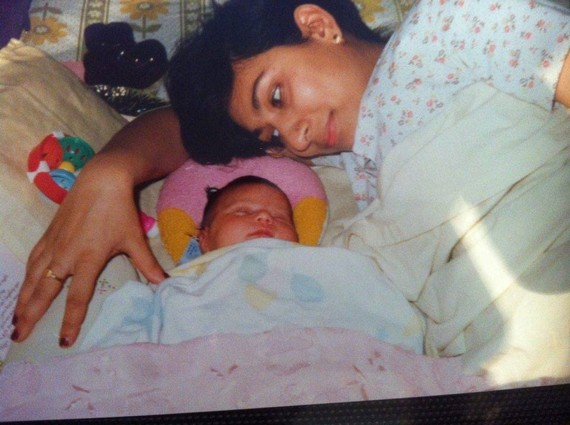 Related
Popular in the Community