You probably don't remember the first time you said the word "Dad." It may be something that's documented in one of those cute baby books, but likely not a big deal in your adult life. But, when you grow up without a father, making the choice to find "him" and label him with a name worthy of your love, is a major life event. The day I called my biological father, Bruce Sundlun, "Dad" for the first time is a moment etched in my psyche filed in the "keep forever" parts of my brain along with my wedding day and the births of my children.
I was the love child of the sitting Governor of Rhode Island, which meant the press provided me with lots of pictures of my new "Dad" finally welcoming me into his life on national TV. He had asked me to move into his estate on the famous Cliff Walk so we could "get to know each other." I was thrilled to get the chance to get to know the other half of me, but I had no idea what to call him. Bruce seemed wrong, Governor was too formal, and I thought he needed to earn the title of Dad, so I just avoided calling him anything. After a year of firsts together, he started to feel more like a "Dad," but actually calling him that seemed like it might make me pass out. I had to gear up for it. I planned out the day I would call him Dad much like someone plans a marriage proposal. I decided our big day would be our first real Father's Day together. I write about that unforgettable day in my new memoir Finding Dad: From "Love" Child to Daughter.
Here's and excerpt:

As my freshman year of college came to a close we were approaching what would be our first real Father's Day together. The year before I had known my father less than a week, and given him a basic card. This time it meant something. A lot, in fact. So I wanted to get him something special, something that would show him I knew he was trying hard. In the past year of getting to know my father, I had avoided calling him anything, since it didn't feel right to call him Dad yet.
One of the state troopers, Al Pontarelli, kept teasing me. "When are you going to start calling him Dad?"
"In time. He has to earn it."
The truth was, I thought my father had proven himself throughout this transformational year of firsts, and I wanted to call him Dad, but I couldn't make the words come out yet. It felt like it should be a special occasion, so I decided get him something to mark the significant transition
After a trip to the mall, I settled upon a mahogany memory box. I knew my father loved to save things, and I thought it would be a perfect safety deposit box for our future mementos. I went to the Things Remembered store to engrave a golden metal plaque with the name DAD in all capital letters and the date June 20, 1994 under it. I was moving back to Rhode Island for the summer again and decided I would give it to him on Father's Day in person. When I handed him the heavy gift to open. He ripped the wrapping paper off and removed the glossy mahogany box from the packaging.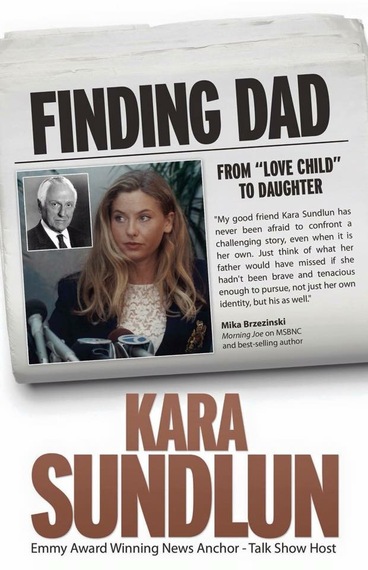 I was touched at how he ran his fingers over the plaque, tracing the letters. "This is beautiful, Kara."
"It's a memory box for special things, like my Father's Day cards." "Very nice, very, very nice," he said, seemingly unsure of exactly what to say. This was a man unused to showing his feelings, and I seemed to force the issue at every turn. It was as good for him as it was for me. "Mrs. Schuster, come look at what Kara got me for Father's Day." (Mrs. Schuster was his housekeeper)
I began noticing that it was easier for him to show his feelings in third person.
"Isn't that nice?" he said, again running his finger over the engraving.
"Oh wow, Governor, it's beautiful, and very special," she answered looking at me with a knowing that this was a big deal.
"I'm glad you like it...Dad." I felt my face grow warm. We hugged, and I could feel his gratitude in my own heart. Even though he didn't say much, I watched his eyes widen looking at the word Dad.
"Thank you Kara, this is such a wonderful gift. Really -- thank you very much."
After holding the box on his lap for a long time, he carefully placed it in a prominent place on the coffee table in his study. We finished our Father's Day with some our favorite Oreos and milk, and I snuggled in the nook of his arm, soaking up the warmth and safety I always felt when having cookies with Dad. I was the only one of his children in town to share the day, and it seemed representative I'd finally found what had always been missing in my life.
After I gave my father the "Dad" box, I was excited to see Trooper Al Pontarelli so I could call my father Dad in front of him. When he came to pick up my father for work, and I showed him the box, now a solid symbol of the new phase in our relationship.
Dad got a big redo on fatherhood with me. He had made mistakes by not always making things special for my brothers, but with each special occasion I was teaching him how to show his heart. As I taught him how I needed to be loved, he learned how to show love to my brothers, too. As the years went on, I think he tried to make up for his mistakes with them by showing up for Tracy's races, doing a business deal with Stuart, or taking Hunter, Peter's son to see a B-17 when it came to town. I learned he was just as hard on himself as anyone else could be, and he needed to feel unconditional love before he felt safe enough to open his heart. Somehow my key worked. I'd unlocked a part of him that he'd needed to find, all the while discovering my true identity in the process.

I would go on to spend 17 more Father's Days with my Dad. I wish it could have been a hundred more. I have learned forgiveness is a tunnel to love and the title Dad is so much more than a name. As I watch my two children with my wonderful husband today, I am so grateful they have what I was searching for.