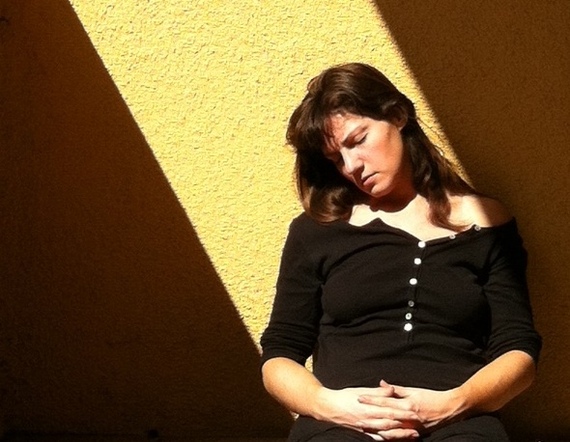 At age 23, I gave up on myself.
It was a Friday, the day after Thanksgiving. As an ambitious first-year law student, I returned to law school to study. No leftover turkey sandwiches. Final exams were approaching.
Yet, within a few hours of studying at Boston College's law library, I peeled my right cheek from my textbook, only to find drool on the case I was reading.
Disgusted, I wiped my spit off the page. In three hours, I'd read three pages. I wondered, What the heck is wrong with me?
As a student at Brown University, I'd excelled as a Division I athlete and an art history major. Law school was supposed to be the same. I felt like I cared, but I'd somehow lost my will power and drive to succeed and so, I'd lost myself.
About six months later, I woke up one morning in the law school parking lot unsure of how I'd got there. I remembered leaving home, but couldn't recall arriving at school. I'd gotten 10 hours of sleep the night before. For the first time, I thought:
Maybe I have a sleep problem.
Soon thereafter, I visited a primary care doctor and announced, "I think I have a sleep disorder."
"Everyone gets tired," the doctor responded. "Even I pull over for coffee when driving sometimes."
She suggested thyroid issues, depression and anemia.
Within a few months, at age 24, I was diagnosed with narcolepsy with cataplexy, a serious neurological disorder of the sleep/wake cycle. As I slowly untangled the webs of my past, I was horrified to realize how far I'd fallen to sleep.
Sleepiness crept in during college, but I was good at making excuses. I stayed up too late, I got up too early, the classroom was hot, the professor was boring, I hadn't had enough coffee, I'd had too much caffeine, all college students are sleep-deprived...
In addition, every signal from society led me to believe my serious sleep problem wasn't serious and wasn't a sleep problem. I self-medicated. I repressed scary incidents.
I slept through critical life moments in my budding young adult life.
Primary care doctors may miss obvious indicators as well. In 1993, only 63 percent of medical curricula included sleep medicine, with an average of 2.1 hours of class time devoted to all sleep disorders.
Sadly, there's no indication of improvement. A 2007 review of medical specialty textbooks found that sleep and sleep disorders information made up only 2 percent of all content.
This is why I founded Project Sleep, a non-profit organization to raise awareness about sleep health and sleep disorders.
No one battling sleepiness deserves to give up on themselves. I challenge the notion that "pulling an all-nighter" is a badge of honor. I envision a world where sleep is not a footnote on life, but a gateway to truly understanding our bodies and minds.
Project Sleep's campaigns will not be passive or snoozy. Our mission is urgent and our passion is fierce. Join us in making sleep cool!