I was on the treadmill, somewhere around mile 4, when I found out that DOMA had been repealed, and that my marriage to Mariann was now federally recognized. The gym was nearly empty, which isn't uncommon for 10 a.m., even in lower Manhattan. One lone, mustached guy who was busy on the elliptical was the only person in sight. The news came in through the tiny TV on my machine, and I yelped. I looked over at the guy, hoping to share a celebratory moment, but my glee was lost on him. Ah, never mind. Even though he didn't know it, he was sharing this moment with me anyway, this piece of history, this piece of my story.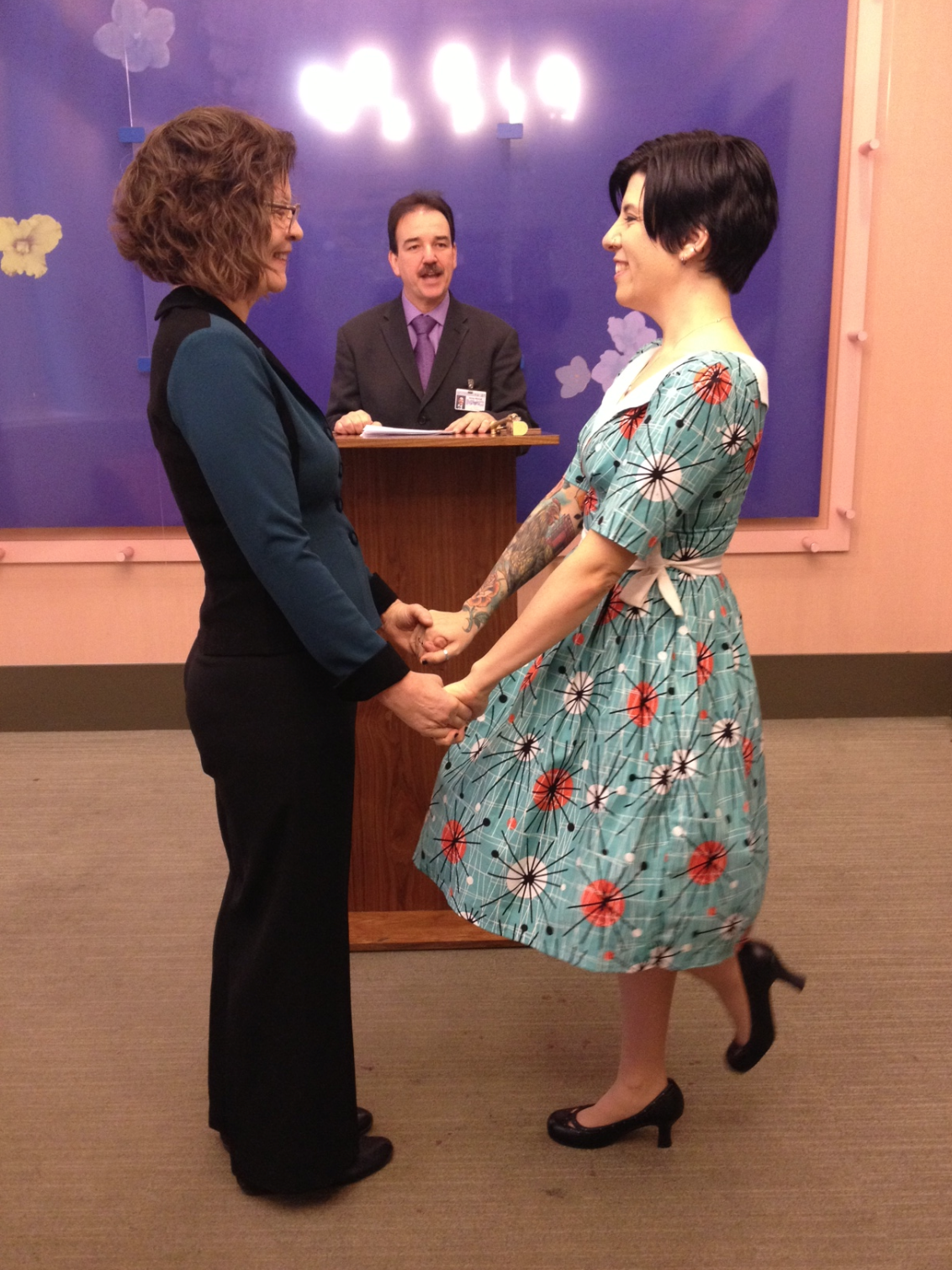 Five months ago, Mariann and I decided to go down to City Hall -- I clad in an ironic, Donna Reed-style dress, she looking festive in turquoise -- and exchange wedding vows in front of two of our favorite queer friends (one of whom wore her best hoodie and favorite Chucks for the occasion). We had intended to be somewhat tongue-in-cheek about our marriage. In the hours leading up to the "I do," we kept trying the word "wife" on for size, and then guffawing at the absurdity of how it sounded, like we were each the other's show-and-tell item at school.
But before we knew it, romance had crept in like a blinding sunbeam through the window, the kind our dog Rose finds comfort in following around the apartment. It was Feb. 1, 2013, when we tied the knot, and the temperature that day seemed to average somewhere around 20 degrees -- or at least that's how my numb knuckles and toes experienced it (cold feet?). Following our vows, our friend Sally (the one with the hoodie) treated us to decaf soy lattes at the nearby Starbucks, and we were oddly touched to recognize other City Hall newlyweds also partaking in the apparent post-nuptial Starbucks rite of passage. We proceeded to have the perfect day: buying thin gold bands from a jeweler on Canal Street (yes, after the fact); enjoying a late breakfast of congee at Buddha Bodai, our favorite Chinatown restaurant; finding cheap fruit for sale under the Manhattan Bridge; stopping in Little Italy to warm our frozen hands over even more hot drinks; and, finally, walking back to our closet-sized apartment in Soho, pulling open the couch, and settling in to watch reruns of Battlestar Gallactica while eating 3 pounds of fresh cherries. It was, unquestionably, our perfect day. Even though we had been a happy couple for six years already and hadn't expected anything particularly monumental from adding marriage to the mix, our love settled into a new compartment, one we hadn't before known we had.
Much as I experienced on my wedding day, when DOMA was repealed, I became inarticulately emotional, in ways I hadn't expected. Prior to getting hitched, I had rather vocally questioned the marriage-industrial complex -- and, truthfully, I still worry about its oppressive roots. I wonder if I am an assimilationist, and I question whether or not that's a bad thing. If I'm going to be honest, I have even spent time debating whether my married straight friends feel less guilt about cashing in on their hetero privilege now that I'm married too. I struggle with whether the fact that I'm married means that I am also cashing in on some silly privilege when many LGBT people continue to be oppressed and marginalized in truly incomprehensible and dangerous ways. And I think about the way that society celebrates those who live their lives two by two, as if single lives are somehow not quite as successful, when just glimpsing around reveals plenty of small, miserable lives lived coupled, and big, vibrant ones lived alone. So is it selfish of me to look down at my simple wedding band and feel a jolt of excitement knowing that I am joined with Mariann in holy matrimony, whatever that means?
With no hope of celebrating with the elliptical guy left, I ran home, quite literally, to Mariann. She was busy fixing the cabinet, trying to get it in tip-top shape. We had a real estate agent coming by that afternoon; we have been thinking of moving to a slightly larger closet in a slightly less-desirable location.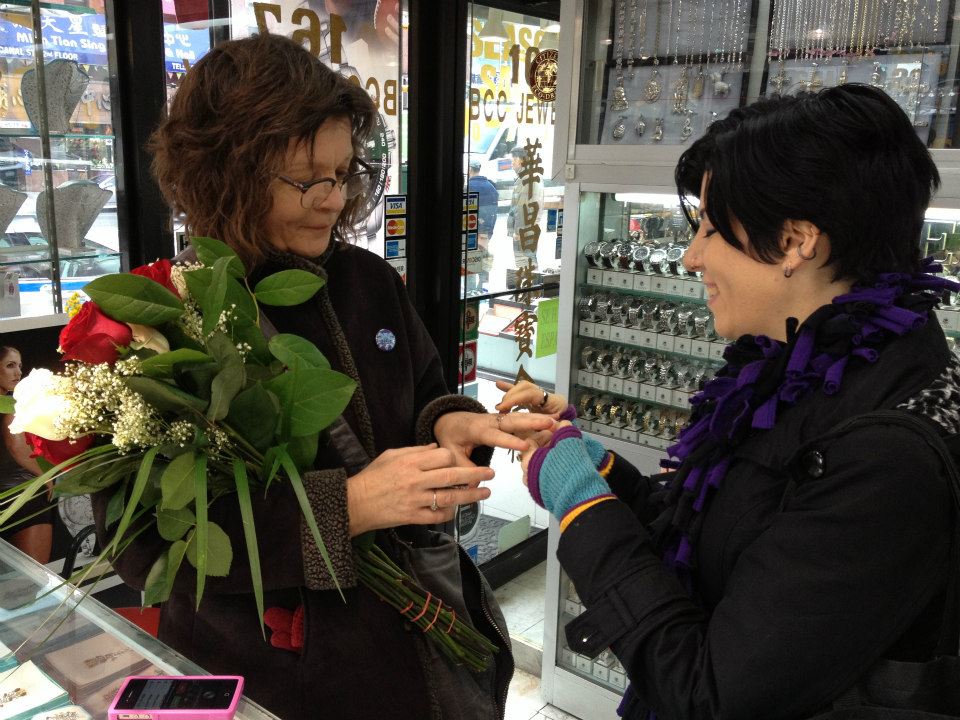 She looked up at me, clearly still clueless. "We're married... federally!" I exclaimed. Mariann, who had given up all hope that the Supreme Court would get anything right that week, let out an uncharacteristic whoop. Our dog looked up at us, stretched slowly, then moved over a foot in order to stay in the shine of the sunbeam.
(And isn't it fitting that on the same exact day, we would find out from our pink-pants-wearing real estate agent that the capital gains exemption -- to which we are now entitled in selling the apartment that Mariann has owned since the '80s -- would work in our favor, whereas the day before, it wouldn't have?)
Many hours later, after a delectable vegan dinner, the two of us walked across a very crowded and jubilant Christopher Street, hand in hand. "When did I get so old?" I asked Mariann, who is 29 years my senior, so she glared at me. I heard a chorus of "awww"s, and I looked over to see a dapper young man gingerly kissing the cheek of an amused female cop as his friends snapped photos. Another man poured beer into his friends' cups and proclaimed, "We should yell 'hooray!' really loudly!"
For Mariann and me, our privilege as able-bodied humans living exactly where we want, eating three squares a day, and allowed to love whom we love is rarely lost on us. In fact, it sometimes gnaws at us relentlessly, kicking us in the gut and forcing us into action. In a world with so much suffering and inequality, it is hard to find victories. Even last week's historic turn of events is bittersweet when we think of how justice remains, in so many ways, elusive.
But on that night, as the beautiful men next to us yelled "hooray!" and toasted with paper cups, the cops standing with them, right outside the Stonewall Inn -- in solidarity, not opposition -- and as Mariann and I walked, wordlessly connected, the sound of liberty rang out. The sense of irony that we had initially brought to our marriage silently slipped away, and we grasped each other's hands tighter than before. This is our moment. This is ours.
Top photo by Sally Tamarkin
Popular in the Community