I was 17 and standing with two friends at the end of a long, deserted pier on Tampa Bay in June 1975.
In the distance, a smiling middle-age man started walking the long, hot distance toward the three of us and, as he came closer, it became obvious he was hiking that span just to see me and my pals.
When he finally came to the far end of the pier, he reached out his hand to me and said, "Hi, my name is Jimmy Carter and I'm running for president of the United States."
I recognized him immediately because I knew a lot about politics, so I and my pals were a bit uptight and daunted by this famous guy. But he put us at ease and lowered the temperature quickly.
I remember Carter pointed to the boats in the bay -- singling out a "cigarette boat" -- and said, "I once had a boat like that" or some such. And he went on in a really engaging small-talk style about boats. Very low-key. He smiled as he left and we were all smiling ourselves by then. He had such positive energy and a wonderful impact on people.
I can't help but think that that long walk to the end of that nearly empty pier revealed the exact reason why he was elected president the following year. To him, everybody mattered, even a teenager like me who wasn't of voting age.
For the record, this was not a Carter-for-president rally. At this point in the game, he wasn't yet able to muster enough supporters to have a significant rally in Florida. In mid-'75, he was polling around one-percent (if that!) in most major surveys and would poll under five-percent throughout the rest of '75 and into early '76. So he was as much of a long-shot as Rick Perry is right now.
Carter had announced his candidacy for president months earlier, in January of '75, having finished his term as governor of Georgia, where he was celebrated as the progressive successor to right-winger Lester Maddox.
And he knew the pivotal political significance of Florida. He saw that fellow southeasterner George C. Wallace had gained enormous momentum by winning the state's primary in '72, before Wallace's campaign was cut short by an assassination attempt. Could a southeastern progressive do the same?
With the now-crippled Wallace a lesser force than he had been -- and with Florida governor Rubin Askew declining to run -- Carter was spending a huge amount of time in the Sunshine State. "During 1975 and 1976, my wife, Rosalynn, spent 75 days in Florida; and I spent almost as many," wrote Carter on a University of California at Santa Barbara academic website.
So, when I met him, Carter was in town for no special reason that I knew of, but rather for some local Democratic party meeting that was happening in the building near that pier on which he wandered to meet me and my friends.
And the three teenagers he went out of his way to meet were nothing special. I had no relatives involved in politics at that time, though I was a community activist (who had been covered in the local newspaper (The Tampa Tribune) a year earlier for co-organizing an impeach Nixon rally) and had been the elected president of my high school student council. My friend David was a college student (and is now an attorney); and I think the other pal of mine was Todd, also a student.
The likely date was Saturday, June 7, 1975, just before sunset. (I worked on Saturdays in those days, so it had to be after I got off my afternoon shift at the movie theater at 6 p.m.). It was the day after I'd graduated from high school.
To this day, Carter is the only the president I've ever met. Truly, he was the people's president -- and, coming after the imperial regimes of Nixon and Ford, he was the American spring, the healing force.
Which explains why we're now seeing such an outpouring of affection and adulation for Carter as he battles health problems. I join millions in hoping he recovers as much as he possibly can.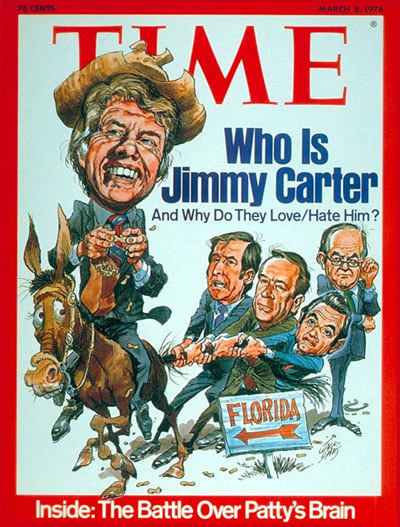 Even nine months after I met him, this Time magazine cover (of March 8, 1976) was still asking, "Who is Jimmy Carter?"


The author of this piece, in the mid1970s. [photo credit: the King High School (of Tampa, FL) yearbook, 1975.]
Calling all HuffPost superfans!
Sign up for membership to become a founding member and help shape HuffPost's next chapter