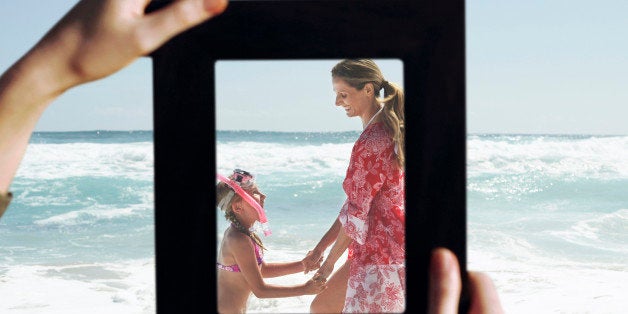 Two years ago, on Mother's Day I sat across from my husband at our kitchen table, I mean the kitchen table he and his ex-wife bought for their house, I mean our house .... and cried.
At that moment, I had no idea the exact reason why I started crying, but I think it was a combination of three things.
1. I was four days away from going into labor with my first child and was a complete hormonal mess. I was almost a "Mom" but not quite there yet!
2. I could barely sit at the kitchen table because of my huge belly and swollen feet, and the possibility that my pants were going to split at any moment
3. I had spent the morning scrolling through a Facebook newsfeed full of pictures of REAL Moms and their kids celebrating Mother's Day together. I was jealous. I missed the kids.
Now I am sure there are some Moms outraged at me saying this. After all, it was Mother's Day and obviously the kids would be with their mother, and not us.
I don't disagree one bit. I have never attempted to make this day about me, and I never will. She is their mom, I am their step-mom, end of story.
But that doesn't mean I had control over those feelings!
That morning, I had no control over the fact that I was taken over by the "green-eyed monster." No control at all!
The bottom line is, there are many days when I am jealous of the fact that those kids are hers, and not mine.
Yes I just said it, some days, in the midst of all the extra stressors and complications that come with blended family life, I wish we were a "normal" nuclear family; four kids, a mom and a dad.
It's not all the time. But yes, for brief moments, I dream about not being a part of a blended family arrangement.
I dream that the kids would never have to leave, that we would have every holiday together and that I was a part of their lives from day one. (However, I also dream of winning the lottery and spending my life travelling around the world, and we all know the chances of that are slim to none... )
Actually, since that very day, almost two years ago, I have realized and come to terms with the fact that I am jealous of my husband's ex-wife.
I am jealous. Period. Plain and Simple.
Those three kids, the ones that have embraced me, tried me, bugged me, loved me, made me laugh, made me cry... those three kids are hers and not mine!
She is one lucky Mom. But guess what, I'm one lucky Stepmom too!
Mother's Day can be a very hard day for stepmoms, especially those who play an integral role in their stepchildren's lives! I've read several blog posts and articles about how fellow stepmoms feel on Mother's Day and words like "unappreciated" always seem to come up!
To any stepmom who feels that way, I am so sorry that is your experience. I understand, because two years ago, even though my mind told me I had no right over the day and I was completely overreacting, I still was overcome by the flood of emotions I had no control over!
Here's my advice. Give yourself permission to feel this way, but then snap right out of it!
Change your perspective or you're going to spend a kid free day with your husband feeling under appreciated, lost or wondering where your place is in all of this! And you know as well as I do, those kid free days can be few and far between!
It's just one day out of 365. Don't over think it.
And remind yourself that you didn't jump into this stepmom gig because you wanted a parade for everything that you do. None of us did. Because if that were true, most of us would have packed our bags a long time ago.
Be happy that your stepchildren get to spend a beautiful day with their mother, and be thankful for the quality time you get to spend with your man!
You can find more of Jamie Scrimgeour's honest and candid posts about stepmom life by following her Facebook Page and visiting her Website.