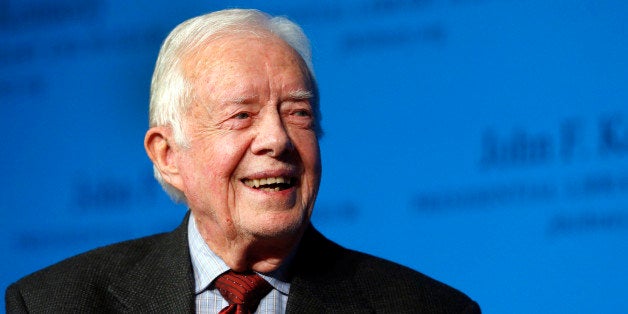 As Jimmy Carter faces cancer, many of the people who were influenced by this gracious, thoughtful man are brought to sadness. I am one of them. President Carter told me what I needed to hear -- that I was not doing enough in service to the world.
In 2008, Bill Underwood (my then-Baylor colleague who is now the President of Mercer University) and President Carter organized a massive event called the "New Baptist Covenant." Held in Atlanta, it was the first large-scale meeting between black and white Baptist groups in 100 years. I had been on the planning committee, and knew what a significant event it would be. In fact, I scheduled myself to be one of the speakers, albeit a very minor one in a roster that would highlight Bill Clinton. Clinton, Carter, and other luminaries were slated to speak in the airplane-hanger-like space at the center of the Georgia World Congress Center, while I was (properly) allocated a small windowless room in the basement.
I had convinced my parents to come down to Atlanta for the conference. They are very fond of President Carter, and hoped to at least catch a glimpse of him. Once they arrived, though, they were entranced by the whole thing -- the preachers, both African American and white, were the best of the best.
When the time came for me to give my presentation, I stood before a hundred or so people in a new blue suit. My parents were there, sitting in the middle of the room, and I was determined to make them proud. I began my lecture with a story, and then moved quickly into argument against the severity of the nation's narcotics laws, especially the overly harsh sentencing rules for crack cocaine. As I did so, I saw President Carter enter the room with a single Secret Service agent and watched him take a seat very close to my parents. My mother's eyes widened when she saw him. President Carter then listened closely to all that I had to say as I talked about what I had written in various academic journals.
I imagined that when I was done, President Carter would stand up and talk about what a great lecture it was, and my parents would beam with pride. I was only partly right; when I was done, President Carter did promptly rise to his feet to discuss my talk. He wasn't standing to praise me, though. Instead, he noted that such talk was insufficient, and he challenged me very directly. "It's not enough to just talk!" he said, full of emotion, "you have to actually do something to make it different!"
My parents introduced themselves to President Carter shortly thereafter, but they may or may not have admitted to having raised me. As I gathered my things, I felt crushed. My audience with a president had been a bust. I slunk back to Waco wishing I had never sought the stage.
Over the next few weeks, though, I realized that President Carter was right. It was not enough to set out policy ideas in a law review article that a few dozen people might read. I began to press harder in other ways, and it worked: I won a case in the Supreme Court (holding that judges could categorically reject a harsh sentencing guideline for crack), and then began pressing for the assertive use of federal clemency to right-size old crack sentences. Just this summer, along with NYU's Rachel Barkow, I set up a pop-up non-profit to advocate for strong clemency candidates, which will take on hundreds of clients. I turned my writing towards broader audiences, trying to convince policy-makers rather than academics of the need for reform. It is a new life's work. And my prophet was Jimmy Carter.
Related
Popular in the Community