On the cusp of the Season of Giving, I thought about writing a very profound and poetic post about my husband's miraculous double lung transplant in September 2013 ... but instead, I think I will skip the poetry and say it straight. After two weeks on the transplant list, and two more weeks on life support, I can easily tell you the best gift my family ever received: the day my husband received his new lungs. Without that gift, he would not be here today. The empty nest did not start quite the way we had planned it.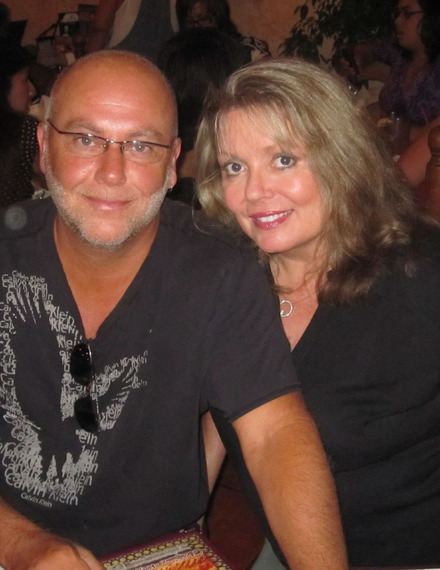 We were ready for our new empty nest life to begin ... but we had to detour.
The gift was multifaceted, as most things in life tend to be. My husband lived, but another family grieves the loss of a loved one. The gift given by the donor and the donor's family benefited untold numbers of people. It benefited me, by giving my husband a second chance at life, and giving our family a second chance to be together. It benefited several other organ recipients who were receiving the same donor's heart, kidneys, and liver in other operating rooms, plus their loved ones, with whom we shared the same waiting room. It benefited everyone who cares about our family, and after the prayers and love and assistance and positive energy that came our way, apparently there are a lot of people who care, which is a gift in and of itself! I have to say though, the most cherished aspect of the gift of Randy's lungs, was the return of their father to my young adult children, ages 23 and 26 at the time.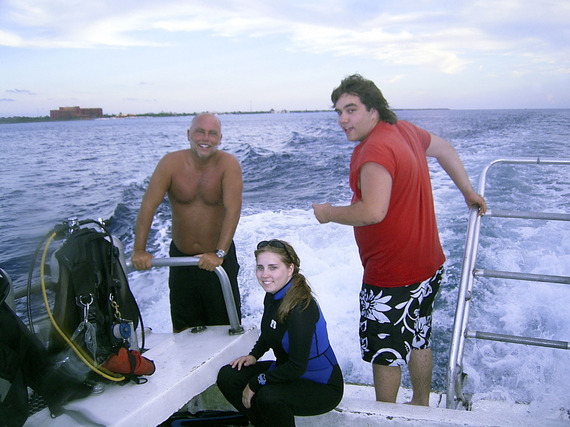 We have always been an active, adventurous family.
The hardest aspect of the entire surrealistic event was witnessing the agony of my children. To see their suffering was undoubtedly the worst experience of my life, and between you and me, I've had a few bad moments. They truly believed he was going to die, that they would never have a chance to talk to him again. The kids have inherited Randy's less-than-optimistic view of life (that is putting it very nicely) while I tend to view life through a lens of optimism. I have friends who would tell you that I am "idealistic", meaning unrealistic and on another planet, but I agree with George Carlin when he says that behind every cynic is a disappointed idealist. I confess that I do have a very stubborn idealism, but I also have a fairly well-tuned intuition working for me. It never really seemed possible, or realistic, that Randy would actually die. I had other friends who felt that way, too (though truthfully, most people were planning to attend his funeral). Friends texted me the night before Randy would get his lungs and said, "We have decided he can't die. It isn't his time." The spiritual implications of that are best explored in a future post, but that was exactly how I phrased it as well, "It isn't his time." My children did not feel that way. All they could think about was their dad in a drug-induced coma, dying.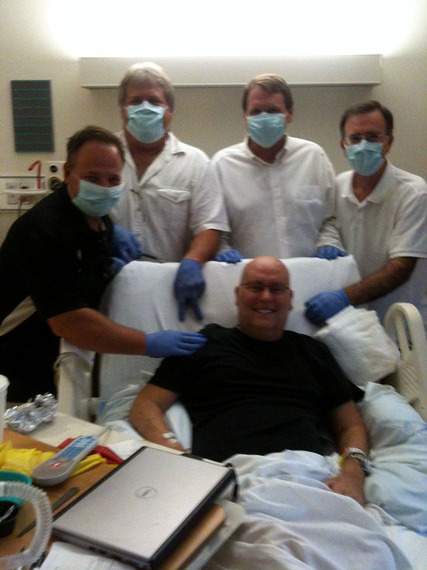 Randy's friends came in from all over the country.
It has always been a conundrum for me: is it better to be prepared for loss, or to lose someone quickly? There are arguments on both sides, and we've heard them all, so I won't elaborate on them here. Randy's decline happened so rapidly that no one was prepared or expecting such a drastic turn of events. He was not even on oxygen! Most people on the transplant list are somewhat debilitated, on oxygen, not living an active life. Three weeks before Randy was on life support he was snorkeling and walking in Mexico for exercise, daily! Yes, we knew there was a breathing problem, and it had been misdiagnosed as sarcoidosis, but he was not yet ready for oxygen. We explained to our young adult children that we needed more testing. Four days before Randy's scheduled biopsy, Randy crashed, and the lung function he lost in just a couple of days, from 60 percent to 30 percent, was irretrievable. In another couple of weeks, another crash put him on life support for 12 days with no natural lung function left. Everything happened so fast, like a row of dominoes going down. It was an episode of the Twilight Zone.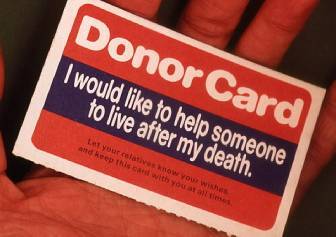 Give the Gift of Life. Let your family know you want to be an organ donor!
My kids were devastated. I don't know any other way to put it. While Randy was on life support, my daughter, Alexandra, would come to the hospital and work from the waiting room, while my son, Wesley, would dash in, and dash out, unable to stay because he knew there was nothing he could do. When I was able to let them know there was a 90 percent chance that suitable lungs had been "found", their hope was rekindled. Even though they are grown up, they are still my babies, and seeing the fear and the horror and the desperation on their faces was truly one of the worst moments of my life. I cared more about their reactions and emotions than I did my own ... I lost my dad when I was 25 (to lung disease, ironically). It is terrible to lose a parent at any time, but to lose them young is beyond sadness. The grandchildren my dad never saw, the lack of time, the knowledge that there could have been so much more to his life, is a sadness ever present. It is a sadness that anyone who has lost a parent before their time knows well.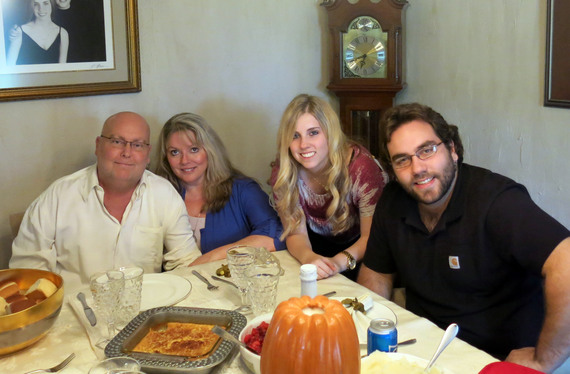 Our wonderful Thanks Giving 2013
Two years on, Randy is doing well, remarkably well for a guy who was as close to the end as one can get. Seeing the joy and hope on the faces of my children when their Dad came out of surgery was the most incredible gift I have ever received. Normally I prefer to be the giver ... but being on the receiving end of a gift that kept my family together has truly been miraculous.
(The Transplant Team at UT Southwestern in Dallas make miracles happen.)
Earlier on Huff/Post50:
PHOTO GALLERY
What Have You Stopped Stressing About?
Calling all HuffPost superfans!
Sign up for membership to become a founding member and help shape HuffPost's next chapter