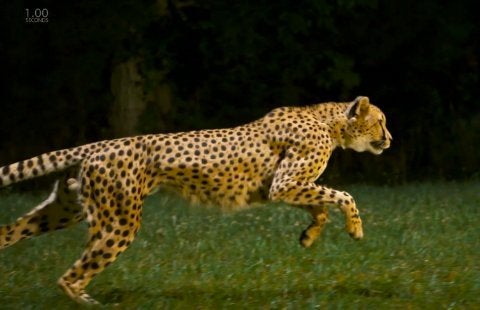 Khayam was the cheetah I brought with me when I made one of my first trips to Namibia in 1977. My original goal in bringing her to Africa was to see if it was possible for a cheetah like Khayam to be released into the wild, even though she had lived all her life in captivity.
When Khayam and I got to Namibia, I quickly learned that the most urgent need for cheetahs was very different from what we'd supposed. Namibian farmers, fearing for their small livestock herds, regarded the cheetah as a threat to their livelihood. Cheetahs were considered vermin, pests that should be shot on sight. The goal became to work with farmers to find a way to stop the killing, to help them see that cheetahs can live side-by-side with humans, in a way that both may thrive.
December 4th was Khayam's birthday, and last year, in part to honor her participation in our efforts to save the cheetah, we at Cheetah Conservation Fund (CCF) declared December 4th to be International Cheetah Day.
The cheetah is not only the fastest, but the oldest of all the big cats. It has survived over three million years of glaciations and warming periods, and its own lack of genetic variation. Despite its tenacity, cheetahs could be gone forever in less than 20 years, largely due to human conflict and habitat destruction. The disappearance of the cheetah from our planet would be felt not only in the ecosystems of which the cheetah is an intrinsic part, but also in our hearts. When a species becomes extinct, we all lose.
International Cheetah Day is a celebration of the magnificence of the cheetah. (Really, is there anything more awe-inspiring than watching a cheetah sprint across the grasslands, every muscle of its body a perfect expression of speed and grace?) It is also an opportunity to take action.
I took action in 1990, when I founded the Cheetah Conservation Fund. At CCF we developed non-lethal predator control methods like our Livestock Guarding Dog program, which has placed over 400 Anatolian shepherd and Kangal dogs with local Namibian farmers, reducing the predation rates on the flocks they guard by over 80 percent. Farmers are learning that they have alternatives to shooting cheetahs. Because of our efforts, Namibia's population of cheetahs is actually increasing.
But we're not stopping there. We're teaching farmers best practices for integrated livestock and wildlife management through our Future Farmers of Africa program. Our Bushblok program has been utilizing the biomass material created by harvesting the thornbush that encroaches on valuable habitat lands to create an award winning fuel log. We've been pursuing these initiatives in the spirit of social entrepreneurship, understanding that we can achieve more success with wildlife conservation efforts when we can demonstrate that they are not incompatible with human livelihoods.
Through platforms like the Clinton Global Initiative and the Skoll World Forum, we're expanding our programs and extending the reach of our conservation methods to include cheetah range countries beyond Namibia. And we're optimistic that Hillary Clinton's recent announcement that the United States will treat illegal wildlife trafficking as a national security issue may finally put an end to the illegal pet trade that kills so many cheetah cubs and breeding females in the wild every year; an issue that we have been involved with since 2005.
So what can YOU do to save the cheetah on International Cheetah Day?
One important thing you can do is learn more about the cheetah and its plight. Visit our website. Sign up to get our email newsletters. Like our Facebook page. Follow us on Twitter. Khayam and I discovered on our first visit to Namibia that the first step to solving a problem is to learn everything you can about it.
And once you learn, act. This year, CCF is offering several ways for the public to stand up for the cheetah on December 4th. We've partnered with the Elephant Bar restaurant chain, who's agreed to give 20 percent of participating sales to CCF. Print out this flyer, enjoy a meal at one of Elephant Bar's locations, and present the flyer to your server to be part of this effort. The money raised goes to support our efforts around the globe to save the cheetah.
We're also hosting a number of house parties around the country, where attendees can join other CCF supporters and watch my recent appearance on Richard Wiese's "Born to Explore" to learn more about the cheetah and what CCF is doing to help the it win its race for survival. To find a house party near you, email us at info@cheetah.org.
If you can't get to a house party or to an Elephant Bar, please consider making a donation, perhaps in honor of a loved one this holiday season.
My hope is that International Cheetah Day inspires you not just to act, but to encourage others to act, too. I hope that you're inspired to act not just on December 4th, but on all the days that follow. The cheetah's days are numbered -- unless we all act now to save it.
Popular in the Community