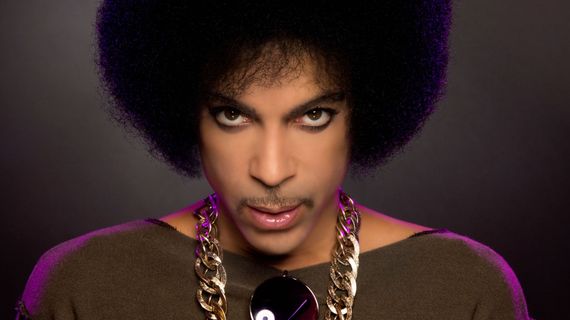 I finally shed massive tears for Prince a few days after he left us. Was not sure if I knew how to do so given the hole-in-the-heart sorrow I feel. I am sleepless, numb, and terribly sad that Prince is dead, gone from us forever. I have not been able to eat properly, or to think straight for extended periods; I just watch and listen to one Prince video clip or song after another. This is like the death of a family member, a close friend, someone you could not imagine life without--
I only met Prince once. It was back in 2006 and I was writing a cover story on comedian Dave Chappelle for Esquire. Chappelle presented at the Grammys and then got a personal call from Prince to come to his Los Angeles-area home for an after-party. At some point Chappelle and I separated and as I stood alone marveling at the purplish-ness of Prince's mansion there he was to my left, sizing me up. "You're the writer, right?" I was stunned Prince knew me. I muttered "Yes," but could not look at him. When I finally gathered nerve to face him he had disappeared. I never saw him again that evening. A year or so later Prince's lawyer asked if I might be interested in helping the legend pen his autobiography. I was going through serious life struggles, so nothing ever came of it. I've always wondered what if.
You see, I am more than a fan; I am an admirer of Prince for the musical, social, fashion, and artistic revolutionary he has been for five decades. From disco and the birth of hip-hop and punk, to Kendrick Lamar and Katy Perry, there has been Prince, visible, in the shadows, somewhere. He has been a multi-generational global superstar when there have been few others in world music history, save The Beatles, Michael Jackson, Madonna, Bob Marley, Stevie Wonder, Nina Simone, Bob Dylan, Diana Ross; and maybe one day folks like Beyoncé, Ed Sheeran, Bruno Mars, and Adele.
I cannot say that I understood Prince at first. It confused me, as a ghetto youth, his very raw and public utterances in his lyrics about his racial and sexual orientation, the way he dressed, so very different than the average Black boy in the 'hood. But I paid attention because there was something behind the shiny permed hair, the thick mascara and make-up, the bikini underwear and androgynous clothes, the super high heels, and those big and round and hyper-animated brown eyes. Michael Jackson may have been more my superhero then, but Prince was the rebel, the troubled youth, the out-of-box brown-skinned Mozart only folks on the ragged edges of our own families and communities could truly appreciate. Prince represented for the nerdy kids, the weird kids, the bad kids, for the Black kids like me who were told we "were acting White" if we spoke a certain way or liked certain kinds of music. Nah, he was not acting White. He was being every part of himself, his whole self. Prince was post-Civil Rights America. He was that child integrating that public school, those kids sitting in at the lunch counters, the young freedom riders crossing state lines on a bus--Black students and White students, dreaming a world where a shining Black prince, named Prince Rogers Nelson, could be whatever the heck he wanted to be. Even if that meant being the sort of man, the sort of Black man, who refused to cow-tow to someone else's definition of what a man was, or was suppose to be. Prince talked sex, he talked love, he questioned God, he questioned himself, he weighed in on social issues like AIDS and violence, and he had the balls, quite literally, to pose butt-naked, as a matter of fact, on the cover of one of his albums. So Prince was, in a word, free, and it was electrifying and shocking to behold--
When Purple Rain, the movie and the soundtrack, fell like a piano from a skyscraper window in the Summer of 1984, it was also in that radioactive season that I began college. "When Doves Cry," the lead single, was everywhere. The sound was so distinctive, so hypnotic. Was not until many years later I learned Prince intentionally dropped the bass from the track at the last minute. And, yo, those lyrics, that song, pretty much every song he ever made, 39 albums worth in his lifetime--
What I am saying is Prince was a prophetic poet and a holy water preacher baptized by his ancestors' Louisiana gumbo and the good fortune to have a momma and a daddy who were both jazz artists. You think Prince you think African griots chanting peace and love psalms in their village; you think Black slaves making melodies with the methodical movements of their perspiring bodies as they picked cotton from sun up 'til sun down; and you think Prince you think Jelly Roll Morton on piano, Chuck Berry on guitar, and Ella Fitzgerald and Jackie Wilson borrowing the dopest sections of God's song-and-dance dream team to make the supernatural from scats of a migration jazz song: Louisiana swamps and second lines begat Minnesota frost and unfiltered funk.
Prince was, in a phrase, unapologetic Blackness like a molasses-tongued Mississippi Delta blues man; yet Prince was also Dr. King's mountaintop vision of the beloved community, too, a humanitarian for the human race, the flower-child hippie who might've also been down with the Black Panther Party, ya dig? That meant Prince was an afroed soul brother who did not want to be locked and loaded as merely a Black musician but, still, he was very much straight outta Black mavericks like Little Richard, James Brown, the Isley Brothers, and Sly Stone.
Yes, Prince was a bridge-builder, a mash-up of pop royalty pasts and pop royalty futures, a crosser and eraser of race, gender, class, and sexual identity boundaries, an imaginative and curious student of America, our America, from his Midwest stoop where the blatant racial hang-ups may not have been as hardcore in his hometown of Minneapolis as, say, the South or even New York City. That is why he told an exec from Warner Brothers Records, as a teenager, that not only was he going to produce his first album, but not to make him Black. Only a pint-size Black male secure in his swagger would dare say something like that to a multi-national record label, to White men with power. As in Do not tell me, Prince, that my music can only be one thing. Not when you are a prodigy, as Prince was; and not when he would be a one-man version of The Beatles, evolving from teen idol to serious adult arranger of his varied musical taste buds--taste buds that would come to fist-bump Joni Mitchell, Miles Davis, David Bowie, Jimi Hendrix, Laura Nyro, and even the rap music he avoided at the tip-off of his magical mystery tour--
This is why it is so hard to write this piece. I am writing about a very private dead man who may have been addicted to prescription drugs the sunset of his life, a sunset none of us were prepared for mentally. It stabs and it cuts like a sharpened machete to say Prince is dead. Because I am writing about someone who, in spite of the worldwide adulation, and in spite of the revolving door of individuals who labored with him through the decades, may have been a very lonely man, emotionally, spiritually, still seeking answers, his Jehovah Witness faith notwithstanding. Nobody loves a genius child, Langston Hughes once wrote in a poem. I also think we've called folks like Prince a genius so much that we make them loners and tormented and reclusive by default. We expect them to perform, to create, and make art, to entertain and mesmerize us, regardless if they are always able to or not. I wonder how Prince managed to get through his last live shows in Atlanta; I wonder about the alleged drug overdose on that private jet after the Atlanta shows; I wonder what years and years of leaps and splits and spins and dips, in high heels no less, had done to his puny body. Broken down, perhaps, the way an aging athlete plays and plays until the body just gives up and things fall apart.
No matter, what we should say now is that Prince was a man, very much his own man. That man twice married and twice also lost two children--one right after birth, one a miscarriage. That man withstood torrential public disses and humiliations because he chose to write SLAVE on his face and challenged his original record label, Warner Brothers, for what he felt was an unfair contract for artists. That man that I saw perform live so many times I lost count, who hypnotized me speechless each and every concert, in large arenas, in small intimate spaces, because he looked and felt and smelled like music, like his very flesh was a polyester quilt of searing falsettos and space shuttle guitar riffs--
So I want to remember Prince as the greatest live performer I ever saw; for the good fights he fought to the very end; how he wrote that song for Baltimore after that city exploded in racial turmoil in 2015. How he continued to the very end to be a loud and present voice for the rights and power of artists to own and control their own destinies. How he mentored and supported so many younger artists, so many organizations and institutions, most of it very privately. How he acknowledged, loudly, the Black Lives Matter movement. And how he, Prince, remained true to himself in the nightfall of his days, as his heart and his breath stopped in that dusty elevator at his Paisley Park compound in the Minnesota he never abandoned, even as an entire planet bathed and washed him, time and again, with the very purple rain he had mind-sprayed on us.
That is because Prince, once an epileptic boy in a plastic bubble with a guitar and a dream, became in his 57 years of a wonderful life, very much the kind of man, the kind of human being, who will never ever need to write the word SLAVE on his face where he is now--
Kevin Powell, writer, activist, and public speaker, is the author of 12 books, including his new memoir, The Education of Kevin Powell: A Boy's Journey into Manhood (Atria Books/Simon & Schuster). You can email him, kevin@kevinpowell.net, and follow him on twitter, @kevin_powell
REAL LIFE. REAL NEWS. REAL VOICES.
Help us tell more of the stories that matter from voices that too often remain unheard.