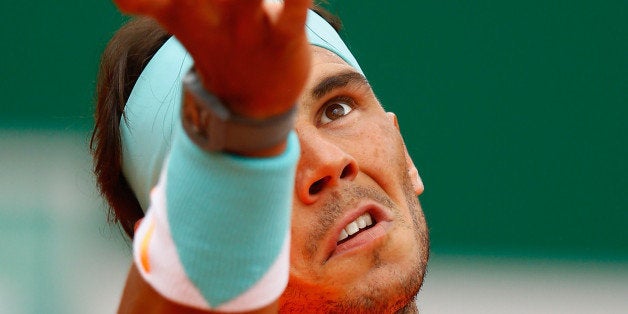 For 9 years the French Open winner has been a foregone conclusion. Kind of like a Hugh Grant romantic comedy. The heroines may be Julia or Sandra, the finalists may be Roger or Novak, but the ending is the same in either case. Hugh kisses the girl, Nadal bites the Coupe des Mousquetaires. Unfortunately (or fortunately) tennis isn't scripted like a rom-com. No one knows when their reign ends, but rest assured, it always does. That's why watching Nadal, Roland Garros' version of Julius Ceaser, defeated repeatedly in his famed arena will be a painful site to see.
Nadal is in what I call The Evening part of his career. The Evening is that awkward part in an athlete's career when they are way too good to retire and just not good enough to be dominant. They are chasing light and victories all while fighting off an inevitable end to their day. Roger Federer's Evening started in 2011, when he failed to win a major. He's been fighting off that sunset admirably well ever since. Tiger Woods is in the middle of his own Winter Solstice (the longest night of the year) and seems comfortable in his spot as golf's most famous 198th ranked player. Nadal is in a spot where people use the words 'won't' and 'still when describing his form. 'He won't win another French' or 'he's still a threat' is what they say now and what they'll continue to say until he retires.
Athletes retire in two ways -- either on their terms or not. People who end their career on their terms, like Pete Sampras after his 2002 U.S. Open win, clearly play to silence critics. Not necessarily for the love of the game or just the fun of being 'in the league.' Nadal's career will not end on his terms or 'out on top' in triumph. Like Federer, he'd rather endure and continue as long as possible. Raging against the dying of the night rummaging for those last shreds of daylight. Only leaving when it's too painful to stay.
Tennis hasn't seen one man dominate a tournament the way Nadal has dominated the French Open. Most likely, as it was for those before him, his last walk off his most prolific major will be in defeat and probably in an early round. Sampras' last match at Wimbledon wasn't championship glory. It was a lonely walk off Court 2 losing to George Bastl (the 146th ranked player in the world). Every champion has a 'George Bastl' day. 3-time French champion Gustavo Kuerten's was in 2008 against Paul-Henri Mathieu (a straight-set beat down) in the first round, Andre Agassi's was a 3rd round loss to Benjamin Becker at the U.S. Open in 2006. For Nadal, it's not a matter of if his 'George Bastl' day is coming, but when.
Nadal's run of French Open dominance will definitely end soon. And when it does it will definitely be front page news. Pundits will write 'won't' and 'still' articles about his game and signal the end of an era. But, it will be an even sadder day when Nadal losing at the French Open won't be front page news. At that point we'll know that time has finally ground down the game's greatest grinder.
Calling all HuffPost superfans!
Sign up for membership to become a founding member and help shape HuffPost's next chapter