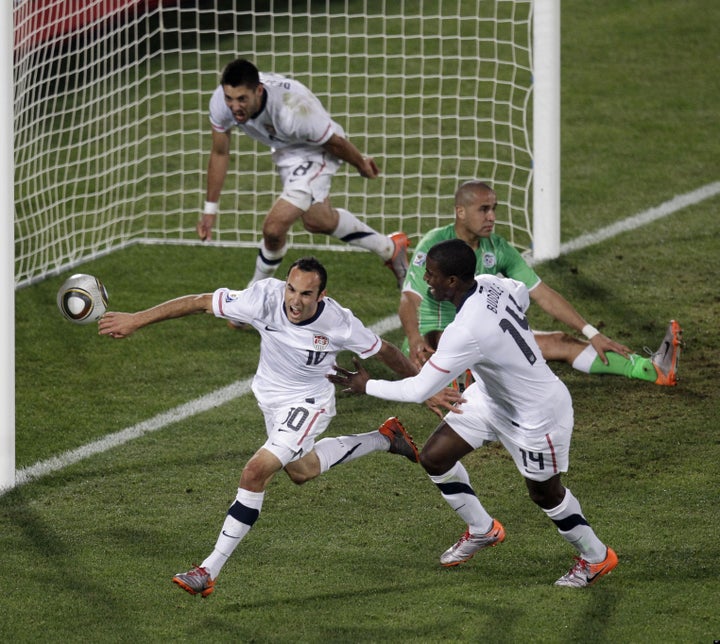 I was a late-life American convert to soccer. I always liked the world game -- even went to Giants Stadium (back when it was considered "futuristic") in 1977 to watch Pele & Co. play for the Cosmos when that was a short-lived fad. But it wasn't until 1994 -- with a crying baby, a second one on the way, and a long commute, when I was completely couch-bound after 8 p.m., and the World Cup was here in the United States and in primetime -- that I became the hopeless addict that I am today. I was already familiar with the peculiar and lonely plight of the U.S. fan, though.
When the American side had qualified in 1990 for the first time in four decades, my editors at New York Newsday sent me out to cover soccer mania, which was running rampant in that city of immigrants -- for everyone who was not a longtime American, that is. I went to packed, smokey British pubs and the futbol-crazed streets of Queens -- and then talked to the average person in the street who didn't have a clue that the United States even had a team in Italy that year, let alone when the games were.
It made me kind of sad -- ever since, I'd always imagined what it would be like if America followed the game with the passion they have in somewhere like Argentina, where a goal is heralded by the simultaneous tooting of hundreds of car horns and where thousands pour into the streets after a win.
For me, that was always the benchmark. It wasn't even so much about winning -- even after I was ecstatic when I set my alarm clock for 2:30 a.m. in 2002 and woke up in darkness to watch the U.S. upset Portugal -- as about the excitement and the passion that so much of the world shared, but we did not. (Truthfully, even at age 51, I've always wondered if I'd live long enough to see the United States actually win the World Cup, although this year's team may challenge that outdated assumption.)

"I'm feeling amazing! We took the group!" hollered Tamer Aboraya, one of dozens of U.S. supporters who spilled out onto Steinway St. in Astoria after the 1-0 win.

"I was very tense at the end. But in the 91st minute, we got it. That's all that matters!"

Spontaneous celebrations also broke out in Park Slope, Brooklyn.

The Black Horse pub on Fifth Ave. throbbed after Donovan's dramatic goal. After the final whistle blew, dozens of American supporters began singing the National Anthem.
There's a picture, if you follow the link, at the top of the New York article, of people going nuts over Donovan's goal; it was taken at arguably the most American place on earth, the floor of the New York Stock Exchange. But you can read about American fans going wild everywhere from Capitol Hill to the streets of San Francisco. But what of my adopted NFL-crazed hometown of Philadelphia, where a high level of soccer scorn has long been an entry requirement for sports talk radio?
After the game, I tuned into Philly's current sports talk king and heard caller after caller wanting to talk soccer, about how exciting the game was. One caller said he was a UPS driver in the middle of his daily route -- he said he saw people literally running out into the street after the game ended; that's how excited Americans were, and how anxious to share the incredible thing they'd just seen with their neighbors.
People running out into the street, in Philadelphia, Pa. Over a soccer goal. Just the way I'd once fantasized, yet in my heart doubted would ever happen.
On ESPN, anchor Kenny Mayne came on the air and asked: "Where were you when Landon Donovan scored the greatest goal in U.S. history?"
I can tell you where this diehard U.S. soccer fan was.
REAL LIFE. REAL NEWS. REAL VOICES.
Help us tell more of the stories that matter from voices that too often remain unheard.