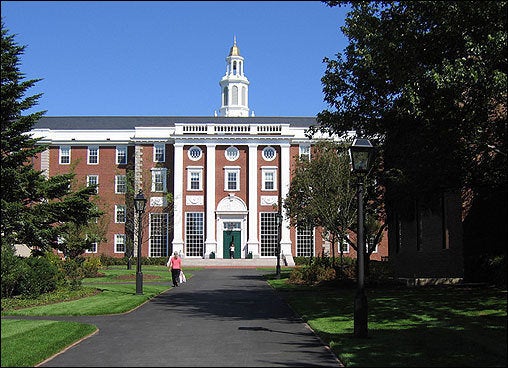 Dear Harvard Business School,
Celebrating 50 years of women MBA graduates is a major milestone and you pulled it off beautifully. Please accept my sincere thanks for inviting me to the big bash.
Here is what I loved about last week's "W50 Summit:"
* I spent time with 850 women, 99% of whom I had never met before. We struck up conversations at every opportunity and discovered the varied paths each of us has taken since graduation. Women in their 20s, their 70s, married, single, gay, straight, SAHM, moms who have worked every day since they graduated -- all in. There was no judgement, no mommy battles, just deep curiosity and respect.
* We listened to Drew Gilpin Faust, the first female President of Harvard University, welcome us and speak of how educating girls around the world is "fair, smart and transformative." The standing ovation we gave her was the first of many.
* I met women from the first class ('65) and imagined what it was like to be one of the eight who studied beside 676 men. Unlike the men who resided in dorms on campus, they lived across the Charles River. Barred from the campus dining room, they brought their lunches and used makeshift ladies rooms still equipped with urinals. [Photo HBS archives, Class of '65]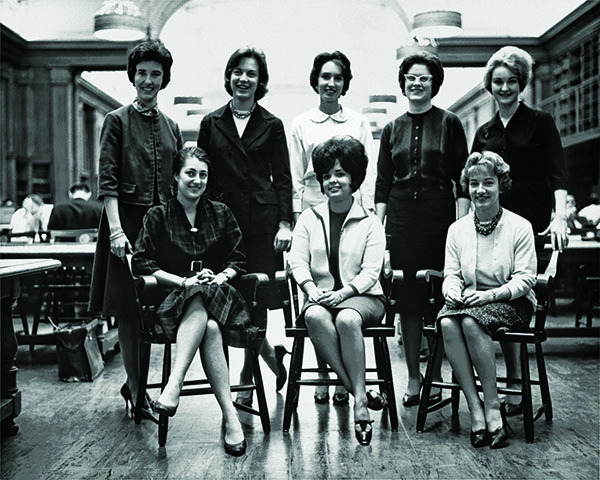 * We listened to Sheryl Sandberg ('95, COO, Facebook) remind the SRO crowd, "to believe in ourselves, to keep raising our hands, to take a seat at the table." And, if anyone describes a little girl as "bossy," correct them, saying that she has "early leadership potential." These were words every one of us could have used when we were still in your classrooms.
* We learned of plans to name the first building (out of 37) on campus after a woman, the mother of four sisters, all HBS graduates. We heard of a new faculty chair for the Leadership of Women, and the women's scholarship funded by the Women Students Association.
* We heard Ann Moore ('78 Retired Chairman and CEO of Time, Inc.) recount highlights of her 33 year around-the-world career. On one such trip she met Princess Diana, still married at the time. Knowing she was returning to London the next day, a colleague asked her if she was glad to be getting back. Diana replied that no, she was not happy to return to a very empty palace. Ann gave us one bit of advice: "Regardless of the choices you make, try to go home every Sunday night, for dinners with your family."
* Finally, I understood why Dean Nitin Nohria, our host, took a moment a the last session to let his emotions subside. He pledged to be "in for the long fight" of working toward the W50 agenda: accelerating the advancement of women leaders who make a difference in the world because "otherwise, his wife would kill him." Laughing as he said this, Dean Noria's two teenage daughters and working wife may the the extra motivation for his commitment.
So, thanks, HBS, not only for inviting me to the party but also for admitting me three decades ago. When I arrived at HBS, I was terrified, daily, of speaking in class and saying something stupid. No one urged me to lean it and raise my hand and I tried hard to go unnoticed.
In part, I felt challenged because there were so few women in the classroom with me. The oil portraits of the former school deans (all men) stared down at me in Baker Library. There were those urinals, still, in the ladies room! I felt that HBS was designed for the guys and we women were merely guests.
Spending two days with younger alumna has shown me how far women have come in business education. Having gone back and seen the progress the school has made, has led me to believe that I am welcome at the table that you began setting for me and all the women of HBS half a century ago.
REAL LIFE. REAL NEWS. REAL VOICES.
Help us tell more of the stories that matter from voices that too often remain unheard.