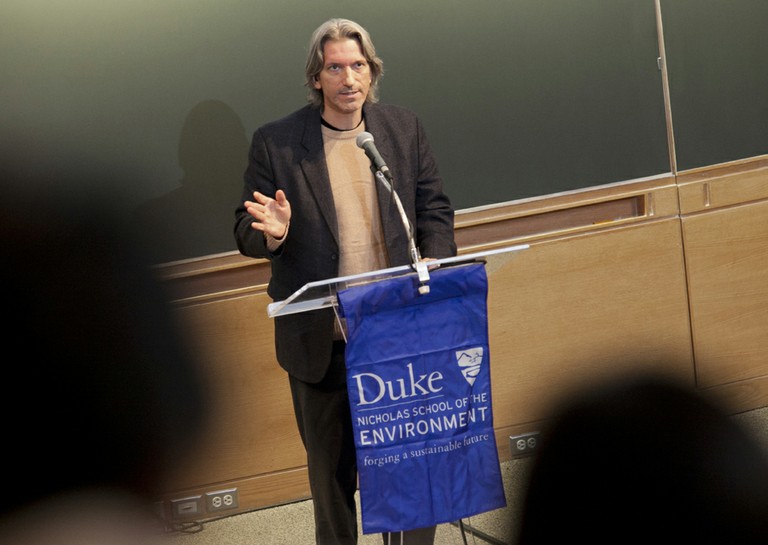 John Prendergast spoke at Duke last week on the deadly conflict roiling Congo and its connection to the extraction of precious metals that fuel our electronics.
Violence has erupted again in the Democratic Republic of Congo. Human rights campaigner John Prendergast says the root cause is conflict minerals.
This flare-up in hostilities is a sad, recurring theme for the Congolese, whose country has been ravaged by a conflict that the International Rescue Committee has ranked as the deadliest warsince World War II. (Read more on the conflict's mortality estimates here. And see a ranking of the world's deadliest wars throughout history.)
The conflict, known as the Second Congo War, began in 1998 on the heels of the First Congo War and officially ended in 2003. But in reality the war has continued in fits and starts, and this latest conflict is but one more manifestation of the ongoing hostilities.
The Root Cause: Conflict Minerals
A mix of factors, ranging from the ethnic to the territorial and political, can be pointed to as the root cause of the Congo War. John Prendergast also points to another: greed abetted by Congo's rich supply of four lucrative metals -- gold, tin, tungsten and tantalum, all used in modern electronics.
Prendergast, who co-founded the Center for American Progress's Enough Project, which works to end genocide and human rights abuses, put it like this in last week's New York Times: "There will be no peace in Congo as long as ruthless interests can make immense profits from the extraction of minerals and other resources, with the connivance of regional governments."
Sadly, such a situation is not unique to Congo. According to the United Nations Environment Programme, "since 1990, at least 18 violent conflicts have been fuelled by the exploitation of natural resources," including minerals, oil, gas and timber, resulting in massive human rights violations.
Prendergast was on Duke's campus last week to deliver the Nicholas School's annual Ferguson Family Environment and Society Distinguished Lecture. I got to spend an hour or so with him before the talk. He is a fascinating man, tall and lean with a long mane of grey hair. His easy, bright smile and quick laugh seem to belie the difficult, gruesome, and at times life-threatening work he does promoting peace and advancing the cause of human rights in Africa.
During our conversation, I asked how he got into his line of work. The story I heard is an inspiring one. A graduate of Temple University working in Philadelphia for a local Congressman, Prendergast saw a TV news report on the famine in Ethiopia that caused a change in course. With a bit of cash in his pocket, he hopped a plane to Africa with little idea where he was going or what he would do except to find a way to help alleviate the suffering. In my book, that's what you call courage; and with that courage, hard work and a bit of luck, Prendergast found his way to become one of the world's leading experts on African conflicts, peace-making and human rights.
Prendergast has a full and impressive resume. The author or co-author of 10 books and co-founder of the Enough Project and the Satellite Sentinel Project (which aims to keep the peace in Sudan and document and deter any human rights abuses there), he has worked for members of Congress and for the Clinton White House and as the special adviser on African conflicts at the State Department. He has been the director for Africa at the National Security Council, UNICEF, Human Rights Watch, the International Crisis Group and the U.S. Institute of Peace and more, and has received numerous awards for his work. A glance at his fuller C.V. makes it even clearer: John Prendergast knows the ins and outs of African conflicts.
In his talk, Prendergast painted a gruesome picture of what greed drives men to do.
Before raping and pillaging the land to get at the precious resources that will make them rich, armed forces of men subjugate local communities using rape, other sexual violence and murder as their tools. Prendergast told the horrific story of one Congolese woman who was imprisoned and sexually enslaved by one paramilitary group after another for years until she found safe haven in a hospital where she now remains, helping other rape victims.
The greed that drives these atrocities, Prendergast pointed out, spills well beyond Congolese borders. There is a sobering link between "our consumer appetite for electronics," which supports the market for conflict minerals, and the murder and abuse of innocent Congolese.
Ending the conflict, Prendergast argues, can be achieved through measures similar to those that helped end Africa's blood diamond wars (and is preventing many a sale of conflict diamonds) -- changing market incentives. Specifically, he advocates for shining light on the mining of minerals and insisting that all our electronics be made from minerals certified as conflict-free.
Add to these actions a concerted, multi-year process for peace (between Rwanda, Uganda and Congo) and the accountability of war crimes, and the rule of law in eastern Congo could be restored.
And you know what? We can help make this happen.
In a move echoing the actions that ultimately led to the end of apartheid in South Africa, university students from around the country are bringing pressure to their institutions to use their considerable financial clout to promote conflict-free shareholder resolutions. A new rule of the Securities and Exchange Commission under the Dodd-Frank Wall Street Reform and Consumer Protection Act should make it easier to do that by requiring "companies to publicly disclose their use of conflict minerals that originated in the Democratic Republic of the Congo (DRC) or an adjoining country."
Helping bring an end to the atrocities in Congo will not be easy. Even as some companies are beginning to require that their supply chains provide conflict-free metals (when available), it is not clear how comprehensive the rule's application will be. And it could be that a political vacuum makes peace a trickier target than simply solving the mineral-extracting problems, but change has to start somewhere. And fixing one driver could go a long way.
Correction: 12/5/2012 8:49 a.m.
This post has been revised to correct Prendergast's alma mater. He did not graduate from Georgetown College. He is a graduate of Temple University.
Calling all HuffPost superfans!
Sign up for membership to become a founding member and help shape HuffPost's next chapter