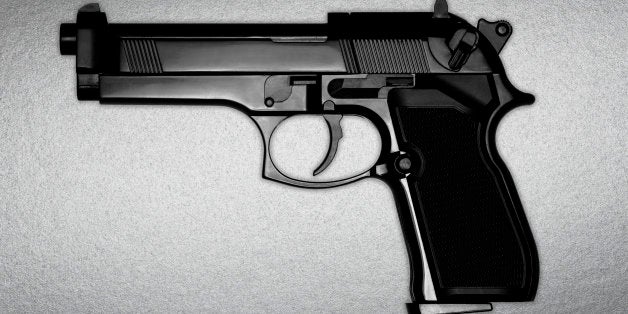 Governor Chris Christie (R-NJ) is the latest politician to play politics with the lives of domestic violence victims. On the heels of the National Rifle Association's endorsement of presumptive Republican nominee Donald Trump, Governor Christie again vetoed legislation (NJ, S-805) that would have put reasonable gun control measures in place for domestic abusers whom courts have deemed dangerous. He instead proposed to expedite abuse victims' access to firearms, a move destined to increase lethality to victims, abusers, and their children.
Those of us who study the issue and work with abuse victims know how deadly the combination of domestic violence and access to firearms is. Domestic abusers are five times more likely to murder their intimate partners when they have access to guns. One well-known study found that more than two-thirds of domestic violence victims living in households with firearms were threatened or harmed with guns by their abusers. As the late Senator Frank Lautenberg (D-NJ), a strong advocate for anti-domestic violence efforts, stated, "The difference between a murdered wife and a battered wife is often the presence of a gun." Indeed, the majority of women murdered with guns in the United States are killed by intimate partners or family members, and guns are used in fatal domestic violence more than any other weapon. Homicide data show that between 2001 and 2012, more women in the United States were murdered with firearms by their intimate partners than the combined number of American troops killed in the Iraq and Afghanistan wars.
Given the stark and brutal realities of intimate partner violence, particularly when guns are involved, politicians across the ideological spectrum should readily agree that people who violently attack or threaten family members should be subject to practical and measured restrictions on their access to firearms. The legislation that Governor Christie vetoed contains many reasonable ways to remove firearms from highly dangerous domestic violence situations and provide abuse survivors with needed safety information. For example, the New Jersey bill would require law enforcement authorities to consult a registry of domestic violence offenders before issuing gun permits, require individuals subject to restraining orders to surrender firearms not confiscated by police, create a question on restraining order petitions about the abuser's access to firearms, and inform victims of their ability to seek the revocation of an abuser's firearms permit before confiscated guns are returned. These types of practical and judicious steps have been proven to save lives.
States should enact measures to address the loopholes that allow violent domestic abusers to acquire firearms even after they have been convicted of felony abuse, often to deadly effect. Currently, abusers can easily evade background checks and purchase firearms from any one of thousands of unlicensed dealers, including countless Internet retailers. Moreover, most states do not report convicted abusers to the National Instant Criminal Background Check System. Even though abuse victims are at the highest risk of lethality when they initially attempt to separate from their abusers, most states do not require firearm surrender when a temporary protection order is issued, leaving abuse victims extremely vulnerable.
Regardless of one's views on the Second Amendment, surely we can agree on basic steps given the overwhelming evidence about the lethal combination of domestic violence and firearms. All too often, America's gun laws fail abuse victims and their children, but we shouldn't let the National Rifle Association or its captured politicians dictate appropriate protections. Let's stop playing politics at the expense of abuse victims' lives.
Popular in the Community