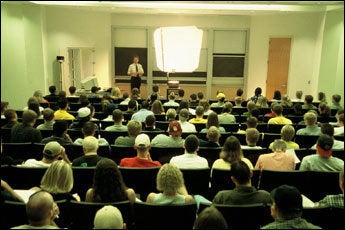 I recently sat down with David Schmittlein, Dean of the Massachusetts Institute of Technology (MIT) Sloan School of Management, to discuss, in great depth, the school's philosophy of making a difference in the world and its social contract with society, business ethics, the integration of disciplines in research and learning, the future of business education, the school's global footprint, and more. An excerpt of the interview is below, and the full transcript can be read here.
Rahim Kanani: What did you focus on in your opening speech to this year's incoming class, and was it well received?

Dean Schmittlein: I hope it was well received -- at least the students said that they wanted a written copy of it! I talked about what it's like to make a change in your life. How does someone understand that? I told our students that the road that brought you here is not the one you need to take right now. Because if MIT Sloan doesn't really change you then it's an expensive and time-consuming experience as a way to become a little better marketer or finance person or something like that. That's not why our students ought to be here, and for the most part our students are here for a deeper purpose.

I also told the students that their strengths are going to prove a greater hindrance than their weaknesses. I first learned this from a friend and mentor, Bill Whitney. There's an inclination to stay in that safe zone of what you already do very well, and that's narrowing. It is important to take this time at MIT to explore those weaknesses because the best future for our students as leaders will call on their skills broadly, not narrowly.

I also talked about why we at MIT Sloan include aspects of values and ethics early on in the program. It's an important part of understanding why they've come here.

Finally, I talked about the school's mission, for this is a really mission-driven institution and in truth, typically, leading schools of management are not actually mission-driven. They have a Mission Statement, but they are driven by excellence, primarily. And excellence is defined by somebody else. It is different, really, to be driven by mission. It feels different each day; I can tell you from my experience.

Rahim Kanani: How would you characterize the difference?

Dean Schmittlein: A mission-driven institution follows its own compass and trusts that compass, not to the exclusion of looking outside, but starting from some foundational principles. In this case, MIT Sloan chooses a mission to develop principled, innovative leaders who improve the world, and to develop the ideas that improve management practice.

Now admittedly, everyone talks about building leaders; and many schools, although not all, talk about creating knowledge as well.

But the terms, "principled," "innovative," and "improve the world," are not typically, and definitely not collectively, in other schools' mission statements. And we mean them, and we want our students to understand that we mean them. We talk about a commitment to improve the world, to understand how organizations -- profit and nonprofit, entrepreneurial and big organizations -- can and must have that impact and be understood to be having that impact. I don't say this as a do-gooder, or to be naïve, but the social contract that businesses, organizations in general, have with the world is changing; and unless organizations can demonstrate and explain the social purpose and the social value that they've fulfilled, they will fail. They will run into insurmountable obstacles. That wasn't the case 50 or 60 years ago, indeed probably not even 10 years ago. And it isn't just a consequence of the economic events of the last few years.

So, there will be a need for leaders in an organization, not just at the top, but throughout the organization, to give voice to the social value, the social purpose, played by their organization. It's going to be a fundamental aspect of management and our students have to be able to do it well.

Rahim Kanani: Do you think business schools have been unfairly targeted following the collapse of the economy? And is there a sense of burden amongst the schools?

Dean Schmittlein: We talked earlier about the need of every organization to be able to explain its social value, and to have people understand that value. This idea applies just as much to universities and institutes and schools of management as it does to other organizations. The history of American higher education has inspired admiration and respect for purpose and for impact. But in today's political and social environment, universities too often imagine that people understand their value without feeling the need to explain it.

Let's consider specifically a School of Management: if its "value" and "purpose" is only understood to be that of helping students maximize their personal fortunes, or helping organizations find a way to charge 25 cents more for a box of breakfast cereal or $250 million more in an initial public offering, that's a very limited mission and vision and while not illegal, or unethical, nonetheless not likely to be seen as sufficiently worthy of admiration and respect.

For MIT Sloan, I am happy to talk about our students -- how we develop leaders of principle, who use innovation to improve the world. But first let me talk about our faculty and their activities and impact. We don't organize ourselves as a school around the usual departmental boundaries of accounting and finance and marketing and so on. Instead, this is a school that focuses on unusually big problems and needs of the world. And it sees those problems for the system-wide challenges that they are; indeed a systems approach to understanding the world and understanding business came out of MIT. And because of that systems perspective, there is a disinclination to see a problem as an accounting problem, or a marketing problem, or a manufacturing problem. But it is rather a system that needs redevelopment, usually by applying multiple perspectives, academic disciplines, and business functions.

During this past summer, in a discussion among the school's leaders to summarize what the faculty here is really working on, five themes seemed to suffice.

The first theme could broadly be described as financial systems for effective deployment of capital and effective management of risk. Someone could say, "well, that's a finance department," but you know, finance groups don't typically deal with that in total. They don't deal with institutional issues very much. They don't deal with governance issues very much- - that's what accountants do. They don't deal with motivational issues for executives throughout the organization. They don't deal with bringing capital to entrepreneurial settings. Our faculty tends to work across those kinds of boundaries.

Another theme of this faculty's work is sustainable economic development. By this, I don't mean narrowly, green economies or environmentalism, but rather economic development that can be sustained through generations, including sustainable human capital, and fairness in work settings and so on. It's a broad conception of sustainable economic systems, and broad set of perspectives brought to bear on the key challenges and opportunities.

Another theme of MIT Sloan's faculty impact concerns the way that people lead, and drive change in organizations -- or fail to. Our faculties do not cluster narrowly in a negotiation group, a strategy group and so on. Rather, they gather around the organizations' systems that effectively stimulate leadership throughout the organization, stimulate continuous and discontinuous innovation, and align people with each other and with business opportunity.

A fourth theme is understanding big changes in business models as organizational strategy. MIT Sloan takes a unique perspective on what most people think of as strategy. Among our faculty, insights into the kinds of things that determine which organizations will succeed or fail is actually fundamentally an understanding of the role of innovation and the role of transformations in business models that come from outside as the drivers. As Peter Drucker famously said, there are only two basic functions of business -- innovation and marketing. MIT Sloan takes this imperative as its foundation for effective business strategy.

The fifth theme is fact-based decisions for fundamental business processes. This School has a history of research findings that we're still proud of 20 years later. We don't invent insta-research to claim solutions to every supposed management challenge of the moment. But our solutions -- to many of the key business process decision issues of all time -- stand the test of time. Not all schools can say that. I often say that our alumni, and members of organizations that work closely with us, are uniquely able to have the courage of well-founded convictions.

I feel good about these themes. And if we deliver on them, then I think the world should and will value our organization. Of course, other schools have ways to describe and pursue social value that is different from ours. I don't mean to suggest there's only one way to provide that value.

Let me give you a couple examples of MIT Sloan faculty who underlie those five themes. One is John Sterman. John was at the -- probably fair to say -- "failed" summit in Copenhagen around global warming and environment issues. He is a systems researcher here who has applied a deep understanding of systems issues in multiple settings including around the drivers and consequences related to climate change. It is his model of causes and outcomes of climate that was used at Copenhagen to tell the truth about every government proposal that was submitted. I think that's a pretty important function because there was a lot of vaporware and double speak and confusion -- including confusion, actually, among the delegates themselves, about what various country proposals would and wouldn't do. John's work brings a systems perspective to sustainable economic development, and to tell the truth about what is needed, and what will work.

Another example of MIT Sloan faculty working within the important and broad themes above arises in the finance and economics area, which takes us closer to your original question. In September 2005, one of our finance faculty, Andrew Lo, was the subject of a long story in the New York Times regarding his view that there was too much risk and too much leverage in the financial system. It's one of those things that shows up in the paper one day and then it's gone.

But it is important to tell the truth as you know it, and to be open to awkward truths and the willingness to tell those awkward truths. In 2005, that was an awkward truth. I'll also mention MIT Sloan Professor Simon Johnson, as you may be familiar with Simon for he contributes to The Huffington Post. In 2006/2007 Simon spoke out in his role as Chief Economist at the International Monetary Fund, while on leave from the School. During that period, 2006/2007, argued that U.S. banks, at 30 times leverage simply had too much leverage, which is a simple but controversial and awkward thing to say. This is not about complicated financial models that may have run amuck. This is about being 30 times leveraged and that's too much leverage. And the European banks, some of them 60 times leveraged were argued by Simon to be too, too much leveraged.

Complaints from those over-leveraged financial institutions led to Simon being sent back to his professorial position here at MIT. How great is that? Certainly, not all of our faculty are right all of the time on every issue, and not every individual does or should agree with the policy recommendations that come out of this faculty, but MIT Sloan has very smart people doing both theoretical and empirical data-based work on crucial issues of the moment, willing to take not only the findings, but what seem to be the policy implications of those findings, out to the world for their evaluation and hopefully their action.

And that connection to action is distinct about MIT broadly, not just the MIT Sloan School. We're not a university; we're an institute. It's an important distinction. It's actually a distinction that I didn't appreciate fully before coming here. I knew about the research at MIT Sloan School and I knew that it tended to be more impact-oriented research than at other places, but I didn't really appreciate this "instituteness" -- though that's not a word -- i.e. the institution holding itself accountable for impact in this way.
Future interviews include the President of Tufts University, the President of Harvard University, the Dean of Harvard's School of Public Health, the Director of the London School of Economics, Tony Blair, among many others. Follow me on Twitter to be notified of their publications.
Support HuffPost
The Stakes Have Never Been Higher
Related
Popular in the Community