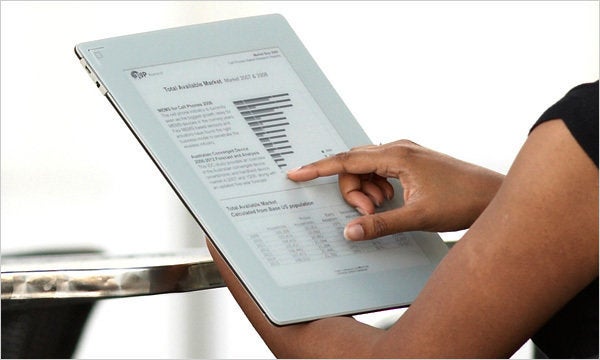 In five years we will look back and see 2009 as a watershed moment in the history of digital books, reading and publishing. While U.S. book sales may only be up a modest 3.6 percent for the year according to data from the Association of American Publishers, eBook sales have cemented their standing as the industry's lone high-growth area with sales up 176 percent and monthly sales reaching $15.9 million. Yes - in a world of social networks, video games and mobile handsets that do everything imaginable, Americans have maintained their interest in reading.
Despite this growth, industry observers are quick to point out that eBook sales still only represent a small percentage of overall book sales. They're right - for the time being - but this burgeoning new business provides hope and opportunity for an industry that faces a crisis with its outdated printing model.
Pundits have been hypothesizing the death of publishing since the launch of Project Gutenberg, nearly four decades ago. We have finally reached that tipping point for digital reading and the publishing industry is witnessing an evolution in the truest sense of the word. It's the business of printing physical books that is slowly dying, but that certainly doesn't represent the death of the publishing industry.
During my time at Sony, I've been a part of several shifts: I've witnessed the transition from film to digital imaging and the shift from analog television to HDTV, and the shift from analog music to digital music. There are some similarities between where the publishing industry is today and where the music industry was when it entered the digital age. When we transitioned from LPs and cassette tapes to CDs and MP3s; music did not die - vinyl and magnetic tape formats did.
But comparisons to the music industry don't tell the whole story - I think we should also examine what happened to the camera industry when we made the shift from film to digital cameras. The instant interactivity of digital cameras enhanced the picture taking experience and encouraged consumers to take more pictures. Today, people can instantly discuss and edit their photos together as they upload to their phone or even their Facebook page. The future of digital reading holds a similar promise for literature and periodical content - experiencing text on a digital reader means you can mark up your digital version, comment on it and discuss what it means to you - all with a touch of your finger. Again - in that transition we shifted away from film - not pictures.
History has painfully shown us what worked and what didn't work during past transitions, and we're now in a far better position for the industry and consumers to make the digital transition together with the digitalization of books. During the digital music boom, consumers copied CD's onto their computers before MP3 players were widely available. This time around, we need to steer clear of piracy - and I believe we're doing that; we have the right DRM measures in place. These measures, combined with a multitude of popular eReader devices, a wide selection of content at reasonable prices and protective measures that treat publishers and authors fairly will help us avoid the 'Apple-ization' of the industry.
The move to digital books provides many of the same opportunities that we now know how to capitalize on. Just as the digitalization of music created new recording, marketing and sales options for the likes of Trent Reznor, Coldplay, Epic Records and even Susan Boyle; the digitalization of publishing creates new opportunities for the likes of Dan Brown, Harlequin and Boyd Morrison.
Brown broke new ground this year by releasing The Lost Symbol as an eBook and in hardcover on the same day, selling more than 100,000 eBooks in one week. Harlequin celebrated its 60th anniversary by offering free downloads of up to $60 worth of eBooks. Boyd Morrison parlayed his success with self-publishing his own eBook into a hardcover book deal with Simon & Schuster.
These innovations of the publishing model represent the tip of the iceberg in terms of what is possible in the digital realm. Just last week we saw the groundbreaking announcement of a joint digital venture between the four leading U.S. magazine publishers to create and share a publishing solution for digital versions of their content. A joint, digital venture of this nature is unheard of within the industry and offers a glimpse of the industry-wide effort needed to develop new models for engaging readers in an interactive and customized digital reading environment.
However, despite these breakthroughs there are still those within the industry that are denying the digital horizon before them. Publishers also made news last week that caught the attention of industry and consumers alike. Two publishing houses made clear their plans for 2010 to delay eBook editions of new titles by at least four months after their physical counterparts hit the shelves.
This attempt at 'the last stand' is all too familiar to those of us that went through the digitalization of music. It also shouldn't come as a surprise given the high-profile cases this year when publishers held back the eBook memoirs of Sarah Palin and the late Ted Kennedy. Unfortunately for publishers, the music industry proved that holding back on digital sales to sell physical content does not preserve a crumbling business model. It only alienates you from your loyal customers that have already made the transition to digital and encourages piracy.
Forrester Research predicts that by the end of next year 10 million eReaders will be sold in the United States. These 10 million-plus consumers with eReaders in their hands will determine the future of this industry. It's time for the publishing industry to join them in their movement by narrowly focusing on finding ways to enhance their digital reading experience, before it's too late. The death of print will be the death of publishing for those that don't come to this realization.

Related
Popular in the Community