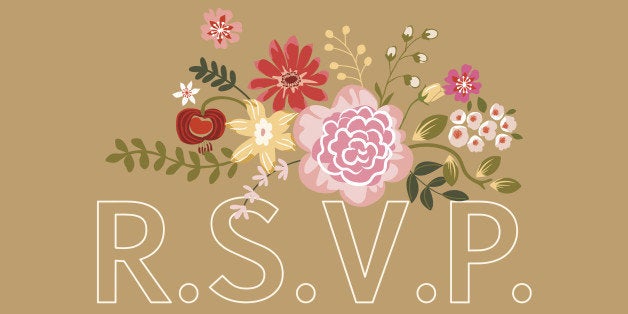 I'm not sure what happened. Maybe times have changed so much that we don't recall basic manners anymore. Maybe life has just gotten so overwhelmingly busy that it just slips the mind. Perhaps it is just a misunderstanding in the actual definition. There are probably lots of reasons, to be sure. It still frustrates the hell out of me, though. I'm talking about the death of the RSVP. Those four precious letters that are the acronym for répondez, s'il vous plaît. A simple request for a response to an invitation to an event.
It is a simple thing to do in this day and age. I mean, seriously, it is a quick text to the host saying, "Yes, we will be there," or, "Sadly, we must decline." Even an email to the party host is quite simple or *gasp* an actual phone call. It helps the host determine how many people will be there so he or she can plan accordingly. Especially when it is a party for children. Who the heck wants to take the time to have supplies for 12 kids to do crafts when only four kids show? No one wants to pay for 10 kids to attend a party at the bounce house if only three are coming. No one wants to prepare food and then not have enough. Sadly, it doesn't seem to help if one writes "Regrets Only," either.
Why don't we help each other out and just RSVP if our kid is or is not coming? Sure, sure... I get that sometimes we just simply forget. I am okay with that. Truly. No one is perfect! Recently though, I sent out 10 invitations for my daughter's birthday party. Four people responded. I have no idea if six other kids will show or not show. I have sent emails to the parents that I have addresses for with a gentle reminder, but have not had any responses. I have no phone numbers to call. It is three days before the party. We are not a wealthy family, so I cannot splurge and pay for extra kids to show up if I were to invite more.
Moms and Dads -- we are in this together! Reply to that invitation and let the host know if your child will be able to attend a party. You would want the same. You would want to know how many kids to plan for in regards to activities or perhaps costs. You would want to know if there are children who are actually planning to attend and won't worry that your child may be disappointed on his or her special day. It shows kindness and respect to others. It is a simple task and an important one. Répondez S'il Vous Plaît.
About Kim Schenkelberg: Although sarcasm is often her tone, she counts on her friends to know that underneath it is a caring soul. Kim obtained her master's degree in social work soon after she delivered her first child. She practices in the fields of domestic adoption and mental health therapy. Kim co-authored a book It's Really 10 Months: Delivering the Truth About the Glow of Pregnancy and Other Blatant Lies. Kim is a stepparent to two quickly growing boys. She has two daughters and one son with her husband. Lord help them. This is one crazy busy clan of seven! You can find Kim on social media sites @itsreally10months.