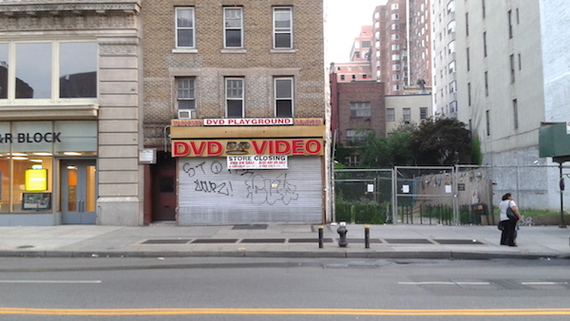 I've lived in the middle of Manhattan for the better part of 19 years -- and until recently, "cheap" did a bang-up job of describing the nature, and price, of thrills on that wonderfully welcoming downscale strip of West 14th Street, between Fifth and Seventh Avenues.
While the proclivities and peccadillos they catered to will endure so long as man possesses a gay spark, the businesses themselves have all but vanished over the past few months. Here's a short list of what we've lost.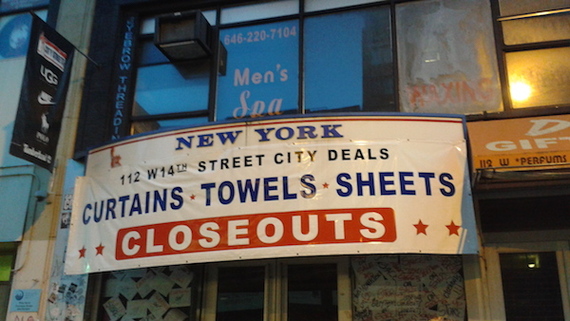 Incapable of tracing a single fiber back to the noble cotton plant, those $2 washcloths were good for maybe two washes themselves, before they began to unravel like a cheating boyfriend's poorly woven pack of lies. That's okay, though. The stuff that landed on them didn't exactly justify the major investment required by a high thread count.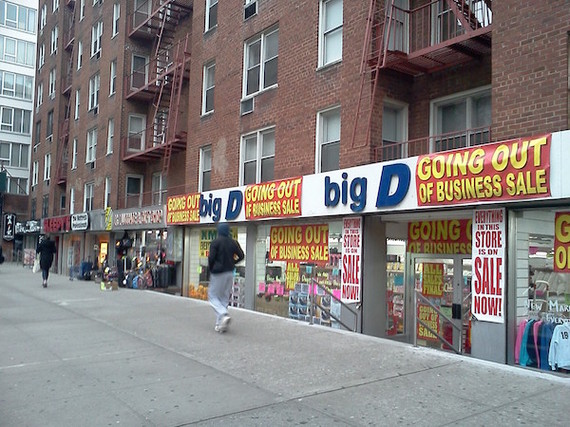 The pungent hand soaps ($1.45) were from a brand unworthy of major supermarket shelves, whose interpretation of "Summer Rain" seemed to be the work of an emotionally stunted chemist who never ventured outside to sample the real thing. But no matter. It did the job and could easily be written off as a loss, if spilled or squandered during moments of heightened emotion.
The shirts and sweats and socks and briefs ($2-$5) were factory irregulars, and they seldom had anything other than smalls or XXLs -- which is fine, because it was almost always a single-use purchase destined to be ripped to shreds during consensual flights of fancy, or left behind due to inebriated carelessness or, most notably, by request of the host for reasons you quickly learned not to ask about (which reminds me...it's been ages since Stan called).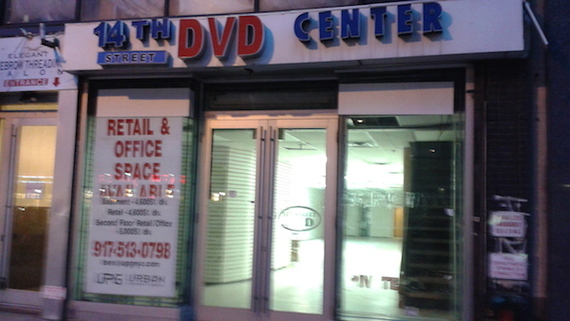 The porn DVDs were mostly the work of second-tier studios -- often compilations whose scenes were likely to appear more than once in your random 3-for-$15 purchase; and the moonshine version of amyl nitrite ($8) announced itself as Video Head Cleaner, more out of embarrassment than legal obligation.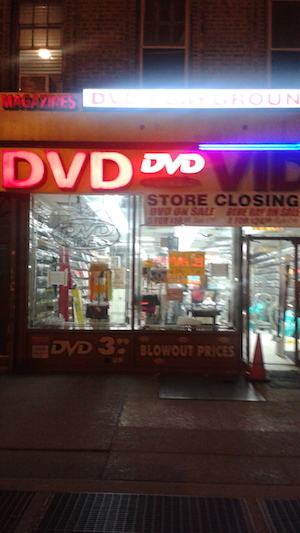 These were all legitimate drawbacks, yes, but that didn't stop gays of a certain income bracket or thrifty predilection or pure love of convenience from indulging in shopping sprees during which $20 could buy you a world of pleasure, all within a few blocks.
Sure, you can wait around for 100 years if you like, but the neighborhood's lavender-friendly mom-and-pop retailers won't be doing the "Brigadoon" thing then, or ever again. Their vacant storefronts are soon to be replaced by tall and thin residential monstrosities, or a pharmacy, or a bank. A mattress outlet has already set up shop in the former home of big D -- where $15 bought you a pair of sneakers whose integrity degraded faster than mine does, when the twin demons of gin and last call become locked in a lurid embrace.